Stonefruit saisons used to be quite a commodity in the beer world. I suppose they still are, but the sheen has worn off in favor of hazy cans with cryptic label art that you can post on social media and say "this is great" and no one will be able to dispute you because there's no name on the goddamn label, just some exquisitely rendered painting of a ram with, like, gothic armor and its skull is partially exposed for some reason, and despite the seemingly unique subject matter of said artwork, there are about three hundred and thirty seven cans that essentially look identical, and yet are made by different breweries all over the planet that are doing good deeds by employing a local photogenic artist and it's like, wait, what was I talking about? Right, saisons with stonefruit.
So this is Side Project's Saison du Fermier racked into French Oak Cabernet barrels with 120 pounds of peaches. If you do the math, this winds up being about 4-5 pounds of peaches per gallon of saison. I'm informing you all of this because, of course, you know what 4-5 pounts of fruit per gallon of beer means. I mean, like, I'm sure you've all done homegrown mad-scientist experiments with fresh fruit and an incredible saison base that you made with yeast foraged from your family farm decades ago, and meticulously recorded the results such that you know precisely what to expect given specific ratios of fruit to beer (and let's not forget the variations of extended aging in Frech Oak wine barrels). To you, it's not just "wow, 120 pounds of peaches per barrel sounds like a lot", no, oh no, you know exactly what you're getting. Right, so sarcasm aside, you know those Casey Family Preserves bottles people go bonkers over – they're fruited at a rate of around 2 pounds per gallon. So that should give you an idea of what we're up against here.
In accordance with the Kaedrin tradition of unfounded speculation, I have learned that this beer was inspired by that 90210 episode where the entire gang joined Brandon's crusade to save the Peach Pit from being torn down to make way for a mall… except, of course (of course!), Brenda. Don't be Brenda. Buy this beer and support Cory King's committment to saving local business from predatory developers. You heard it here first*!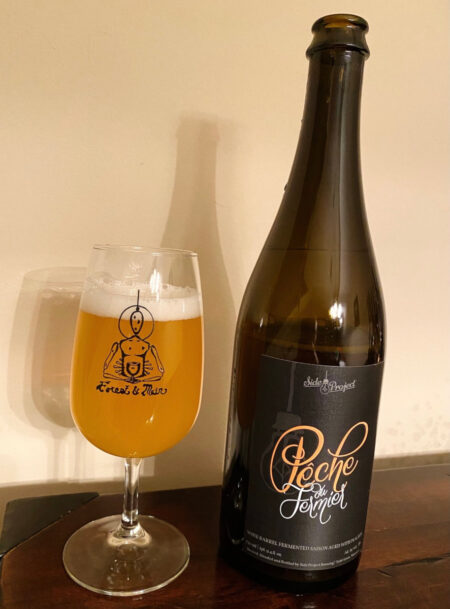 Side Project Pêche du Fermier – Pours a hazy pale gold color with a solid finger of white head, good retention, a bit of lacing. Smells great, tons of peaches, a hint of lactic funk, peaches, maybe a bit of oak, peaches, and then I also get peaches. Just saturated with peaches. Taste also prominently features peaches, though perhaps not quite at the same saturation level as the nose, I get a little more in the way of earthy funk, a moderate sourness, and oak in the flavor, but I need to make sure you're aware: peaches are present throughout. Mouthfeel is well carbonated, crisp, low to medium bodied, with a moderate acidity that is quite pleasant. Overall, if you like peaches, you'll love this, because I'm pretty sure peaches are involved, and it's certainly one of the better Side Project bottles I've managed to get ahold of… A- or A
Beer Nerd Details: 8% ABV bottled (750 ml capped). Drank out of a flute glass on 2/14/21. Blend #3.
As always, Side Project is a treat. One of these days I'll track down a bottle of their barrel aged stout our barleywine or strong ale or whatever it is that's barrel aged but not sour. I'm pretty sure I'd enjoy it.
* Naturally, the reason you've heard it here first is that I made the entire thing up because I wanted to make a Peach Pit reference. Kaedrin: Come for the beer, stay for the cutting edge cultural commentary.