This may have been a bad idea. The Bruery consistently knocks my socks off with their beers, so starting the Holiday beer season off with one of their entries might set the bar too high. But humbug to that. As soon as I saw this, I grabbed it and consumed it that night.
You have to respect the audacity of the concept. This is the 4th installment of a 12 year long project, matching beers with each verse of the 12 Days of Christmas. In addition, these early beers are designed to be aged, so that the patient beer nerds among us will have amassed all 12 varieties at the end of the project. I was mightily impressed by last year's 3 French Hens, and was thus looking forward to this year's installment: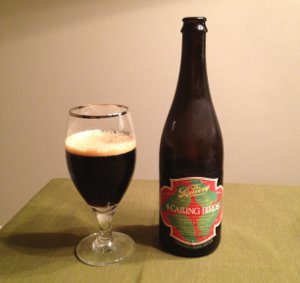 The Bruery 4 Calling Birds – Pours a dark brown color with a small amount of tan colored, big bubbled head. The aroma is very musty and bready, with lots of spiciness apparent. From the nose, they seem to have gone in a more traditional winter warmer direction this year – I'm getting traditional winter spices like cinnamon and ginger, maybe even nutmeg. The taste is very sweet and boozy. Those spices are here, but they're taking a back seat to rich malt flavors, even a little bit of roast emerging in the finish and aftertaste. It's full bodied and chewy, but also quite smooth. Just a little sweet, sticky booze character in the mouth as well. At 11% ABV, it's a bit of a monster, and that warming alcohol character matches well with the gingerbread spices. The myriad flavors seem to become more balanced as it warms up, but I'm also guessing this beer will harmonize even better after a few years as well (I should really try to find me another bottle!) A-
Beer Nerd Details: 11% ABV bottled (750 ml capped). Drank out of a goblet on 11/26/11.
Not having the foresight to pick up an extra bottle of 3 French Hens or 4 Calling Birds is disappointing, though I'm holding out hope that I'll be able to find another bottle of 4 Calling Birds somewhere. I doubt I'll be able to hold on to it for 8 more years, but I would really like to see how it would mature…