This being the eighth iteration of Operation Cheddar, I don't think we need too much preamble, but if you want to get some insight into my annual sorties into Vermont hunting for beer, you can read all about each assault here:
The plan of attack had settled into something consistent, but the wrinkle this year was that Lawson's Finest Liquids had finally opened up an expanded production brewery and taproom, which superseded my usual stop at The Warren Store (a great little "country store" and deli that used to be the key location to find Lawson's, amongst others – I actually kinda miss it). Of course, now that they've got all this expanded capacity, they've been distributing cans down to the Philly area for a while now, so it's not quite the rarity it used to be… but it's a gorgeous location.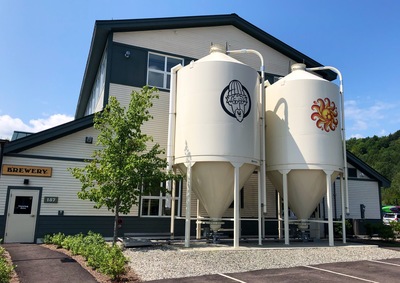 One of these days, I need to make another proper trip to Vermont so that I can actually hang out at these cool taprooms and maybe even drink some beer, rather than popping in and out on a day trip like this. Next up were stops at Craft Beer Cellars in Waterbury and The Alchemist in Stowe (a visit that has become much more easygoing; minimal line-waiting these days, unlike early trips where you could count on an hour long wait as the line proceeded out the door). As per usual, I stopped at Lost Nation for lunch and had this amazing Spicy Pork Shoulder sandwich. It was phenomenal, and probably my favorite thing I've had there since my first trip when I had some sort of crazy smoked lamb thing.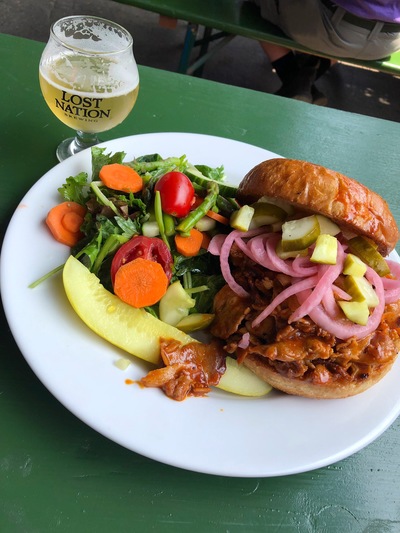 From there, we've got the usual stops at Hill Farmstead and Foam, always a pleasure. The Hill Farmstead sign looks like it needs a bit of a touchup though.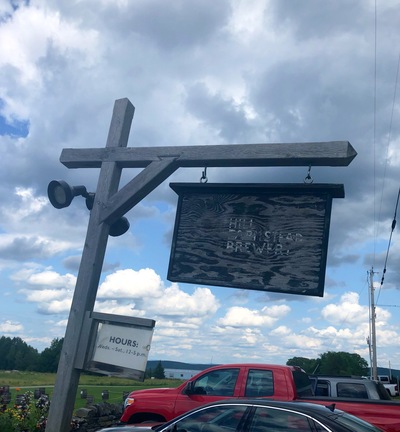 Alrighty then! Normally, I post some haul pics here, but that's sorta silly and we're going to go over the important ones below (or I've already covered them before). So here are some notes on new-to-me beers that were acquired during this trip (unlike most reviews here, these are long on general thoughts and short on tasting notes, probably more fun to read than usual…)
Foam Wavvves – A collaboration with Burgeon Beer Company (from California), this is a pretty standard but very well crafted DIPA dry hopped with Triumph and Enigma hops using Burgeon's process. It was the first thing I cracked open upon returning to the vacation compound, and boy was it a good one. Really fantastic stuff, worth the slight detour on the way home. Also of note: I think I've got my brother hooked on hazy IPAs. I mean, not necessarily to the point where he'll seek it out himself, but he seems to enjoy them when I crack something like this open. This is progress for a guy who "hates IPAs". A-
Beer Nerd Details: 8.5% ABV growlered (750 ml swing top). Drank out of a teku on 7/25/19. Growler filled on 7/25/19.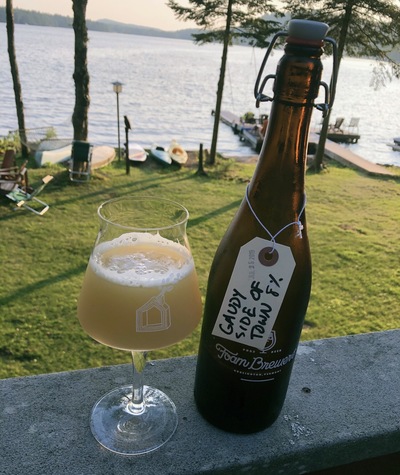 Foam Gaudy Side of Town – Alright, so I must admit that I don't remember much about this other than that it's also a pretty standard Northeast DIPA, and also that it's not quite as good as Wavvves. But I got a nice, picturesque photo, and after drinking Cabana Pils all week, this was really nice (uh, not that there's anything wrong with Cabana Pils, just that my palate was primed for hops by this point). B+
Beer Nerd Details: 8.5% ABV growlered (750 ml swing top). Drank out of a teku on 7/26/19. Growler filled on 7/25/19.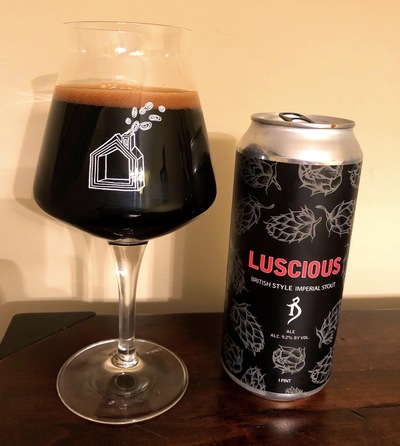 The Alchemist Luscious – British Style Imperial Stout – So here's the thing with Alchemist. For a long time, Heady Topper was the only beer they made, and it showed; they refined and optimized that beer to high heaven and it's an all time great. Once they got some breathing room and extra brewing capacity, they started making Focal Banger, and damn if that wasn't just as good (if not sometimes even better). Then… things started to fall off a little. I mean, stuff like Crusher and Holy Cow were nice but not quite the transcendent experience. Then I had stuff like Beelzebub, Hellbrook, and Lightweight, which are fine beers to be sure, but nowhere near expectations… For a while, it felt like every new beer I had from The Alchemist was "the worst beer I've had from them yet", which is a bit unfair, as they're all good beers in an absolute sense, but disappointing relative to the quality of Heady and Focal. All of which is to say that the streak has been broken, and we're back to world class stuff here. Of course, Imperial Stout represents a crowded playing field, but amongst regular ol' non-barrel-aged takes on the style, this is pretty fantastic, rich and chewy, well balanced caramel and roast, absolutely delicious. It's the best new Alchemist beer I've had since Focal, and I'm glad I stocked up. A-
Beer Nerd Details: 9.2% ABV canned (16 ounce pounder). Drank out of a teku glass on 7/28/19.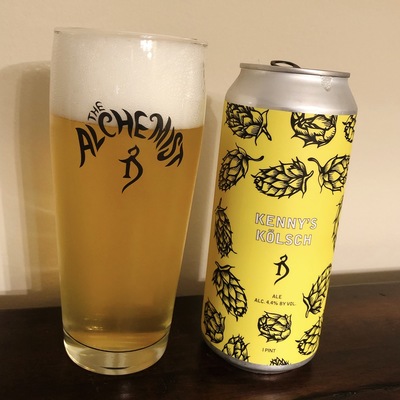 The Alchemist Kenny's Kolsch – So after that spiel on Luscious, you'd think that this would be another disappointing take, but perhaps because Kolsch isn't really one of my preferred styles, I found myself really pleasantly surprised by this. Kolsch is not a style that lends itself to hyperbole, of course, but this is a really good one and I enjoyed it quite a bit. Brisk and refreshing, it's a perfect summer beer. I wish I bought more than one can! B+
Beer Nerd Details: 4.4% ABV canned (16 ounce pounder). Drank out of a willibecher glass on 8/18/19.
Four Quarters Southern Cross – Without getting into too much detail on the route taken through Vermont during Operation Cheddar, Burlington tends to be around the last stop I make before the 2.5-3 hour dash back to the vacation compound. As such, I'm usually pretty tired and not really in the mood to stop at more places, but I should really make the effort to hit up Four Quarters again. I picked up a couple of IPAs (and moar!) at CBC in Waterbury, and was glad I did. This one is a pretty standard NEDIPA, super cloudy, juicy, dank stuff, made primarily with Southern Cross hops. Not one of the ultra trendy hops, and I can maybe see why, but it's a cool little change of pace. B+
Beer Nerd Details: 8% ABV canned (16 ounce pounder). Drank out of a tulip glass on 8/18/19.
Four Quarters Polaris – This was the other single hopped DIPA, very similar, probably should have drank these side-by-side to get a better feel of the differences (ah, double features). You know you've been a beer nerd for a while when you start to see single-hop beers with hop names you don't recognize. It's hard to keep up these days. Anyways, this was pleasant enough. Not exactly distinct from the throngs of NEIPA purveyors, but well worth checking out. B+
Beer Nerd Details: 8% ABV canned (16 ounce pounder). Drank out of a tulip glass on 7/30/19.
Lawson's Scrag Mountain Pils – As mentioned above, Lawson's has started distributing around the Philly area, so the only thing they had that I hadn't seen around here was this Pilsner, supposedly a Czech style, though it felt more German to me. Someday I'll get better about distinguishing between the two styles. Anyway, the can was almost a gusher? It didn't, like, explode or anything, but once cracked the head started overflowing pretty quickly (no, I didn't shake up the can or anything). It's not terrible, but I suspect I got a bad batch or something, as Lawsons's is usually pretty spot on. B-
Beer Nerd Details: 4.8% ABV canned (12 ounce). Drank out of a Willibecher glass on 8/16/19.
Hill Farmstead Society & Solitude #6 – Wait, this can't be right, how have I not had this before? Hmmm, well look at that. I've had #s 2, 3, 4, 5, 7, and 9, so it seems there are a few stragglers (I think they're up to #12 at this point). Glad I got to fill in this particular hole in the lineup, and I'm sure you'll be shocked to know that Hill Farmstead has crafted yet another fantastic DIPA, typical northeast stuff, sweet, juicy, fruity hops, a little dank, really fantastic stuff. A-
Beer Nerd Details: 8% ABV canned (12 ounce). Drank out of a tulip glass on 7/28/19.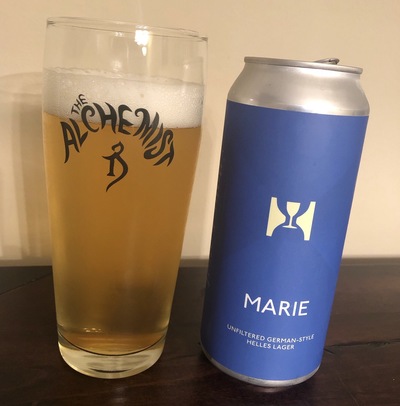 Hill Farmstead Marie – I'm not usually a fan of straight up Helles lagers, but this was quite nice. A very light, refreshing, crisp little beer, soft and crackery. Made for perfect accompaniment with some light, grilled fish on a hot evening. Not going to light the world on fire or anything, but that's what the style calls for, I guess. B or B+
Beer Nerd Details: 5% ABV canned (16 ounce pounder). Drank out of a Willibecher glass on 8/11/19.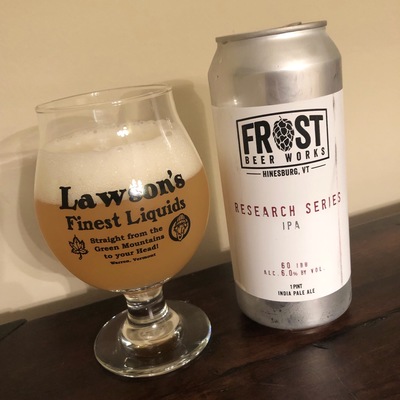 Frost Research Series IPA – Frost is one of those breweries that just gets overshadowed by the hyped trinity (Alchemist, Hill Farmstead, and Lawson's), but they tend to put out some really great stuff. Glad I took a flyer on this "single" IPA. And look, I took the requisite boring tasting notes this time! Pours a murky, cloudy yellow color with a couple fingers of fluffy white head with decent retention and lacing. Smells nice, sweet tropical fruit, pineapple, really well balanced. Taste is less intense than the nose would have you believe, but it's got a nice malt backbone with a well balanced ration of tropical fruit hops, finishing with just a touch of balancing bitterness. Mouthfeel is well carbonated, light to medium bodied, and more quaffable than the cloudy appearance implies. Overall, this is a really nice IPA! A new favorite from Frost, which given the Research moniker, probably means I'll never get a taste again… A-
Beer Nerd Details: 6% ABV canned (16 ounce pounder). Drank out of a tulip glass on 8/25/19. Canned: 07/11/19. Batch: ROLLING THUNDER
Frost Double Shush – Frost has a whole series of variants around what I assume is their flagship beer, called Lush or maybe Plush? I don't know, the latter was one of my first tastes of Frost, and look, it was a "research series" beer too, so I guess the previously mentioned beer might not be lost to the sands of time forever either. And again, boring tasting notes: Pours a darker cloudy yellowish orange color with a finger of tight bubbled white head, good retention and lacing. Smells good, typical American Hop citrus and Pine combo. Taste is sweet, more malt here, the usual citrus and pine notes in good proportion. Mouthfeeel is well carbed, medium to full bodied, but easy going. Overall, it's a damn fine DIPA. A-
Beer Nerd Details: 8% ABV canned (16 ounce pounder). Drank out of a tulip glass on 8/25/19. Canned: 07/11/19. Batch: POWER OF SEVENS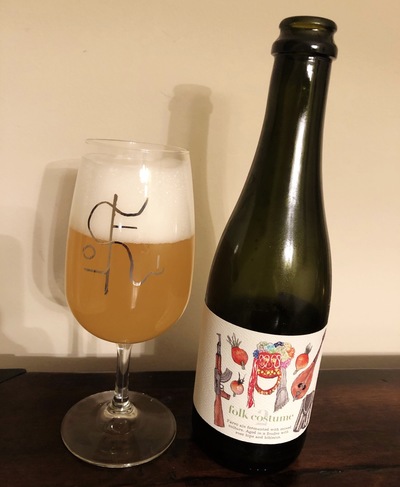 Wunderkammer Folk Costume 2 – And so the fraternity of former Hill Farmstead brewers grows again (it's a pretty distinguished bunch, including Suarez Family Brewery and Casita Cerveceria). This is a mixed culture saison brewed with Farro (one of them fancy grains) and aged in a foudre with rose hips and hibiscus. I'm not sure why there's an AK-47 on the label, but the whole affair kinda reminds of me of that movie Midsommar, which is a real trip (not an easy film to recommend, but man, folk horror gets to me sometimes). Um, anywho, now for the real terror – tasting notes: Pours a hazy yellow color with several fingers of fluffy head, good retention, and lacing. Smells great, lots of musty Belgian yeast, cloves and an almost stone-fruit character, maybe a hint of funk. Taste is similar, lots of Belgian yeast character, fruity esters and spicy phenols, maybe a hint of something earthy or floral. I don't get a ton of funk or oak, but it's there, if subtle. Mouthfeel is medium bodied and highly carbonated (but still pleasantly so). Overall, rock solid Belgian pale ale, actually something I wish more folks would make this well and while the funk and oak are subtle, I actually kinda appreciate the restraint. B+
Beer Nerd Details: 5.5% ABV bottled (375 ml). Drank out of a flute glass on 9/8/19. Released: July 2019.
This concludes Operation Cheddar VIII; already looking forward to part IX. In the meantime, we've got some more reviews and even some more beer travel recaps coming your way…