It appears that the pastry menace has spread its dark influence to barleywines. Alright, fine, I appreciate the occasional pastry stout, those high-double-digit ABV, low attenuation, barrel-aged confections with all manner of candy-like adjuncts added. However, as I've often noted, I inevitably wonder what the pastry stout would be like without all the bells and whistles. So it's a little disconcerting to see the excesses of the pastry stout make their way to the staid, dignified world of barleywine.
On the other hand, lord help me, I really enjoyed the hell out of this thing. Parish Royal Earth is a big ol' barleywine aged in Apple Brandy barrels for 16 months before conditioning on a bed of crushed roasted pecans with Korintje Cinnamon and Madagascar Vanilla. It's basically a liquid apple pie. Parish is best known for their most excellent Ghost in the Machine DIPA, but if this is any indication, their strong ale game is on point as well.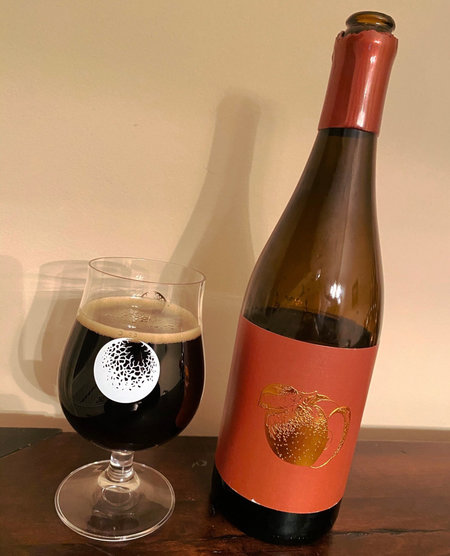 Parish Royal Earth – Pours a clear but dense, very dark amber brown color, almost black once it's fully poured, with half a finger of off white head that quickly resolves to a ring around the glass. Smells great, tons of apple and pecan aromas, some cinnamon and vanilla adding a pie-like sensibility. The taste starts very sweet, loads of caramel and toffee, apple pie quickly kicking in, finishing off with oak and vanilla. Less pecan in the taste than the nose, but it's still pretty intense and complex stuff. Mouthfeel is full bodied, rich, and chewy, moderate carbonation is well calibrated for the beer, and there's some pleasant boozy heat at this party too. Overall, this is pretty fabulous stuff. A-
Beer Nerd Details: 11% ABV bottled (750 ml waxed). Drank out of a tulip glass on 4/18/20. Vintage 2020.
I had originally planned a trip to New Orleans in March and while the brewery's not particularly close by, I was hoping I could maybe sneak a bottle or two of something strange like this back with me. Unfortunately, a global pandemic put the breaks on that particular trip, so who knows when I'll be able to snag more rarities from Parish.