I recently mentioned that I'm a boring creature of habit, but during this year's prelude to Operation Cheddar, I did manage to stop in at Plan Bee in addition to Suarez Family Brewery. For the uninitiated, Plan Bee specializes in making beers with local, upstate New York ingredients, some of which are sourced from their very own farm. This includes, as their namesake would imply, honey produced by vicious, unstoppable bees and their blasphemous, inconceivable hive mind. The brewery itself is located not too far away from the Thruway (or Suarez, for that matter). It's a small place that seems to be operating in a literal farmhouse.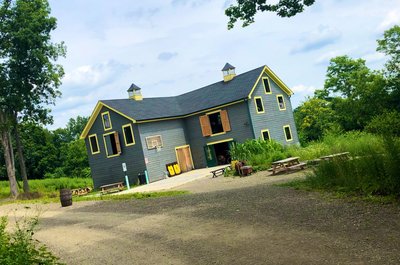 The whole northeast was in the midst of a heat wave when I visited, so the lack of air-conditioning didn't exactly make me want to stick around, but I like the rustic atmosphere and I'm sure it's fantastic in the Fall, Winter, or Spring… On this blog, I've only covered their basic flagship beer, but I've been lucky enough to sample some others and whilst stopping in on this trip, picked up a couple of fruited wild ales (amongst others) that turned out to be rather good.
I drank these a while ago, but I've recently watched a couple of movies for the Six Weeks of Halloween about killer bees that would make a good double feature with these beers. If, that is, you like cheesy horror movies like I do. The Bees is a schlocky creature feature that actually goes to some interesting, if goofy and on-the-nose, places. The Swarm is a big-budget disaster film directed by none other than Irwin Allen and featuring a star studded cast, including Michael Caine. It's also a bit of a bloated mess, overlong and rather silly, but there's some entertainment to be had. Not a bad double feature, considering Plan Bee's meddling with nature will inevitably lead to a killer bee laden apocalypse. They may doom the planet, but in the meantime, we can at least enjoy their beer: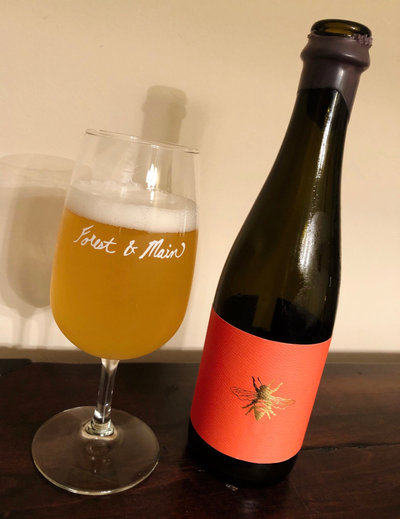 Plan Bee Precious – Barrel aged NY Wild Ale referemented on apricots from Bittner-Singer Orchards. Pours a very pale yellow color with a finger of fluffy white head with good retention and some lacing as I drink. Smells great, lots of sweet, ripe stone fruit (apricots, apparently) and some musty funk adds a bit of complexity to the aroma too. Taste starts off sweet, lots of that apricot, up front, with some more general tartness emerging in the middle and intensifying through the finish, a little bit of oak and funk leavening the proceedings too. Mouthfeel is tightly carbonated, crisp, and moderately acidic, light to medium bodied, quite easygoing. Overall, this is a pretty damn fabulous beer. A
Beer Nerd Details: 5% ABV bottled (375 ml waxed and capped). Drank out of a flute glass on 8/3/19.
Plan Bee BeeRoo – Dark NY Wild Ale aged on oak on plums with green and purple shiso leaf. Pours a turbid, murky orange color with a solid finger of white head with decent retention but not a lot of lacing. Smells great, sweet, ripe stone fruits (plums this time), a light earthy funk. Taste is very sweet, plenty of plums, some earthy funk, oak, and a tart sourness emerging in the middle and lasting through the finish. Mouthfeel is tightly carbed, moderately acidic, medium bodied. Overall, this is great, maybe not quite as good as Precious, but close enough. B+ or A-
Beer Nerd Details: 5.5% ABV bottled (375 ml waxed and capped). Drank out of a flute glass on 8/10/19.
Plan Bee Huitlacoche – NY Farmhouse Ale made with Reid's Yellow, Blue Clarage & Bloody Butcher Heirloom Corns grown by the brewer on the premises. Bonus review! By which I mean that I brought this to a share and don't remember much about it other than that it was a solid little wild ale, but it lacks the intensity of the previously mentioned beers. I mean, you would expect that much. It's not like corn will be more intense than apricots or plums. So not really a review, but I'd definitely drink this again sometime.
Beer Nerd Details: 4.4% ABV bottled (750 ml waxed and capped). Drank out of a snifter glass on 9/4/19.
Those fruited beers are a definite step up from my previous experience with Plan Bee, which I'll grant wasn't a huge sample size, but still. Those two were fantastic.