As a lowly beer neophyte reading raves about California's The Bruery on all the cool blogs, I made a pact with myself to hunt down some of their beer. This was the first thing I found, and I purchased it blind, price tag be damned. I had no idea what I was in for, but the label was pretty and it even had a fancy strip of tape covering the cap. The guy who sold it to me said "It's really good. Boozy, but good." Well, I drank it and my face melted. My original notes on this said it was very good but "maybe a bit too powerful". It was a real eye opener though. I'd never had anything like that beer before and it really pushed the boundaries of what I thought beer could be. It was a memorable experience and I can still recall the night vividly, right down the movies I was watching as I partook. I even saved up some shekels and bought another, with the thought that some of that booze would mellow out over time. And thus it's been burning a hole in my fridge for about 2 years now.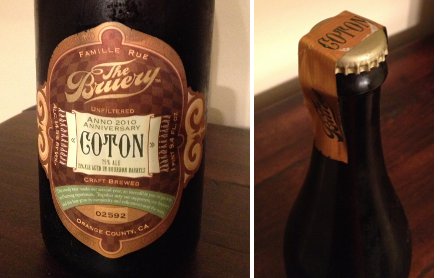 Coton was The Bruery's second anniversary ale, part of a series of beers named after traditional wedding anniversary gifts. The first anniversary beer was called Papier (French for "paper") and it was brewed in the style of an English Old Ale, but using The Bruery's house Belgian yeast strain. Coton uses the same recipe as Papier, but they blended a portion of Bourbon Barrel Aged Papier into the "young" beer to add complexity. The fancy shmancy term for this process is the Solera method. Each year, young beer is blended with previous batches, adding complexity and creating an older average age to the beer. The process is typically used in the production of wine and appears to be exceedingly rare in the world of beer. Aging beer is an expensive proposition for most breweries and a Solera project requires a great deal of foresight, ambition, and planning. Fortunately, The Bruery is clearly up to the task.
I've been purchasing these Anniversary beers every year, but truth be told, knocking back a 750 of 14.5% ABV beer takes something of a commitment. But it's been nearly two and a half years, I figured it was time to clear a few hours of the ol' schedule and bite the bullet on this thing. I've had beers that were rare or hard to get before, but this one weighed on me more than I expected, perhaps because it loomed so large in my mind. I know the general beer nerd consensus on this beer is mixed, but I have a personal connection with this beer that most don't share. It was a beer of firsts for me (first Bruery, among my first Barrel Aged brews, first time I broke the $20 barrier, and probably the highest ABV beer I'd had at the time, though I've long since surpassed that), and while I loved it the first time I had it, I'm always a little anxious about revisiting beers from that period.
Am I putting it on a pedestal? Will this hold up to my expectations? Well, I'm happy to report that it actually managed to exceed expectations… to the point where I'm even going to award it the vaunted Kaedrin A+ (only beer so far this year to earn that distinction).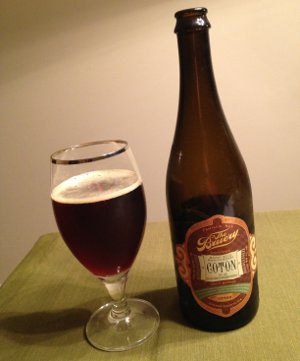 The Bruery Coton – Pours a deep dark amber (mahogany!) color with a sliver of light tan head. Smells strongly of brown sugar/molasses, dark fruits, and boozy bourbon with just a hint of oak and vanilla. Taste is very sweet, lots of that crystal malt character, rich caramel flavors, brown sugar/molasses, raisins and other dark fruits, even some spiced character, like cinnamon, and of course, that vanilla, oak, and bourbon killer combo. Big, complex flavors. Mouthfeel is full bodied, a little syrupy, but surprisingly drinkable. I don't want to call it thin, but it's not as thick and chewy as you'd expect for such a monster, and this is a very good thing in this beer, which has the potential to overwhelm, but never really does so. The carbonation is ample, which keeps this from feeling too syrupy and may help contribute to that drinkability too, keeping things smooth and almost creamy. It seems ridiculous to call a 14.5% ABV beer balanced, but it kinda is… The booze seems to have mellowed out with time as well, though I still get that warming alcohol feeling in my belly as I drink. This thing is drinking like a massive bourbon barrel, Belgian style barleywine, or something like that. It's exceptional, and it is kicking my ass tonight. A unique, complex, just all around superb beer, and it seems to have mellowed a little with time, which I think may have been for the better. I don't hand these out often, but this earns the coveted Kaedrin A+
Beer Nerd Details: 14.5% ABV bottled (750 ml capped and taped). Drank out of a goblet on 10/27/12. Bottled May 2010. Bottle Number 02592. 75% Ale, 25% Ale Aged in Bourbon Barrels.
So there you have it. I've got bottles of Cuir and Fruet (3rd and 4th anniversaries, respectively) in the cellar, and some other Bruery whales are incoming, so stay frosty folks. This is looking like a Bruery-filled, liver-destroying, wallet-lightening winter.