When I was in Denver last year, one of the local breweries I sought out was Casey Brewing & Blending. They're not actually in Denver, but lots of their beer is available there. I quickly became inundated with options. I'd go to Hops & Pie and see several variants that would look something like this: Funky Blender Apricot, East Bank Apricot, Fruit Stand Apricot, Family Preserves Apricot, and some one off Apricot blends. Naturally, they do the same thing with other fruits. So what's the difference between these four series of beers? I used my keen powers of observation and Google-fu to discover:
Funky Blender – Seems to be a sorta base saison blend
East Bank – Similar idea, but it's a saison made with honey
Fruit Stand – Similar saison base, but fruited at a rate of over 1 pound per gallon
Family Preserves – Similar saison base, but fruited at a rate of over 2 pounds per gallon
Since they don't specify, my assumption is that Funky Blender and East Bank are not fruited at as high a rate as Fruit Stand or Family Preserves. There's almost certainly some yeast/bacterial beastie differences across those series as well.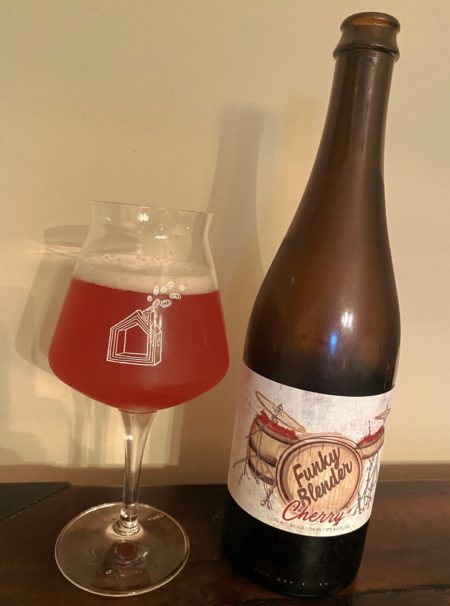 Casey Funky Blender Cherry (Bing) – Pours a bright, pinkish hued amber color with a solid finger of white head. Alright, maybe the head has a slight tint of pink to it. Smells of sour cherries and a hint of funk, with some oak lurking in the background. Taste hits that cherry note well, sweet up front with some oak and a tartness blooming into full blown sourness in the finish. Mouthfeel is medium bodied, well carbed, with medium to high acidity. Overall, it's a well balanced little sour number… B+ or A-
Beer Nerd Details: 7% ABV bottled (750 ml caged and corked). Drank out of a teku glass on 4/25/20. Bottled 5/2/19. Bing Cherries.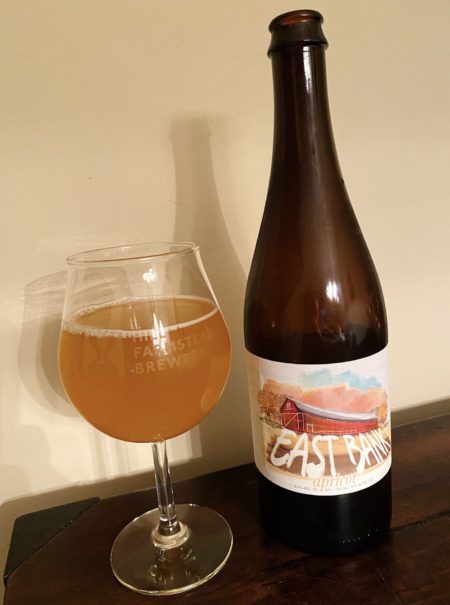 Casey East Bank Apricot (Perfection) – "Perfection" is the apricot and not some indication of the brewers' hubris. Pours a hazy golden orangeish color with just a cap of short-lived white head. Smells strongly of apricots with some underlying funk and oak contributing a little. Taste also hits those apricot notes pretty hard, sweet and tart with just a hint of earthiness and oak in the background, finishing with a sour kick. Mouthfeel is medium bodied and a touch low on the carbonation (though there's enough there to keep things crisp), medium to high acidity, it's got a bit of a pucker factor. Overall, this is more intense than the cherry, but hey, apricots are great and this is a good platform… B+ or A-
Beer Nerd Details: 6.5% ABV bottled (750 ml caged and corked). Drank out of a charente glass on 5/17/20. Bottled 8/9/19. Perfection Apricots.
The prospect of drinking a 750 of sour beer solo isn't as attractive these days. However, these Casey Brewing bottles are usually worth the potential dose of Tums. They're also great at bottle shares. Pricey but tasty.