Fermentery Form is the weirdest local brewery that I know about. If I asked you to design a strange brewery, you'd probably hit on several things that Fermentery Form is doing.
Do they actually brew beer? Nope! They outsource the actual brewing to other local breweries (it's kinda like a gypsy brewing situation). Most of the information out there says they utilize nearby Saint Benjamin's facilities for the task, but that brewery has actually closed (Human Robot has taken over Saint Ben's facility, so perhaps they're still supporting Fermentery Form?) Once brewed, the wort is delivered to Fermentery Form for conditioning, barrel-aging, and blending. It almost feels more like a lambic blendery than a brewery (though, of course, they're not making actual lambic).
But it's, like, normal beer, right? That will depend on your definition of normal; it's all mixed fermentation stuff (i.e. primarily sours). They apparently make extensive use of Solera blending/aging where new batches incorporate beer from the previous batch. I'm gonna go with "not normal".
But you can visit the brewery right? Sort of! To be pedantic and annoying, it's not technically a brewery (as established above), so take that jerkface! But, um, yeah, they do have a location to visit. It's just that it's only open one day a week. Currently, that would be Thursdays from 5:30 to 8 pm. However, they also do ad-hoc openings, so if you stalk their social media accounts, you can luck out and find another random opening. This is basically how I did it, and it neatly lined up with my trip to the nearby Human Robot, so I was able to knock out two birds with one stone.
It's a nice location though, right? Well, um, the inside appears to be nice. When I visited, Philadelphia was in an extra-festive holiday lockdown, so I didn't get to go in… But the really weird thing here is the outside. It's basically located in an alley. The only indication that it exists at all is a Green Light that is turned on when the brewery is open (which, as we've noted, isn't often) and a street number with the letters FORM next to it. It's like a speakeasy for sour beer.
Have I piqued your interest yet? Curious to see how this place can possibly sustain itself? Me too, but it's been open for around three years, so they must be doing something right. As it turns out, if you make great beer available, knuckleheads like myself will seek out your well-hidden wares. Let's take a closer look at a few of these suckers: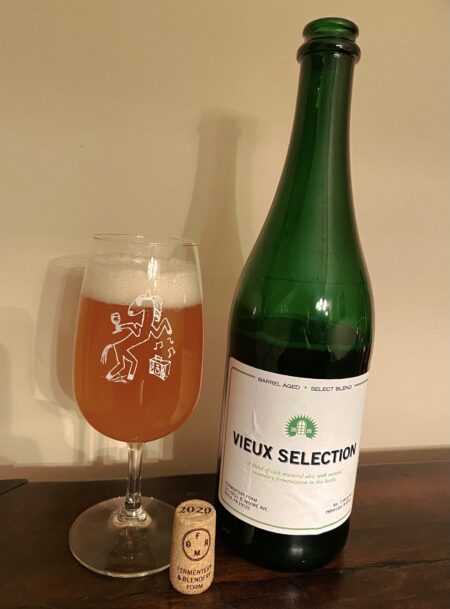 Vieux Selection – Inspired by geuze lambic, this is a blend of 1, 2, and 3 year old beer (it's not lambic in some important ways, but the blending is certainly geuze-like). Pours a hazy golden orange color with a couple fingers of white head. Smells fantastic, sweet tart fruit, some spicy phenols, oak, and a well balanced earthy funk. Taste starts sweet, hits some fruity ester notes, then the spice kicks in, with some earthy funk and oak, finishing on a tart note. Maybe a hint of bitterness in the finish? Mouthfeel is well carbonated, but medium bodied, low to moderate acidity, pretty easy going. Overall, you can feel an underlying Belgian yeast here that isn't completely overwhelmed by barrel or sour cultures, which is really nice. A very good blend here. B+ or A-
Beer Nerd Details: 7.5% ABV bottled (750 ml capped and corked). Drank out of a flute glass on 12/20/20. Batch 001. Released: June 2020.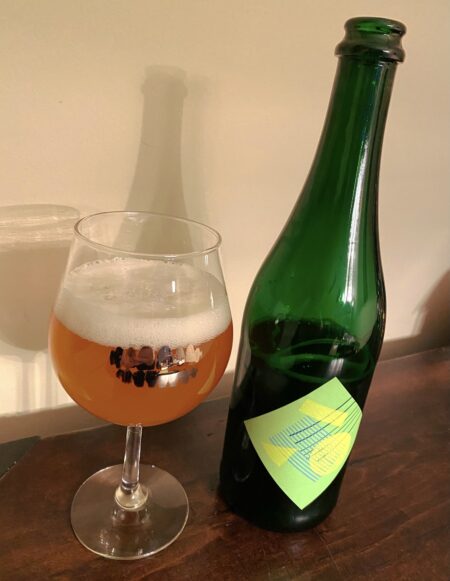 Informal #5 – Fifth in a series of one-off experiments utilizing new ingredients and techniques, this one starts as a saison dosed with leftover grape must from Origins / Sangiovese, which is then refermented on New Jersey cranberry honey, and finally blended back into a cask of 3 year old barrel aged golden ale. Sounds overly complicated. Is definitely worth the effort.
Pours a slightly hazy gold color with a couple fingers of fluffy white head, good retention, some lacing as I drink. Smells great, sweet, vinous fruit, oak, funky earth and spice aromas. I feel like the extended aging is apparent in the nose as well, maybe a faint hint of controlled oxidation or something. Taste starts with that vinous fruit, maybe a hint of tartness here, then on comes the oak and funk, with some subtle spice notes kicking in, finishing with a tart little kick. Mouthfeel is medium bodied, highly carbonated, moderate acidity, but quite approachable. Overall, a little more in line with your sour saisons, but another winner here… A-
Beer Nerd Details: 8.5% ABV bottled (750 ml capped and corked). Drank out of a charente glass on 12/22/20. Released: July 2020.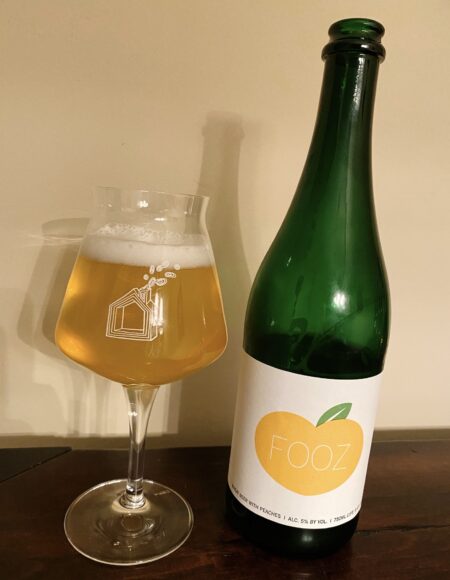 Fooz – A pretty standard wheat beer aged in stainless with oak spires before adding 250 pounds of peaches from 3 Springs Fruit Farms and a lengthy refermentation to get back to a relatively dry brew. Pours a clear, extremely light, pale yellow color with a finger of white, fluffy head that sticks around for a bit. Smells nice, lots of peach aromas, a little bit of oak, and the base wheat also stands out. Taste starts sweet, with those peaches kicking in quickly, introducing additional sweetness and maybe a hint of tartness, finishing on a subtle wheat and spice note. Mouthfeel is crisp, light bodied, well carbonated, very low acidity (almost nothing) making it pretty quaffable. Overall, ayup, it's a really nice fruited wheat. B+ or A-
Beer Nerd Details: 5% ABV bottled (750 ml). Drank out of a teku glass on 1/8/21. Batch 004.
So there you have it. If you're visiting Philly and luck into one of their open times, they're worth the stretch… er, after we get this pandemic thing sorted, I guess. These are my first Fermentery Form beers since it opened and a friend shared some, and damn, I may need to make that trip into Philly more often.