I think I've nailed down the inspiration behind this beer. You see, the crew brought this beach-ball-shaped alien aboard because Sgt. Pinback thought the ship could use a mascot, but then it escaped and messed up the comms equipment, inadvertently triggering one of the thermostellar nuclear bombs. During the countdown, they tried to teach the bomb's AI a little phenomenology in an attempt to abort.
What the hell am I talking about? This is the plot to John Carpenter and Dan O'Bannon's 1974 debut Dark Star (a clear truckers-in-space precursor to Alien, also written by O'Bannon). I'm positive that this relatively obscure movie is the inspiration for this beer. I mean, sure, it could possibly be the far more popular and famous Grateful Dead song, but we prefer to attribute brewers' chosen names with more goofy or possibly sinister influences.
This is why you should keep reading Kaedrin: Come for the beer, stay for the cutting edge cultural references and unsubstantiated insinuations about breweries.
So, um, anywho, this is a blend of imperial oatmeal stouts that were aged in bourbon barrels. Early releases of this beer were called Kentucky Dark Star, but my guess is that they dropped the "Kentucky" due to some sort of legal snafu (the label still sports the KDS logo). Those releases were aged in older barrels (I've seen references to 15 and 12 year old barrels). The 2018 release was aged in 7-12 year old bourbon barrels, but to make up for that the blend consists of beer that's been aged in those barrels for 24, 18, 12, and 8 months. Proportions are unknown, of course, but the use of longer-aged beer probably makes up for the differences in barrels. Or whatever, this could very well be false data. Let's see what Bomb #20 thinks: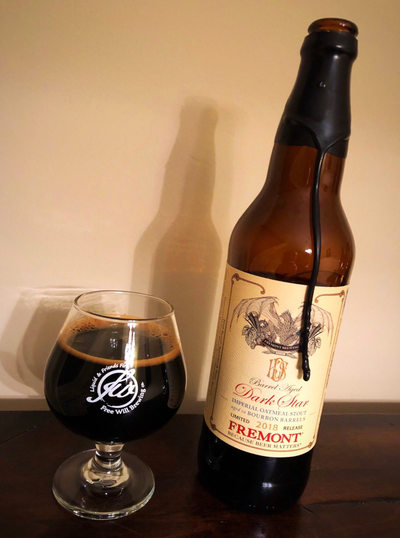 Fremont Bourbon Barrel Aged Dark Star – Pours a deep black color with half a finger of light brown head that quickly resolves to a ring around the edge of the glass. Smell retains some roasted malt character, but there's still a big dollop of chocolate, caramel, bourbon, oak, and vanilla. Taste is awesome, caramel and chocolate, a hint of the base roast malt, with a well balanced kick of bourbon, oak, and vanilla, finishing with a well rounded roasty note. Mouthfeel is perfectly carbed, full bodied, rich, and pleasantly boozy. Overall, yup, it's great. A
Beer Nerd Details: 13.6% ABV bottled (22 ounce bomber, black wax). Drank out of a snifter on 1/18/19. Vintage: 2018.
Another big winner for Fremont, and we'll definitely be seeing some variants of this beer and the most excellent B-Bomb in the near-ish future. If, that is, we're not all blown up by that pesky thermostellar nuclear bomb.