To mark the annual beer slowdown, I figure I should cover the bourbons that I procured during previous slowdowns. As you know (because, surely, you are an obsessive observer of this blog), beer is generally my beverage of choice, but when that's not on the docket, I tend towards bourbon or wine. Every year, I purchase a few bourbons, but the bottles generally last quite a while, so I tend to review them the year after purchase.
What we're covering today are two well known, respected but widely available bourbons, and two smaller batch, higher octane releases.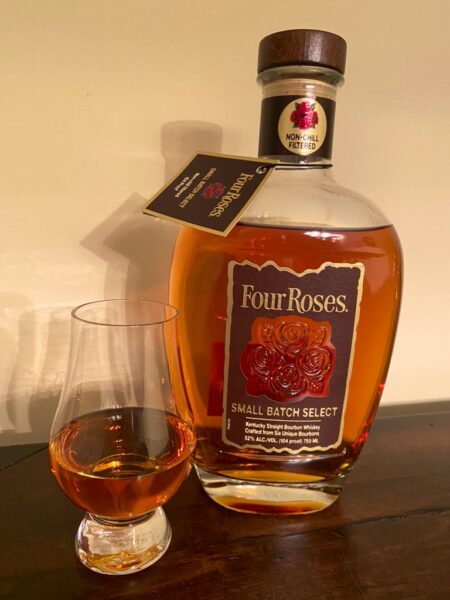 Four Roses Small Batch Select – This is a regular release from Four Roses and differs from the regular small batch with a higher proof and by leveraging a different blend of Four Roses' famous variety of recipes (a blend of 6 recipes versus 4 in the regular small batch, and only 2 recipes are the same between them). It's the most expensive of the core Four Roses lineup, but it's easily the best offering of that group and indeed, compares favorably to some of the single barrel cask strength releases I've snagged.
Pours a standard bourbon orangish brown, moderate legs. Smells great, a big wallop of baking spices, cinnamon, less of that bubblegum character I get out of all Four Roses, and some standard oak, vanilla, and caramel character. Taste follows the nose, dusty oak, vanilla, caramel, baking spices, and so on. Mouthfeel is medium to full bodied, well rounded and balanced, the proof is substantial but not hazmat levels. Overall, a rock solid, complex but uncomplicated sipper that might not blow people's socks off, but I can't imagine someone not enjoying this. B or B+
Bourbon Nerd Details: 104 Proof, 52% ABV bottled (750 ml). Drank out of a glencairn glass on 3/12/22 (and several times thereafter). Vintage 2022. NAS (6+ years).
Beer Nerd Musings: I've already reviewed enough Four Roses bourbons to have covered the immediate bases when it comes to beer, and I haven't seen much in the way of Four Roses barrels specifically called out of late. Of course, there aren't any beers specifically aged in Small Batch Select barrels… because it's a blend. To my knowledge, no one has specified which Four Roses recipe was used for the barrel they're aging beer in, and frankly that seems like the differences between recipes would get obliterated by aging a big beer in it (but hey, if someone released a series of 10 beers, each aged in a different Four Roses recipe barrel… I'd probably try at least a few of them).
Fellow Travelers: Josh at The Whiskey Jug had largely similar thoughts, while fellow beer dork Alex at Dontdrinkbeer was a little more mixed, but ultimately positive (it's "mad deece"). signde rated a tad lower, but was mostly positive. Bangers and Mash expected a bit more for the price, but again seems in line with everyone else.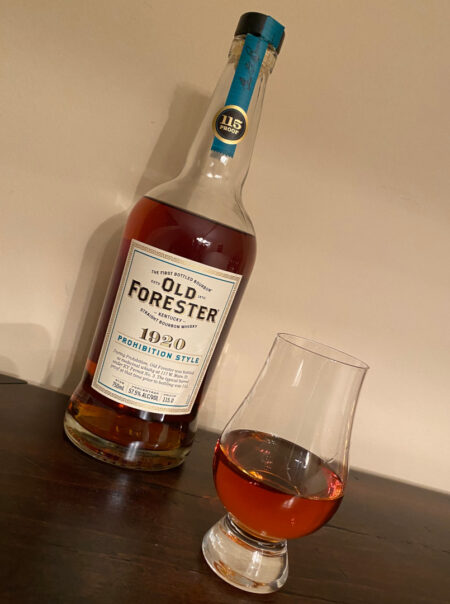 Old Forester 1920 Prohibition Style Whiskey – Last year, I was in the mood to branch out a little and try something from a distillery I hadn't had anything from before, and this thing seemed to be getting rave reviews from lots of folks a while back (again, bear in mind that I'm a beer dork, so I'm usually quite behind the times when it comes to whiskey) and while it's a tad pricey, it is widely available and not something you'll see gouged or bunkered. There's some marketing fluff around its origins in prohibition practices, but the upshot is that it's the highest proof of the standard Old Forester line… and thus the most expensive.
Pours a bit paler orange, but pretty normal looking, again moderate legs. Smells fine, I get a distinct honey and mint, herbal, floral character out of it, with much less in the way of oak, vanilla, and caramel (though they're lurking in the background) and much more in the way of hot alcohol. That being said, the nose is my favorite part. Taste hits those same notes, honeyed, herbal, floral character with muted oak and caramel, and what I'll just call an additional grainy or astringent note (don't know what that means? Great, me neither. I wrote this note a year ago.) Mouthfeel is full bodied and quite hot (even keeping in mind my baby beer palate, this feels like too much for the more muted flavor profile). Certainly not new make, but a bit fusel. Overall, given the high praise I'd seen, this was quite disappointing. I don't usually take price into account with ratings, but this one stung, especially since I had purchased the Four Roses Small Batch Select at the same time (for a bit less than this). It's certainly not bad, but perhaps I'm just not on its wavelenth – I'm certainly an outlier when it comes to this though. I will say that I've cottoned to this a little more upon further pours, but it's still not exactly my favorite. No one claims its amazing, but it seems to be highly favored as something accessible with a high proof and moderate price tag (at least, by today's standards). B-
Bourbon Nerd Details: 115 Proof; 57.5% ABV bottled (750 ml). Drank out of a glencairn on 3/19/22 (and several times thereafter). Vintage: 2022. NAS (4+ years).
Beer Nerd Musings: There are certainly lots of beers aged in Old Forester barrels, though they don't usually specify which expression (so I don't think I've ever had any aged in 1920 barrels). One of the most interesting entries of recent years, though, was Goose Island Birthday Bourbon County Brand Stout, which was aged in Old Forester Birthday Bourbon barrels. Birthday Bourbon is a much harder to land limited release (in PA, they do a lottery for it), but the difference between Birthday BCBS and regular BCBS was astonishing. It really showed what a difference the barrel can make – it yielded a distinctly bright fruity note to the stout that was just lovely and totally elevated the beer. I still have a bottle of this, and I suspect that distinct fruited note will not last over time, but it was a truly eye opening experience. Of course, the next year, there was a Bourbon County Reserve variant that was aged in Old Forester 150th Anniversary bourbon barrels that was… significantly less successful. I mean, still great (the BCBS reserve series is always good), but nowhere near the unique experience that the Birthday BCBS represented (and definitely not justifying the BCBS Reserve pricepoint).
Fellow Travelers: Josh at the Whiskey Jug digs it quite a bit. Sku doesn't love Brown Foreman products (they make the Old Forester line) and to be fair, he much prefers it with some water (I tried that, didn't really help me much), but thinks it's really nice and affordable for what it is. signe is also not a Brown Forman fan but found himself pleasantly surprised by how much he liked this. Bangers and Mash liked it with ice and was a bit turned off by the price point, but thought it was otherwise pretty good.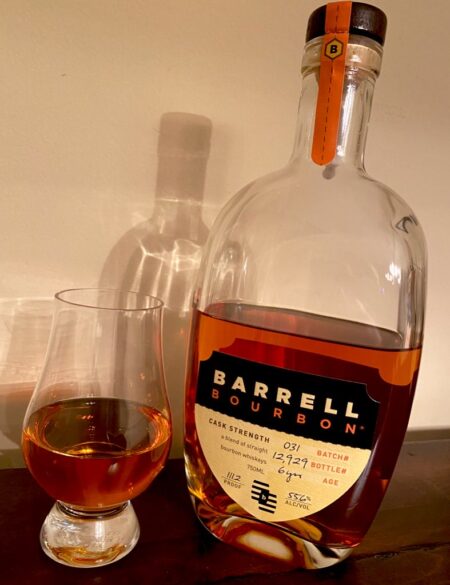 Barrell Bourbon Batch 31 – I've been a fan of Barrell for a while, though obviously I can't keep up with their releases. One thing I loved about Batch 9 was the 13 year age with a highish but still quite reasonable price point. Alas, those days are gone. Barrell still occasionally sources double digit ages, but they've been exploring ultra premium pricing in the $250+ range for a lot of stuff lately, which I'm probably not going to delve into. Batch 31, though, sounded promising. A blend of 6, 7, 10, 15 and 16-year-old barrels from Tennessee, Kentucky, and Indiana. No details on percentages, but supposedly built around the 6 and 7 year barrels which comprised a group of 99% corn bourbon barrels and a group of wheated bourbon barrels, I'm assuming that's the bulk of the blend. That being said, some of that older juice contributes something… This is only marginally lower proof than Old Forester 1920, but I don't get anywhere near as much hotness out of this.
Pours a golden orange color, long legs. Smells sweet, cornbread, rich caramel, nutty oak, lots of vanilla, marshmallow, a bit of the spice box, maybe even some pine. More spice in the taste than the nose, but that sweet cornbread and caramel hits too, with lots of oak, vanilla, hints of mint, nuts, molasses. Mouthfeel is full bodied and rich, definitely hot but not hazmat levels – pushing it, but it works neat. Overall, delicious stuff, reasonably well balanced, worth the stretch for sure… B+
Bourbon Nerd Details: 111.2 Proof; 55.6% ABV (750 ml). Drank out of a glencairn on 3/20/22. Bottle #: 12,929. Age: 6 years (see above for additional blend info involving older ages)
Beer Nerd Musings: Near as I can tell, there are no beers aged in barrels specifically attributed to Barrell (now, there are some beers in various databases that misspell "barrel" and include an extra "l", but I don't think that counts), but since they source all their barrels, I suppose they could make it to a brewery somewhere… Since Barrell seems to be good at picking barrels for their blends, I'm guessing they'd be good fodder for bba beer, though obviously drinking the blend doesn't exactly tell you how a beer would be… unless the beer used the same blend of barrels? That would be… a weird experiment that I'd totally be curious about. Batch 31 is supposedly built around a 99% corn bourbon, which is a rare but not completely unheard of barrel for beer aging (Eclipse had a Mellow Corn variant a while back that was decent; BCBS had a rumored Reserve variant aged in Mellow Corn barrels, but that never panned out)….
Fellow Travelers: David of Whiskey in my Wedding Ring did… not care for this batch and got a distinctly Tennessee character out of it that he didn't like (he describes it as Flintstones vitamin), but that as a beer dork, I'm either oblivious to or don't mind very much. Brad from The Whiskey Jar tried out some new glassware with this bourbon and came away impressed with both.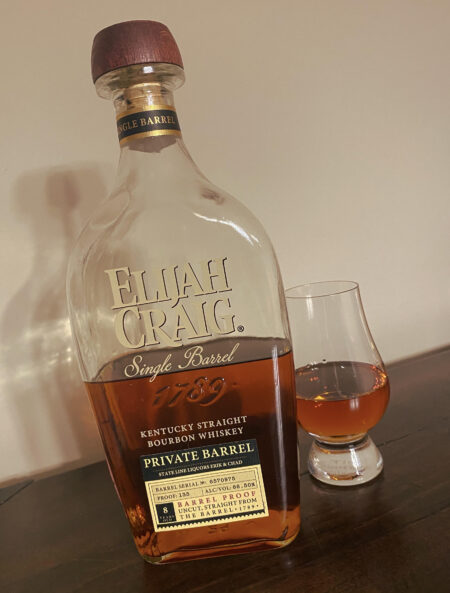 Elijah Craig Private Barrel – State Line Liquors Erik & Chad – The most recent top-off of my infinity bottle had depleted my Elijah Craig Barrel Proof supply, so I was in the market for more EC and semi-local liquor heroes at State Line Liquors released this private barrel at the perfect time. This is one of those one-off releases that comes and goes and will never be seen again; I'm guessing somewhere around 150-200 bottles in existence. Now, private barrel picks are common in some places, but not so much in Pennsylvania. Even basic stuff like Buffalo Trace Private Barrel picks tend to go to lottery (though who knows, bottles might show up in stores). Anywho, this private barrel pick is pretty non-standard, clocking in at just 8 years old, but it does make for an interesting experience.
Not quite as oaky or complex as standard 12 year expressions, but it's still got a good oak character, and the high octane proof hits hard. Oak, vanilla, light spice box, caramel, pretty classic bourbon notes intensified by the high proof. At 66.5% ABV, it's certainly hot, maybe a tad too hot. Good stuff, but the 12 year barrel proof expressions are better… this is still pretty great for what it is and I'm glad I picked it up. B+
Bourbon Nerd Details: 133 Proof; 66.5% ABV (750 ml). Drank out of a glencairn on 6/11/22. Age: 8 Years. Barrel No. 6570975.
Beer Nerd Musings: Apparently State Line sent one of their Elijah Craig barrel picks to local brewpub chain Iron Hill, and they aged an imperial stout in it. They don't specifically mention which barrel, but the timing lines up and it could very well be the barrel the above bourbon was aged in. Only 14 reviews on Untappd, but they're pretty positive (better than the regular BBA edition of the same base beer). Other than this specific beer, I actually don't know of any beers specifically aged in non-12 year (or older) EC barrels, but EC is generally considered great for barrel aging beers, and this would certainly do well. This is territory we've covered before, but I'd still be on the lookout for EC aged beers.
Only one of these disappointed, and I eventually came around on it (even if I'm not rushing out to try more of the Old Forester line) and plus: I'm clearly an outlier on that one. Fingers crossed that I win another PA lottery sometime soon, but one of the good things about being a bourbon amateur is that there's still lots of generally accessible stuff out there for me to try…