Hard to believe, but it's been twenty years since Stone declared that we weren't worthy to drink their beer. This turned out to be a successful reverse psychology gambit, as they've enjoyed quite a bit of popularity over the years. For their 20th Anniversary, they embarked upon a series of Anniversary Encore beers. Back in January, they released a rebrew of their 12th Anniversary Bitter Chocolate Oatmeal Stout, but they also reserved some for the Bourbon Barrel treatment, released in August and dubbed Oakmeal, which is what I have here.
For a brewery as big as Stone, it's always been surprising how small their barrel program was, but they started beefing it up a couple years ago. That initial batch of Fyodor's Classic was superb, but subsequent batches lacked that one's pop. I know, I don't like it when people proclaim that "Last year's batch was better" either, but in this case, there's actual cause for speculation. The great batch was aged 12 months, the not-as-great batch was only aged 7 months. Length of aging isn't the only variable, but it seems like an important one and the difference was palpable. Now, Oakmeal's base is a little less hearty than the Fyodor's base and it also incorporates healthy doses of bitter chocolate and oats (cerealously, oats!), but it also only got the 7 month aging period. How will that work out this time? Only one way to find out, which is to ask Wilford Brimley. Ok, two ways, we can drink it too: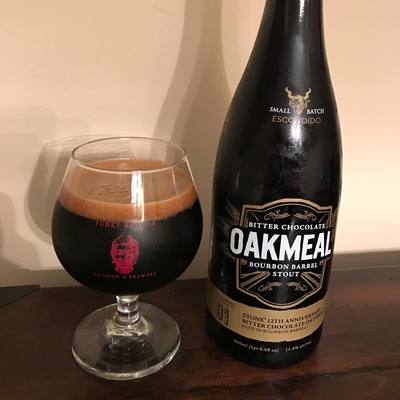 Stone Bitter Chocolate Oakmeal Bourbon Barrel Stout – Pours black as a politician's soul with a finger of gorgeous brown head that sticks around for a bit. Smells nice, lots of roast malt, chocolate, coffee and little caramel, oak, and vanilla from those barrels too. Taste starts off sweet, rich caramel, vanilla, and then we move on to more prominent roasted malt, dark chocolate, finishing on a small amount of a boozy bourbon note. The barrel character is nice, but not exceptional, and again, I noticed that it's at 7 months, where the best Stone BA stuff I've had was at 12 months… Not sure if that is the culprit, but it seems likely. Mouthfeel is rich and full bodied, moderate carbonation, a little warming booze. Overall, a rock solid bourbon barrel stout, not going to open new vistas of the mind, but worthwhile in its own right. B+
Beer Nerd Details: 11.4% ABV bottled (500 ml caged and corked). Drank out of a snifter on 10/8/16. Brewed: December 5, 2015. Bottled: July, 2016.
Stone seems to have focused this year's barrel aging efforts on creating variants of their Xocoveza beer, which I'd gladly try… but I'm still jonesing for well-aged Fyodor's again. Fingers crossed.