Given the size of Stone Brewing Company (a top 10 craft beer brewery in terms of volume), I've always been surprised at the relatively tiny size of their barrel program. If you troll their BA page, you'll see lots of examples, but from what I can tell, you've got a lot of DONG* beers and limited bottle runs in the low hundreds. In the past few years, though, they've really stepped up their efforts, implementing what they call their Quingenti Millilitre (they come in 500 ml bottles, hence that fancy name) series. Last year, they released 9 different varieties, but no imperial stouts. Their previous attempt to bottle a barrel aged IRS in 2010 wound up horribly infected, so everyone was wondering if they'd try it again. Well they did, and holy hell am I glad I got a hold on one of these bottles, because it is nothing short of spectacular. Bottle counts seem to be in the 3000 range, which is nothing to sneeze at, but given Stone's size, it still seems small. Hopefully their meteoric rise will extend to their barrel program in future years.
Take a batch of 2013 Stone Imperial Russian Stout, age it in Kentucky Bourbon Barrels for a whopping 12 months, and you've got Fyodor's Classic. Why they decided to name this after Fyodor Dostoyevsky, I do not know, but here are some tasting notes from the underground: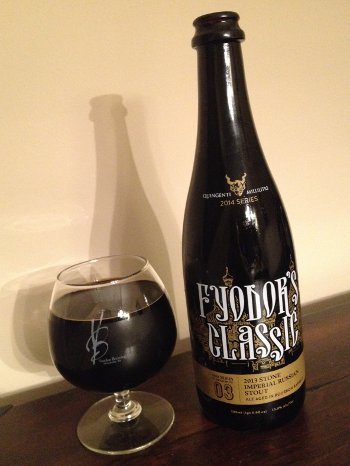 Stone Fyodor's Classic – Pours a very dark brown, almost black color with a minimum of head, just barely a cap of brown head that quickly resolves to a ring around the edge. Smells deeply of bourbon, with some caramel, oak, and vanilla joining in as well. Taste is full of that rich caramel, oak, vanilla, and bourbon, very faint hints of roast and chocolate, but this is clearly dominated by that bourbon barrel. It opens up even more as it warms, and it just keeps getting better. Mouthfeel is full bodied, rich, and silky smooth, surprisingly little heat given the high ABV, though you get hints of that in the finish and a bit of a warming sensation if you drink quickly. When I saw the head (or lack thereof), I was a little worried about the carbonation, but while low, the carb fits very well with this beer. The 500 ml packaging is just about perfect for this sort of thing too. Overall, this is a phenomenal Bourbon barrel aged stout, absolutely world class. My face melted right off (that's, uh, a good thing). A
Beer Nerd Details: 13.9% ABV bottled (500 ml caged and corked). Drank out of a snifter on 5/25/14. Bottled: February 2014. IBUs: 38.
There is a version of this beer that also included Ryan Bros. Coffee. That variant is more popular with the general beer nerd population, but while I'm sure I'd enjoy it, I can't say as though I'm that disappointed as I'm not a huge coffee guy (he says, as if he hasn't said it a gazillion times before). Fyodor's Classic is my sweet spot, and I will be hunting this sucker out again for sure.
* Draft Only, No Growler. Aren't acronyms fun?