The first time I had Revolution brewing's fabled Straight Jacket, I obviously enjoyed it, but came away somewhat disappointed. Years of hype had taken a toll, and expectations can be hard to live up to. It happens. That being said, it became somewhat easier to obtain cans for reasonable cost, and weirdly, with each new can I drank, I felt myself falling more and more in love with this barleywine. The 2022 vintage, in particular, was really something else. At this point, it basically lives up to the hype. Fortunately, that sort of thing happens sometimes too.
So when Revolution announced their most recent variant, a Double Barrel Very Special Old Jacket (V.S.O.J.), I didn't want to get my hopes up too much. As fortune would have it, I managed to procure a can, which was far from a certain proposition. Why all the fuss?
Double Barrel V.S.O.J. is a blend of Straight Jacket barley wines that've been aged in bourbon barrels for one to three years. That type of blend has been released all on its own in the past as VSOJ, and is generally considered the pinnacle of Revolution's barrel program. However, in this case, they took that blend and then racked it into Templeton Rye barrels for an additional eighteen months.
Lord knows I'm a sucker for this sort of thing, but it should be said that this is not necessarily the slam dunk that it seems. On its face, the heuristic of "longer age" and "more barrel treatments" being better makes sense, and it certainly justifies extra expense, but it doesn't always result in a better beer. There's a lot of moving parts here, and a lot of things that could go wrong, even excluding blatant failures like infection.
Extended aging can thin out a beer or provide too much oxidation character (a little can be pleasant and add complexity, too much can make a beer taste like cardboard). Age and extra barrels can result in too much oak extraction, providing tannic notes or overly boozy character. Choice of barrels makes a difference, especially if you're mixing different spirits. And so on. Look, I'm not a brewer or cellarmaster and who knows what manner of barrel gnomes or beer gremlins lurk in the shadows of the brewery, but I've had some treatments that sound great on paper, but fall short in execution. (Not to point fingers, but for a couple examples of this sort of thing: Medianoche Premier Vol 1 and Bruery Soie Reserve both sound great on paper, but aren't as good as their humble base offerings…)
If you're still reading this, you may have deduced that the past couple paragraphs were basically just a pathetic attempt to throw you off the scent, because any fears about this beer are unfounded. It's utterly phenomenal.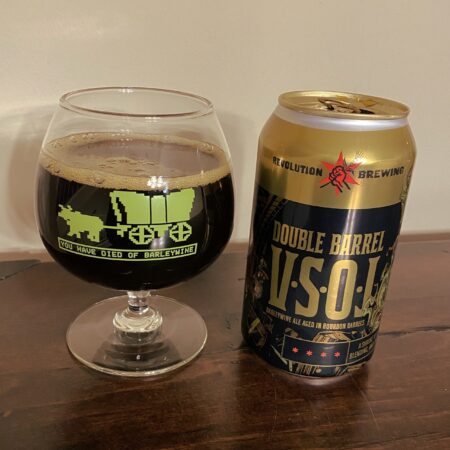 The Revolution Double Barrel Very Special Old Jacket (V.S.O.J.) clearly pours darker than regular old Straight Jacket, and this is rich, intense, decadent stuff, with the usual caramel, toffee, vanilla, and oak, but also a nice rye spice, graham cracker, booze soaked raisins aspect, dark fruit, leather, lots of complexity. At 16.8% ABV, it's certainly boozy and you can tell, but it's not overly hot either. Balance is not a word you'd really use for something this bold, but its disparate elements are in harmony, or something like that. A
Beer Nerd Details: 16.8% ABV canned (12 ounces). Drank out of a snifter on 2/3/23. Canned on 12-29-2022.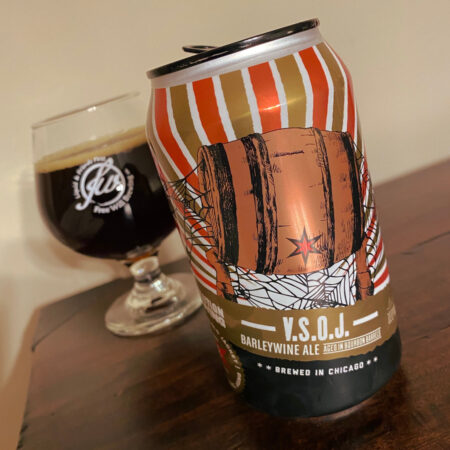 The Double Barrel certainly distinguishes itself from the humble, regular Straight Jacket, but the real question is how it compares to Revolution's regular Very Special Old Jacket? Conventional wisdom was that regular V.S.O.J. was about as good as you could get. Fortunately, I managed to get ahold of the 2021 vintage of that release as well. It's maybe got a bit less body and a tad more boozy heat, but we're splitting hairs here at this point (i.e. neither of those things are faults, really, just different). Both are hugely complex beers, but they are distinct from one another, a little less of the earthier rye tones in the non-double-barrel version, but again – that's not a bad thing. It's got that whole Straight Jacket barleywine character, only moreso. Really can't go wrong either way when it comes to this and the double barrel. Everyone loves to pit stuff against one another and declare a winner, but in reality, there's no need to do such things. If you can get your hands on any of these Revolution Very Special Old Straight Jacket beers, you'll be in for a treat. Hell, at this point, just plain ol' Straight Jacket is worth the stretch. Anyway, V.S.O.J. also warrants an A
Beer Nerd Details: 15% ABV canned (12 ounces). Drank out of a snifter glass on 2/10/23. Canned on June 29/2021.
Obviously this is just contributing to the hype, I guess, but the Revolution barrel program deserves all the plaudits it gets. Except for Strawberry Jacket, that stuff is genuinely disappointing. Anywho, someday perhaps I'll also cover the Ryeway to Heaven line, which are almost the equal of Straight Jacket, and in some cases, maybe even arguably better.