Tonight was beer club! For the uninitiated, beer club is a gathering of beer-minded individuals from my workplace who get together once a month for beer and revelry at a local BYOB. This time around, we went to a local Pizza place, got our fill of deep fried pizza pockets and other such delights, and naturally partook in lots of beer: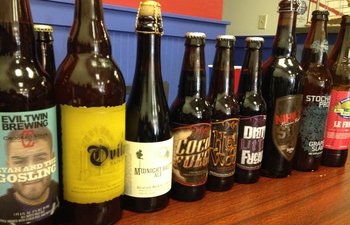 (Click for larger version)
For the sake of posterity, completely unreliable notes on each beer are below. Standard disclaimers apply, and other such waffling. Great, now I have a sudden craving for waffles. Thanks a lot. Anywho, in order of drinking (not necessarily the order pictured above):
Green Flash Le Freak – Labeled a Belgian IPA, I didn't get much in the way of hops out of this, but it remained a pretty solid Belgian Strong Pale nonetheless. Nice spicy Belgian yeast character. B
Ovila Abbey Saison – Bog standard saison material, nothing special at all, though certainly not bad or anything like that. Still, there wasn't much to make it really stand out in a setting like this. Mild Belgian yeast character, maybe a hint of lemon peel if you are really looking for it. B-
Stone Stochasticity Project Grapefruit Slam IPA – Rock solid IPA that feels like it's actually made with grapefruit (as opposed to only hops that lend a grapefruity character). I don't actually know if that's the case for sure, but that's what it feels like. Beautiful nose, what seems like Stone's trademark hop profile, and a heaping helping of citrusy but astringent grapefruit. An interesting beer. B
Evil Twin / Crooked Stave Ryan And The Gosling – One of my contributions for the night, this is dominated by funky Brett. This is quite welcome in the nose, and the front end of the taste is fantastic, but the finish is very odd. That funk turns super earthy, almost savory in the finish, which brings this down a bit. Still an interesting beer to try though. B
Allagash Midnight Brett – Hey, look at that, a beer I just reviewed yesterday. And it held up rather well in this setting as well.
Ken's Homebrewed Honey IPA – Brewed with a bunch of New Zealand hops, this was quite nice.
Sly Fox Nihilist – An interesting take on the imperial stout style, huge carbonation, dryer than I'd normally expect, but a nice roast character, with hints of booze (but not overpowering). It's definitely a decent brew. B+
Kaedrin Bomb & Grapnel – Straight up imperial stout, this one compared very favorably to the Nihilist, definitely thicker and more creamy, less roast, but really quite nice. B+
Kaedrin Bomb & Grapnel (Bourbon Oaked) – Interestingly, I feel like the char that came through on early bottles has mellowed out, and the bourbon seems to be lessening the roast as well, making this an interesting blend of flavors. It's turned out quite well, though not at all like your typical bourbon barrel aged stout. Still, not bad for a first attempt, and quite nice on its own. B+
DuClaw Dirty Little Freak – Holy hell. Huge chocolate nose, like powdered cocoa. Less chocolate in the taste, as it takes a back seat to a big coconut character. Surprisingly not super sweet, and it works well enough I guess (certainly a unique beer), though I was a little disappointed. B-
DuClaw Cocoa Fuego – Brewed with dark chocolate and chipotle peppers, its the latter that seems to dominate this beer, even contributing a sorta smokey flavor that's pretty tough to overcome. There's some peppery heat that takes up residence in your jaw, but it's not punishing or anything like that. Not the worst hot pepper beer I've had, but not a beer that I connected with either. C+
DuClaw Hell on Wood – Ah, now this is more like it. This is DuClaw's excellent Devil's Milk barleywine aged on bourbon barrels, and it turned out reasonably well. Clearly not a top tier BBA barleywine, but it works really well on its own. B+
So all in all, quite a nice night. As per usual, already looking forward to next month… In the meantime, stay tuned for another .rar wale review tomorrow.