I don't know why I called this a "Yuletide" beer club except that 'tis the season and I am a bit tipsy (alas, none of the beers we tasted were particularly festive). For the uninitiated, Beer Club is a monthly get together amongst friends and coworkers (and former coworkers) to share some beer and partake in general revelry. We have been woefully neglectful of late, and indeed, after just barely sneaking a September meeting in at the very end of that month, we did not manage a meetup in October or November. But we're back on track and managed a pretty good showing.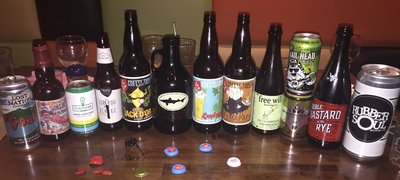 (Click to embiggen)
For the sake of posterity, some thoughts on each beer are listed below. Standard disclaimers apply, we were at a sushi place, not a sensory deprivation chamber. Notes are below, in order of tasting, not necessarily in the order pictured.
After the Hoo Lawd, we opened a couple of "palate cleansers" that were IPAs that basically tasted like water, so I won't really go into detail on those. The Rubber Soul Dropout fared slightly better, but still didn't taste bitter at all. Go figure. So that wraps up this beer share, look for more in January, I hope!