There's an urban legend dating from the 1950s that a certain jazz musician stumbled upon an unconventional series of chord and tempo changes, resulting a hypnotic effect that put audiences into a sort of trance. Supposedly the unorthodox arrangement culminated with a single note that rendered some unconscious, ultimately leading to the death of four patrons of a New Orlean's jazz club. That note became known as the "Black Note". Of course, by "Urban Legend", I mean that I just made this whole thing up because the picture on the label looks like a record and when I Googled "Black Note" and got past all of the E-liquid vaping references (yeesh), I saw a couple of things related to jazz. I almost had you there, eh? No? Fine then, be that way.
Anywho, this is one of those fabled beers I used to hear about back when I was getting into beer and it felt like the sort of thing I'd never have the opportunity to try. Even obsessive beer traders were coughing up ridiculous beers or engaging in tawdry Craigslist endeavors to get a taste. The last couple of years have seen an increase in production that even allows for some limited distribution, which is how goofballs like myself can luck into a bottle without having to resort to offering my entire collection of Mercury Dimes. The corresponding hype has theoretically died down a bit (especially now that I've got a bottle!), but it's still at a place where this has a lot to live up to. Wanting to try something for 5 years is perhaps not the best way to keep expectations in check.
So what is this thing all about? It's a blend of Bell's fantastic Expedition (one of the best non-BA stouts this side of Surly Darkness) and their Double Cream Stout, all aged in Bourbon barrels for unspecified "months". Sounds delightful, but can it live up to expectations? Alas, while this is indeed very good, I think perhaps I let the hype get to me…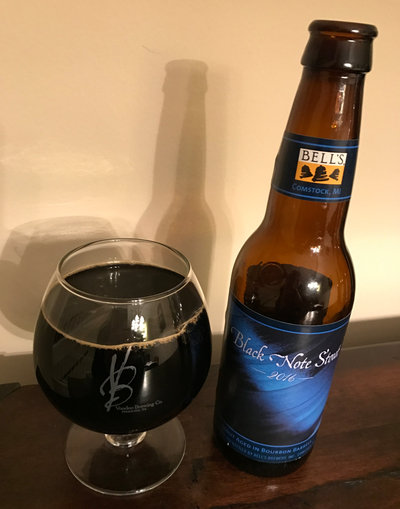 Bell's Black Note – Pours a very dark brown, almost black color with half a finger of light tan head. Smells of piney, resinous hops, maybe some liquorice and chocolate. Taste hits those resinous hops pretty damn hard, a little bit of sweet booze, hints of vanilla, dark chocolate, finishing with a bitter hop bite. Not much barrel character, but it gets a little more prominent as it warms. Mouthfeel is surprisingly thin, by which I mean medium bodied, well carbonated, just a little bit of booze. Overall, this is actually pretty disappointing. It's not bad or anything, maybe it was just overhyped for me, but the barrel character is minimal and I think I might just like Expedition better by itself… B+
Beer Nerd Details: 10.8% ABV bottled (12 ounce). Drank out of a snifter on 1/13/17.
It's actually reminiscent of the recent Tröegs Bourbon Barrel Aged Impending Descent or an aged bottle of Dark Intrigue. Many thanks to Kaedrin friend Danur for snagging a bottle for me. Much appreciated!