Beer club was last Thursday! I started to write this recap when I got home, but I didn't get very far. As has been established frequently, I am the worst. But I'm here now to make amends. For the uninitiated, beer club is a monthly gathering of like-minded coworkers at a local BYOB for good food, optional libations, and general merriment. This time we checked out the newly opened West Chester branch of The Couch Tomato, a rather fine pizza establishment (in a sea of pizza places, this has immediately established itself in the local upper tier with America's Pie). I had a rather fine stromboli (called the "Italian Stallion") whilst imbibing the usual beery wares: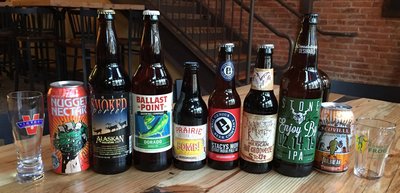 (Click to embiggen)
For the sake of posterity, some thoughts on each are below. Since it's been a few days, these thoughts will be even more unreliable than normal, so take them with a giant, asteroid-sized lump of salt. In order of drinking (not necessarily the order in the pic):
Evil Genius Stacy's Mom – Has moderate amounts of goin' on. Citra hops come through a little, but it's not particularly accomplished compared to its Citra-based brethren. B
Jailbreak Welcome To Scoville Jalepeno IPA – Definitely a peppery beer, but not a ton of heat, which is nice. On the other hand, I feel like whatever hops it has going on are sorta canceled out by the pepper character. B-
Flying Dog Mexican Hot Chocolate Stout – Now this one has some heat to it, but it's a very well matched heat that matches better with the roasty chocolate notes of the base stout than an IPA. That being said, it wasn't exactly blowing me away. B
Alaskan Smoked Porter – I get the impression that sometimes people bring beers they bought but realized they don't actually want to drink a whole bottle of. I'm as guilty as anyone, and this is one such example. I don't mind the occasional smoked beer, but really haven't been in much of the mood for this sort of thing lately. As Smoked Porters go, this is a pretty great example. Still not exactly my thing though, and I'm glad I shared. B
Stone Enjoy By 02.14.15 IPA – Tastes about 5 days too old. Oh snap, breaking the law! Just kidding, it was fine, despite not following the rules on the bottle. It's a decent beer, and it's definitely grown on me, but I've never gotten the absolute love some folks show for this (and yes, I've had it fresh before too). B
Ballast Point Dorado Double IPA – Ah now this is the stuff. One of my contributions and a rock solid citrus and pine bomb, well balanced and tasty. B+
Armstrong Ales Bold Thady Quill – A pretty nice take on an Irish Dry Stout, roasty and light bodied. Not going to melt your face, but it'd make for a nice session. Also, probably not the best setting for this kind of beer. Would still love to try more from this local upstart. B
Kaedrin Trystero Barleywine – I feel like my keg should be empty right now, but it appears to be bottomless. The keg feels nearly empty, but I just filled up this 1 liter growler with no problem. Need to finish off that keg so I have somewhere to put an IPA! The beer itself is doing well enough. I do feel like I perhaps dosed it with a bit too much in the way of bourbon, which cuts down on some of the fruitier malt characters in the beer. Still good though. B+
Prairie Bomb! – Another of my contributions, I have to admit that I didn't realize this was a coffee dosed beer. I was really excited to try it, then initially disappointed by the coffee character. Still, I ended up drinking more of this than usual, and it grew on me. Rock solid and I can see why it's so popular, but it doesn't really approach my top tier. B+
Victory Moving Parts 03 – Technically, we'd left beer club and moved the party over to a local bar, which was having a Victory event. This was our initial pour, a Belgian IPA. Nice enough on its own, but nothing particularly eventful here. B
Victory Deep Cocoa – On cask with vanilla and something else that I don't remember. It could have been that I was just drunk at the time, but I kinda loved this. Deep, rich chocolate, vanilla, full body, really delicious stuff. Have not tried the regular version but this cask was hitting the spot, so let's give it an A-
And there you have it. Attendance was a little low, so I probably drank more than normal this time. Also, we didn't get to the Nugget Nectar, mostly because we've all had it several times already this year (even out of the can, which is, yes, very nice) but also because there were less of us there that night than normal. Crazily enough, some people didn't come because it was just super cold out (not snowing or anything, just really cold, low-single digits). I don't know what their problem is. Maybe I'm not the worst after all.