First brewed in 1968 in honor of the 40th anniversary of the passing of the Victorian author, Thomas Hardy's Ale has a long and illustrious history. A history that I won't bore you with since others have recounted all the various ownership changes and tumultuous brewery shenanigans ad nauseam. Also, sometimes that sort of thing is boring all by itself. Suffice it to say that it's a venerable, storied British barleywine that is often aged for upwards of 25 years or even more. Legend has it that the original run of these beers peaked at around 8 years in the bottle. I… did not wait that long, and have a couple of recent vintages here, so take these reviews with the appropriate, sarcastic boulder of salt in which I offer them:
Thomas Hardy's Ale Golden Edition 50th Anniversary – Not sure what differentiates this from earlier editions (it's marked as a "Special Edition" and lists out others brewed to celebrate this or that), though it does seem to have a higher ABV, so maybe that's the ticket – Pours a slightly hazy copper color with almost no head at all, not even especially a ring around the edge. Smells nice, some spicy hops, lots of crystal malt character, not quite the caramel and toffee that you really want, but it's kinda there, and could perhaps emerge over time. Taste is sweet, lots of that crystal malt, some dark fruit too, earthy, spicy hops and a bit of booze. Mouthfeel is medium to full bodied, but nearly still and thus sticky, a little bit of alcohol warming. Overall, it's a nice little barleywine, I could see it improving with age, but I'm still not sure it'd really compete with top tier barleywines I've had. B
Beer Nerd Details: 13% ABV bottled (11.15 ounces/330 ml). Drank out of a snifter on 12/7/18. Bottle No. 32685. Vintage 2018. Best by: 19/09/27.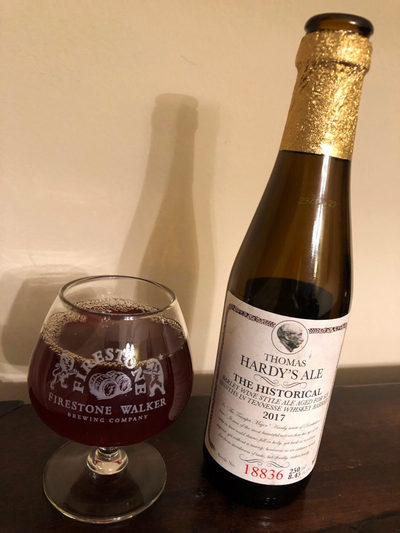 Thomas Hardy's Ale The Historical 2017 – This is 2017 Thomas Hardy's Ale aged in Tennessee whiskey barrels (probably Jack Daniels, though I suppose it could be Dickel or something more obscure) for 6 months, a "historical" throwback to the original Thomas Hardy's Ale, which was aged in Cognac barrels – Pours a bit of a darker copper, and again there's no head or real visible carbonation. Smells better, rich caramel and toffee coming through more here, with the crystal malt anchoring it, and just a touch of whiskey, oak, and vanilla too. Taste is much fruitier than the nose would imply, lots of dark fruit, plums, raisons, figs, and so on, with some whiskey, oak, and vanilla pitching in. As it warms, the fruity character takes on an odd sort of tangy note. It's not quite tart, but it doesn't feel right either. Mouthfeel is full bodied and flat as a board, a little alcohol heat too. Overall, it seemed like an improvement over the regular at first, but that didn't quite last. Probably heresy, but I think American barrel aged barleywines tend to be far better than this was. Maybe some age would help, but I can't see it rivaling the best. B
Beer Nerd Details: 12.7% ABV bottled (8.45 ounces/250 ml). Drank out of a snifter on 12/7/18. Bottle No. 18836. Vintage 2017. Best by: 29/10/27.
So I enjoyed this exercise and it's always nice to delve into historically significant beer. I have another of the Golden Edition sitting in the cellar for a rainy day 8-10 years from now. Maybe.