Due to the capricious whims of Mother Nature, we had to push beer club back a ways, very nearly missing the month of January. But thanks to a no-show on yesterday's storm, conditions were fine (if a little cold) tonight, where we hit up a new BYOB BBQ place, shared some beer, did some "Adult" Mad Libs ("I need a noun." "Assless Chaps."), and generally just had fun. For dinner, I ordered something called "Loose Meat", and drove everyone crazy attempting to make double entendres about it. In case you were wondering, this is what loose meat looks like: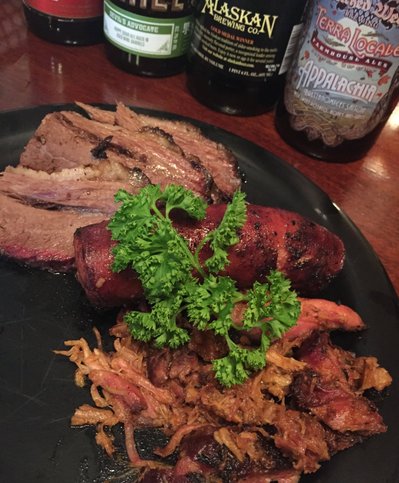 (Click to Embiggen)
It has a nice phallic arrangement, but the feng shui could be a little better if the brisket and pulled pork were a little far back, don't you think? Also of note, the parsley merkin. Anyways, it was good stuff, and we had some decent beer to go with it: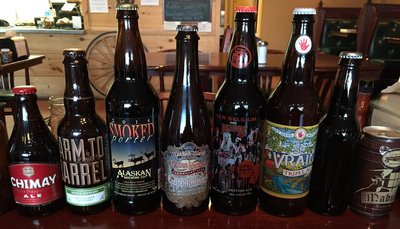 (Click to Embiggen)
For the sake of posterity, thoughts on each are below. Standard beer nerd disclaimers apply. I'm sorry, but the BBQ place did not have a hermetically sealed environment suitable for proper note taking. Also, I didn't really take notes. I'm the worst. In order of drinking (not necessarily the order in the pic):
Kaedrôme Saison – Hey, remember that saison I dosed with Brett, like, a year ago? It's doing reasonably well right now. It's carbed up to a drinkable state, though still not as effervescent as I'd like. But the flavor is there, and it's doing reasonably well. B
New Belgium/Three Floyds Lips Of Faith – Grätzer – My first Grätzer, and um, it's a weird style. Light smokiness, very thin, with a weird tartness in the finish. A perfect beer for this situation, as I'm happy to try something like this, but I'm not sure I'd go out of my way for more. C+
Left Hand St. Vrain Tripel – A pretty standard American take on a tripel, a little too sticky, but a nice palate cleanser after the Grätzer. B
Wicked Weed Terra Locale Series – Appalachia – I've heard great things about Wicked Weed, so I was really looking forward to this, and a Brett saison made with sweet potatoes and grits sounds like it could work, but I found it a bit on the bland side. Nothing wrong with it, per say, but there's not a lot of funk, and it just felt a little on the dry side. It's certainly cromulent and I could probably drink plenty of it, and maybe it was just that this is not ideal for a tasting like this, but I was disappointed. B
Chimay Red – Yep, it's Chimay all right. I've never been a huge fan of this particular expression though. B
Cigar City Maduro Oatmeal Brown Ale – Rock solid take on a brown ale. Not going to knock your socks off, but it's a tasty alternative to macro slop. B+
Almanac Devil's Advocate – Another fantastic little sour from Almanac, very tasty, vinous, sour, oaky, delicious. I don't normally think of "hoppy" and "sour" going together very well, but these folks are doing it right. Probably my favorite beer of the night. A-
SoChesCo Valentine's Day Chocolate Milk Stout – A friend's homebrewed milk stout, asolid take on the style, very tasty. B
SoChesCo Pennsyltucky Chocolate Milk Stout – The same stout as above, conditioned on bourbon soaked oak, which wound up as a light character. You could definitely taste the difference drinking them side by side, but I don't think I'd have pegged this as a bourbon oaked beer if I drank it blind (my own Bourbon Oaked Bomb & Grapnel fared little better on that account). B
Bière De L'Amitié (Green Flash & Brasserie St. Feuillien) – A very interesting and different beer. Standard Belgian yeast spice and fruit, but also some citrus hoppiness, and something that really felt like they dosed it with white grape juice (I don't think they did, but that's what kept coming to mind). B
Ken's Homebrewed Creme Brulee Stout Clone – Holy vanilla, Batman! Like the Southern Tier inspiration, this is incredibly sweet and it's got a great nose that I could just sniff all night long. I think there might be more vanilla here, but I love me some vanilla. B
Stone Bourbon Barrel-Aged Arrogant Bastard Ale – Another beer that I was looking forward to, but which didn't quite live up to expectations. It was a fine beer, one of the better of the night actually, but I didn't get a tone of Bourbon barrel character out of this. It felt like the barrels muted the aromatic aspects of the hops while leaving the bitterness. Fortunately, the Bourbon sweetens it up a little, so it's still reasonably well balanced (er, for Arrogant Bastard), but it's not something you really need to drop everything and try (like, for example, Stone's Fyodor's Classic). B+
At this point, we decided to call it a night, and we didn't get to the last two beers. Oh well, there's always next month, which should come up soon!