The second lambic collaboration between Boon and Mikkeller (the first being their Bone Dry, a sorta older sister beer to Black Label (which always annoys me because despite being delicious, the bottle does not actually have a black label on it… but I digress)), this iteration focuses on a blend that is primarily comprised of lambic from a foeder that had previously contained Calvados (apple brandy, for the uninitiated). No indication which foeder or how old that particular foeder is, but it's got the traditional Geuze blend of 1-3 year old lambics, which is certainly good enough for this beer dork. Let's dive in: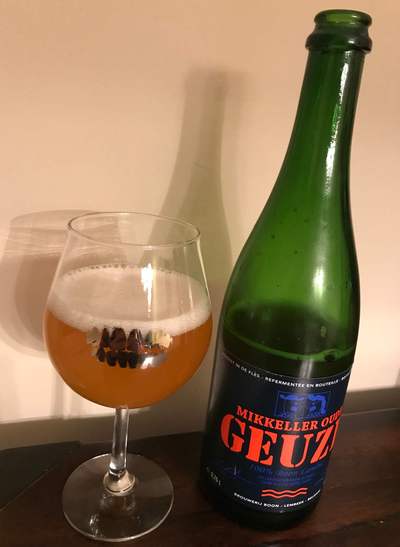 Boon / Mikkeller Oude Geuze – Pours a yellowish golden color with a solid finger of bubbly but dense head with good retention. Smells great, lots of earthy funk, something a little fruity playing around the edges (of my nose? Yeah, something like that.) Taste is has a lighter earthy funk to it, definitely some fruity twang (if I'm looking for it, maybe, maybe some Calvados green apple kinda character), a little sourness towards the finish. Mouthfeel is highly carbonated and effervescent, very dry, moderate acidity, pretty easy going. Overall, it's good, but I don't know that the Calvados character comes through in a particularly strong, identifiable way. Still a worthwhile experiment and a nice twist. B+
Beer Nerd Details: 6.4% ABV bottled (750 ml caged and corked). Drank out of a flute glass on 12/1/17. Best before: 22/11/2036.
Boon seems to be riding that novelty wave by putting out lots of variants and different releases, but one thing that is different about them: They seem to be generally available. You have to hunt them out a little, as most stores seem to focus on the US boom these days (and who can blame them), but if you want these suckers, you can usually find a way… Moar Boon incoming soon (I picked up that set of four different Vat variants, which should be interesting)… and maybe even lambic from another producer. Stay tuned.