I've more or less run out of beer puns for beer clubs, so you'll just have to deal with it. I know, you all love puns, so you're all broken up about it, but you'll just have to deal. Beer club is a meeting of beer minded individuals from my work who get together for a meal and lots-o-beer once a month. As per usual, this gathering is anchored by a core group of stalwarts, along with assorted return guest stars. So it was a solid turnout, lots of beer, good BBQ and just an all around good time.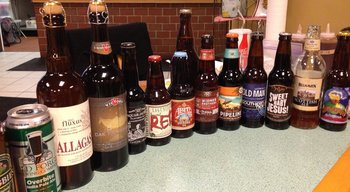 (Click for bigger image)
In accordance with tradition, my thoughts on each beer we sampled are recorded below for posterity. Standard disclaimers regarding non-ideal tasting isolation conditions apply, so all you pedants better stay frosty, as nearly all of this will be untrustworthy/awesome. Roughly in order of tasting (not necessarily the order in the above picture):
Crabbie's Original Alcoholic Ginger Beer – Things started off on a bizarre note. It's basically alcoholic ginger ale, which is fine for what it is, I guess, and definitely attracts the non-beer folk due to it's high sweetness and ginger spicing, but I found it kinda poopy. It's actually good that we had it in this sort of setting where I only had to try a tiny sample, but I'll give it a D, because fuck ginger beer. Seriously guiz.
Belhaven Scottish Ale – Belhaven is supposed to be one of the top Scottish ale styles out there, but man, we must have gotten a bad bottle. It has that gross diacetyl buttery flavor that I get out of a lot of British pale ales and have grown to hate. I'm not sure if that's just the beer, or if it's the clear bottle, or what, but it felt kinda skunky too. Not totally undrinkable, but I was again glad that I only took a very small sample of the stuff. D
Abita Jockamo IPA – While a big improvement over my first two tastes of the night, this strikes me as being a fairly unremarkable IPA. It reminds me of the sort of thing you'd get in a John Harvard's brewpub, circa 1998. Totally an improvement over BMC (or, since we're talking about my college years, Natty/Beast), but nothing special at all. A nice hop aroma, but a taste that fell a little flat and bland. B-
Old Forge Overbite IPA – Ahhh, now that's more like it. A really nice semi-local IPA, lots of that citrusy, floral hop goodness, maybe a little pine too, was a real breath of fresh air after the first three beers of the evening. It's not a world beater, to be sure, but these guys are totally making a name for themselves in the Philly area, and this makes for a pleasant enough IPA. B+
Birrificio Del Ducato Nuova Mattina – Guest star Steve contributed this very nice Italian beer to the proceedings, a Belgian style pale with lots of sharp carbonation, sweet and spicy (lots of spices used in making this, and they contribute, but not overwhelmingly so), bready, with a touch of light fruit. Overall, it's got a really nice rustic quality, an almost quaffable beer, really enjoyable. B+
Widmer Brrr – A totally solid winter warmer, pretty light on the spices actually, though it works well enough. It's not the sort of thing that stands out in a tasting like this, but it's totally serviceable and would probably get the job done if needed. B
Kaedrin Christmas Ale (2011) – A vintage bottle of my very own homebrew? It's still doing pretty well, actually, though I do believe it has peaked and is now on a bit of a downward swing. It's still retained that sorta creamy vanilla caramel base, and the spices are still there, particularly clove with a hint of cinnamon, though those are diminished from last year. It's held up about as well as I could have hoped, though it's not quite as fantastic as it once was. B+
Allagash Fluxus 2012 – Another of my contributions for the night, it's a totally solid Belgian pale ale, actually quite similar to that Nuova Mattina beer, though with less carbonation. Still, a very nice Belgian yeast character, spicy and biscuity. Not especially a standout, especially amongst Allagash's lineup, but a solid beer nonetheless. This could be tasting fatigue setting in, but I'll go with min instinctual rating of a B
Traquair House Jacobite – Ah, now this is a Scottish brewery I can get behind. Of course, this is a slightly stronger style, but I like me some Wee Heavy/Scotch Ales, and this is a pretty superb example of the style. Big rich malt character, brown sugar, some fruitiness, a light booziness, and all of this is very well balanced against each other. Truly a solid beer, and widely available too, well worth checking out for the Scotch Ale fan and a contender for best of the night. A-
Lagunitas Imperial Red Ale – Once again, this might be tasting fatigue setting in, but I was expecting more out of this. Don't get me wrong, it's a totally good beer. Not very red in appearance, but it certainly smells/tastes like an imperial red, big, well integrated citrus and pine hops mixed with those crystal and red malts. Very nice, would like to try again in better conditions. For now, we'll give it a provisional B+
DuClaw Sweet Baby Jesus – Perhaps the strangest beer of the night, but it worked surprisingly well. You could say it's gimmicky, it being a "Chocolate Peanut Butter Porter", but this is quite possibly the perfect beer for a tasting like this. Exclamations of "Whoa" and "It smells like peanut butter" all around the table. It tasted like peanut butter brownies that were perhaps a bit overcookied so that you got that roastiness. Kinda like the edge/corner piece (which, you know, I love). It worked surprisingly well in this setting. I have no idea how I'd react if I were to drink an entire bottle, but I'm feeling generous enough to hand it a B+ (though it's probably more of a B)
Victory Oak Horizontal – Another of my contributions for the night, it's just as good as I remembered it. The bourbon, while prominent, was not overpowering at all, which endeared it to some folks who don't tend to like bourbon. Still an A- and a fitting end to the evening.
So there you have it. After a shaky start, things livened up quickly, and this sort of ratings distribution is actually quite nice. I mean, this isn't the most exclusive of beer clubs, after all, and only a few of us a really huge beer nerds, but it's a lot of fun and I always look forward to beer club. February's meeting will come soon enough!