In the before time, the long long ago, I had some trouble getting into sour beer. Like the Monolith teaching the apes how to use tools to kill one another in 2001: A Space Odyssey, Oude Gueuze Tilquin that made a believer out of me, and to this day, their Gueuze remains a staple of my lambic diet. A relatively new enterprise (at least, relative to other lambic producers/blenders), Tilquin has slowly but steadily increased their output, including various fruited offerings. These have mostly been great, but the Gueuze remains my favorite offering. Will these three new fruited variants change my mind? Spoiler alert: not really. Sorry. Still, it's always intriguing to try a new offering from Tilquin: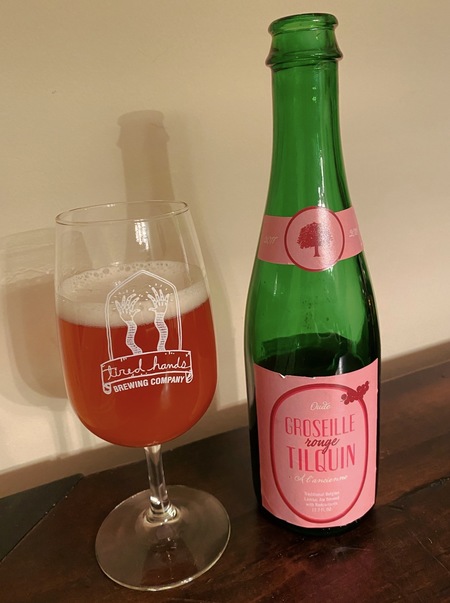 Oude Groseille Rouge Tilquin à l'acienne – "produced by the fermentation of frozen organic redcurrants in one year old lambic and then blended with 1, 2 and 3 years old lambic to reach a final concentration of 260 grams of fruit per liter of lambic." Pours a hazy orange color with a solid finger of tight bubbled white head. Smells nice, tart fruit with some underlying funky earthiness and a touch of minerality. Taste hits those funky earth notes pretty hard, a little Boon-esque minerality, and plenty of tart fruit. I mean, I don't think I've ever had red currants before, but I'm guessing the tartness is partially from them. Mouthfeel is medium bodied, moderately carbed, and lightly acidic, pretty easy-going. Overall, it's a solid variant, not quite the revelation that other fruited variants were. B+ or A-
Beer Nerd Details: 6.6% ABV bottled (375 ml caged and corked). Drank out of a flute glass on 12/15/19. Vintage: 2017-2018. Best before: 21/02/2028.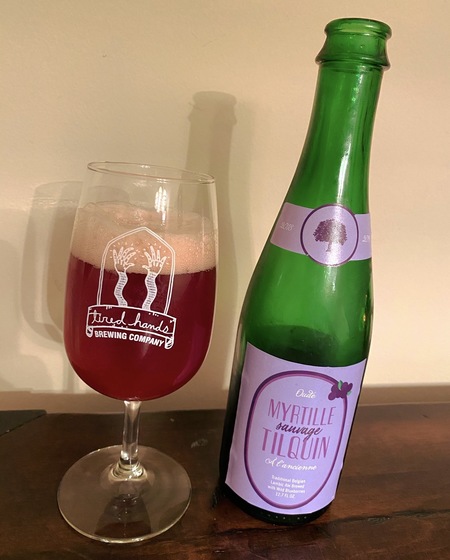 Oude Myrtille Sauvage Tilquin à l'ancienne – Pretty much the same process for this, except they used wild blueberries. For reasons beyond remembrance, I did not take tasting notes on this one, but I do know that it was my favorite of the three covered in this post. Blueberries are a difficult fruit to use with beer, but these Tilquin blokes did a mighty fine job balancing the lambic with fruit character. Sometimes blueberries get an almost smoky character to them when added to beer, but if it was here, it was well balanced and added complexity without overwhelming (which can sometimes happen with the smoky notes in other offerings). I wonder if this offering being fresher than the Groseille is what made me like this better? Fruited lambic can age well, but it's often very different fresh. A-
Beer Nerd Details: 6.6% ABV bottled (375 ml caged and corked). Drank out of a flute glass on 12/28/19. Vintage: 2018-2019. Best before: 21/03/2029.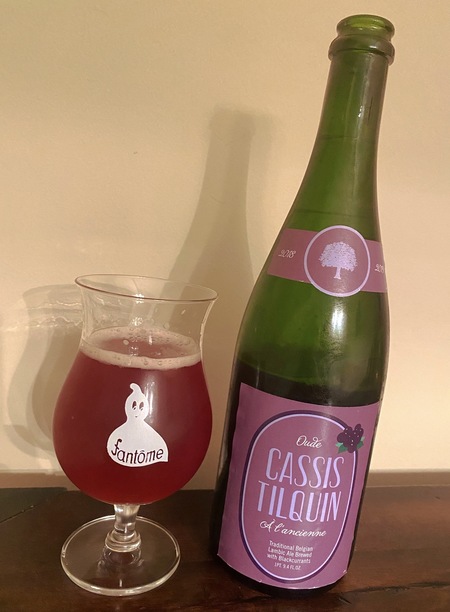 Oude Cassis Tilquin à l'ancienne – Like the first two, this is the same process, except they used blackcurrants. Pours a reddish hued brown color with half a finger of off white head. Smells nice, bright fruit, citrus, and a light funk. Taste is sweet and tart, lots of fruit, a bit of sourness, with the funk emerging more in the finish. Mouthfeel is lightly carbed, but still appropriate, lowish acidity. This feels balanced but a little more straightforward than the other fruited variants. Not bad, per say, just less distinctive. On the other hand, definitely my least favorite of the three in this post (and the only one that came in a 750 ml bottle, hrm). B+
Beer Nerd Details: 6.3% ABV bottled (750 ml caged and corked). Drank out of a tulip glass on 1/4/20. Vintage: 2018-2019. Best before: 15/03/2029.
For my money, the best fruited Tilquin is still the Pinot Noir, but hey, I'm up for anything Tilquin puts out these days, so you never know. I haven't managed to snag a peach or apricot variant, but you know that's coming, and they tend to fare better than some of these fruits they've been using…