For reasons outside of my control, I was unable to attend the November Beer Club. I am, myself, doubting my commitment to Sparkle Motion, but I managed to pull it together and attend this month's beer club. For the uninitiated, beer club is a monthly gathering of like-minded coworkers at a local BYOB for good food, optional libations, and fun (which is not optional). This month, we hit up our favorite local pizza joint (and a regular delivery option here at Kaedrin HQ), America's Pie. Most attendies partook in the off-menu Pizza Pocket Pie option, a delightful deep-fried stromboli-like concoction that I have certainly devoured on occasion. Oh yeah, and we had beer too: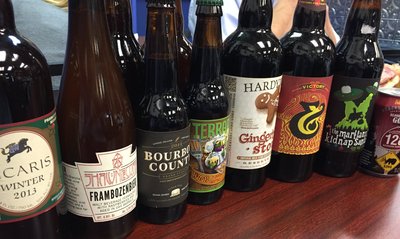 (Click to embiggen)
For the sake of posterity, some completely unreliable thoughts on each beer are listed below. Standard beer nerd disclaimers apply, if you disagree, you're probably right and I am wrong. It has long been established that I am totally the worst. Stop harping on it, ok? In order of drinking (not necessarily the order in the pic):
And that's all for now. Already looking forward to January.