Tonight was beer club, a meeting of beer minded individuals from my work who get together once a month to share good beer, a good meal, and good company! We typically congregate at a local BYOB, and this time we hit up Jimmy's BBQ. It's not gonna blow away folks used to spectacular BBQ, but for us unwashed Yanks, it was solid stuff, and quite frankly, our options for good BBQ up here are somewhat limited. As usual, a good time was had by all, and we had quite a nice selection of beers available: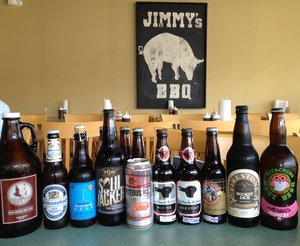 (Click for bigger image)
For the sake of posterity, some thoughts on each beer are below. Naturally, these were not ideal conditions, but then again, what were you expecting? It's not like this BBQ place had a sensory deprivation chamber that would allow us to truly evaluate the beers in an objective fashion. And even if it did, that would take all the fun out of it. Stop being such a Nazi, dude! In any case, here's some impressions of each beer (in order of drinking, not necessarily the order of the picture above):
Phew! I think this may be one of the best rated beer clubs evar! Only one real B-, and that's not a particularly poor rating. Usually, despite all the fun we have, there's at least something in the C or D range, if not an outright F (apparently someone forgot to bring a 3 year old San Miguel lager, smuggled from the Phillipines, that they've been meaning to get rid of – this surely would have opened some eyes in a bad way, but I guess we'll have to wait for next beer club for that… experience). Not that I'm complaining (about this gathering or, for that matter, previous gatherings with not so great beer – it's not like I have to drink a ton of bad beer or anything!). As always, I'm already anxiously awaiting the next beer club meeting!
Oh yeah, I should mention, we actually didn't get to all the beers in the pic above because we're not all total alcoholics, you know? I did manage to take home the Duck Rabbit Milk Stout though, so I'm sure you'll get to hear about that at some point…