The 2023 Hugo Awards finalists were announced last week, so it's time for the requisite celebrations and/or bitter recriminations. I participated in the Hugo voting last year (after a year off), but I didn't submit a ballot this year and wasn't planning on participating. There are numerous reasons for this, chief among them was the fact that I didn't really have anything to nominate. I generally like to have something to champion going into the process, and for whatever reason, I didn't get that this year (it doesn't help that of my two main nominations last year, only one made the ballot and that one came in dead last – I'm clearly out of step with the current throngs of Hugo voters).
Best Novel
The only nominated novel I've already read is The Kaiju Preservation Society, by John Scalzi, a book I enjoyed but did not think of as "award worthy" and indeed, described as "clearly middle tier at best" with "clumsy worldbuilding." Scalzi is one of the few authors whose books I look forward to and immediately read as they arrive, so I'm grading a bit on a curve against the rest of his work (i.e. the "middle tier at best" is mentioned in comparison with his other work, not SF/F as a whole in 2022). As usual, I'm not in step with the rest of the awards community, as Kaiju has won the Locus SF award and was nominated here, and I'm happy to see Scalzi recognized.
The Daughter of Doctor Moreau, by Silvia Moreno-Garcia stands out due to its horror-adjacent genre status. For whatever reason, the Hugos tend to shy away from anything horror related, though this spin on the famous H. G. Wells novel with some historical flare thrown in perhaps helped its chances. From what I can tell, this is Silvia Moreno-Garcia's first nomination, but she's been on the novel longlist a few times, so it's not entirely surprising (though I would have expected the much more famous/popular Mexican Gothic to have garnered a slot a few years ago). It's always nice to see a new name on the ballots though.
Nona the Ninth, by Tamsyn Muir represents the third book in a series about lesbian necromancers in space. I read the first book in the series and it was one of those "I should like this a lot more than I actually do" sorta experiences. Lots of fun elements that just never connected with me. Happy to see her continued success though, even if I probably won't be reading the sequels.
Legends & Lattes, by Travis Baldree is another one that wasn't really on my radar, apparently about an orc who wants to retire from battle and set up a coffee shop in town, which sounds like fun, escapist fare. Not the sort of thing I tend to expect from the Hugos, but I suspect the strain of the last few years has gotten people more into escapist literature than heavy, dense meditations (another thing in favor of Scalzi's entry as well).
Nettle & Bone, by T. Kingfisher ne Usula Vernon, a regular fixture on the Hugo ballots. I've always liked her work well enough and she always came out near the top of my short fiction ballots (when I participated). This one seems to be more of a fairy tale sorta story than what I've read from her before, but that could be good.
The Spare Man, by Mary Robinette Kowal appears to be a take on The Thin Man set in space. I haven't heard a lot of buzz about this, but it has a fun premise. But on the other hand, I have not loved Kowal's work in the past (even when they have a good premise). That being said, she's clearly popular with Hugo voters, so its not entirely surprising to see this nomination.
Overall, an interesting list. Only one real Science Fiction entry, though you do get a horror-adjacent nominee (maybe even two, as kaiju stories are traditionally classified under horror – even if Scalzi's novel is clearly not horror). Still, it does seem like a fantasy heavy list.
Short Fiction
Not a lot to mention here. Some familiar names, a lot of Tor novellas, and owing to this year's Worldcon being held in China, you do see more Chinese authors than usual, especially in the Short Story category. I might actually take a swing at the short story category this year, though I'm almost inevitably disappointed by the Hugo short story category.
Best Dramatic Presentation
The long form list does have some of the usual Disney blockbuster fare, but it's nice to see Nope make the list (again, horror-adjacent movies don't tend to fare well here). The only real surprise is Severance Season 1 being included in the Long Form. It's been on my radar as something I might like, but I tend to focus more on movie watching than TV watching. The idea of including an entire season of TV in the Long Form category makes a certain sort of sense, but it's always struck me as somewhat awkward logistically. That being said, I will probably catch up with that show. At least this year doesn't contain a WTF nominee like last year's Eurovision…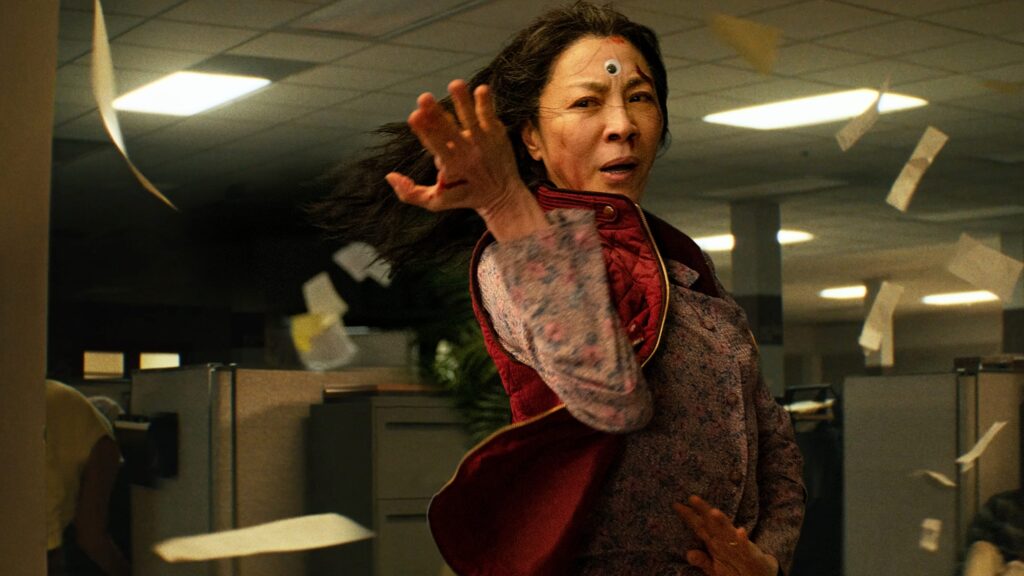 Anyways, I fully expect Everything Everywhere All at Once to take home the rocket (and it would probably be a deserving win). Pour one out for Three Thousand Years of Longing, Apollo 10½: A Space Age Childhood, Crimes of the Future, The Northman, Mad God and Guillermo del Toro's Pinocchio – all worthy of your time, even if they're not billion dollar Disney productions.
As already mentioned, I haven't watched many of the TV shows nominated in the short form, but it's nice to see some variety (only one show with multiple episodes nominated). Actually, now that I take a closer look, I apparently have watched 3 of the 6 finalists, so maybe I watch more TV than I think.
Other Categories and Assorted Thoughts
Congrats to all the 2023 Hugo Awards nominees, it seems like a very good list this year.
Best Series continues to be a strange category, especially when a series shows up in both the Best Novel and Best Series categories (as happens this year, though at least only once).
Blood, Sweat & Chrome: The Wild and True Story of Mad Max: Fury Road, by Kyle Buchanan makes the Best Related Works list, a category I don't normally get very into, but this book was on my radar and I may check it out…
Not sure why the 2023 Hugo Awards finalists were announced so late in the year (we're normally getting close to closing the voting at this point in the year, so we're several months behind the usual schedule), but congrats are due again to all the nominees. I probably won't be participating this year, but I will keep an eye out for the winners when they finally get announced.