So we conclude our recap of last year's movies with a traditional top 10 list of my favorite movies of 2022, only a month and a half (or so) late! This marks the seventeenth year in a row that I've posted a top 10. For reference, previous top 10s are here: [2021 | 2020 | 2019 | 2018 | 2017 | 2016 | 2015 | 2014 | 2013 | 2012 | 2011 | 2010 | 2009 | 2008 | 2007 | 2006]
It's traditional at this point to discuss themes of the year in film. This is a tricky endeavor even in the best of times, but I have to say: the films of 2022 focused inordinately on one thing. Movies about art were all the rage. Making art, consuming art, interpreting art, contextualizing art, and so on. Stories about stories! Whether it be movies that involve making and consuming movies (The Fabelmans, Babylon, Nope, See How They Run, X, The Unbearable Weight of Massive Talent, Something in the Dirt, Fire of Love, Clerks III), movies about both fictional and real musicians (Elvis, Weird: The Al Yankovic Story, Tár), heck, movies featuring podcasts (Vengeance, Bodies Bodies Bodies), or movies that just explored a more generalized or figurative or unconventional art form or narrative (Crimes of the Future, Three Thousand Years of Longing, The Menu, Guillermo del Toro's Pinocchio, Glass Onion, Barbarian, Everything Everywhere All at Once, Scream, Brian and Charles). I honestly can't think of another theme I've noticed in a given year that was this clear or widespread.
From an industry perspective, theatrical moviegoing had a couple of big wins this year, while streaming venues are fraying. We still have not returned to pre-pandemic norms and fears about theatrical business are still warranted, but there does seem to be an acknowledgement that streaming can't be the end-all-be-all delivery of movies.
On a more personal note, this year's list is much lighter in tone than last year, which tended towards dark, dreary tales. That's not to say that it's all fluffy bunnies and rainbows, there are a couple of harrowing experiences in the list, but it's a little more balanced this year. I don't explicitly try to balance these top 10 lists, but it is neat when you get a good variety in the mix (this year, we've got a documentary, an animated feature, a couple of foreign flicks, etc..) Perhaps this speaks to broad interests, but on the other hand, there are two murder mysteries on the list, so perhaps I'm making too much of the mix.
As of this writing, this top 10 list is pulling from a total of 104 movies I've seen that could be considered a 2022 release. This is less than your usual critic, but probably more than your typical moviegoer. Standard disclaimers apply, and it's always worth noting that due to release schedules (especially in these plague years), some movies from 2021 that didn't become available until 2022 qualify for this list. Alrighty then, I think we've covered all our bases, so let's get to the feature presentation:
Top Ten Movies of 2022
* In roughly reverse order
Confess, Fletch – Criminally underseen reboot of a franchise that was perhaps too reliant on its original star's smarm. Jon Hamm's Fletch certainly retains the acidic snark, dry delivery, and insouciance of the character, while toning down the costumes and seemingly improvised dialogue. There's a great supporting cast as well, and in the end, it's just a great, breezy little flick that slipped through the cracks this year (but is already starting to gain a following as it continues to be discovered by audiences)
See How They Run – Another breezy murder mystery, this one a period piece with Agatha Christie flavor. The story is all well and good, but it's the comedic performance of Saoirse Ronan as Constable Stalker that steals the show. A good supporting cast and enough dry wit to carry the day, this is a smart, self-aware spin on the genre that doesn't stray too far or feel smug or self-satisified.
More Info: [IMDB] [Amazon] [Kaedrin Movie Award Winner]
Everything Everywhere All at Once – Maximalist, hyper-kinetic tale that boils down to a rather simple story, it manages to combine a moving, sentimental family drama with silly bombast. Bold, adventurous filmmaking at its best. Like The Matrix before it, the only real drawback to the movie is some of its dumber fans (i.e. nothing to do with the movie itself).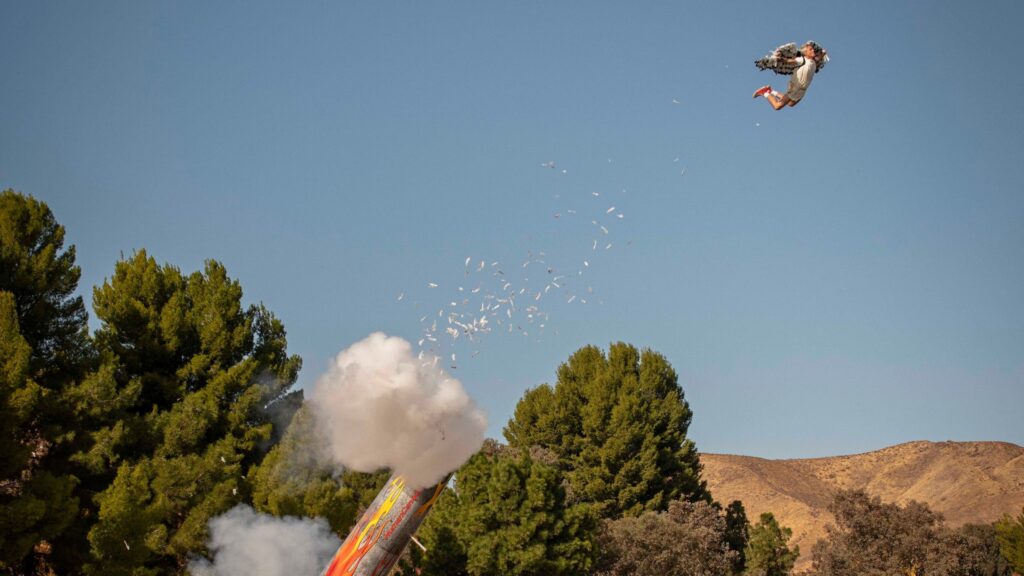 Jackass Forever – It's tempting to see this as nothing more than a feature length version of the "Man Getting Hit by Football" gag from the Simpsons, but I dare say that there is something more poignant going on here. This series has been going for decades now, and there's something interesting about the aging cast and infusion of new talent, and the way human beings bond and react to stimuli (i.e. most of us generally try to avoid the situations these folks seek out). Anyway, there's a whole sequence where a guy gets punched in the nuts by a UFC champion, so on this list it goes.
More Info: [IMDB] [Amazon] [Kaedrin Arbitrary Award Winner]
Athena – This French movie about an uprising in a poor neighborhood, sparked by a video of police beating a child to death, is comprised mostly of virtuosic long-takes. Bold, immersive filmmaking with astonishing set-pieces and a conscience too. The ending is almost comically provocative and presumably divisive, and the whole exercise could seem showy, but… I like that sort of thing, so here we are.
Three Thousand Years of Longing – George Miller's follow up to Mad Max: Fury Road was not what anyone expected, and honestly, it's not really what it seems either. I mean, it is mostly about two people talking, but Miller can't help but inject energy and action and visual lushness into almost every frame of this story about stories. There's a lot to chew on here, and some exceptional performances from the two leads. One of the biggest surprises of the year for me.
A Hero – There are a lot of great filmmakers in the world, but Asghar Farhadi may be the best at crafting dramas. This one centers around small decisions that snowball into giant avalanches of consequence. It has a lot to say about the ways in which communities perceive actions and the way small mistakes or misstatements can spiral out of hand very quickly. It's a keenly observed bit of drama that doesn't feel the need to take sides, and increasingly relevant in these times that are so mediated by outraged social media.
More Info: [IMDB] [Amazon Prime]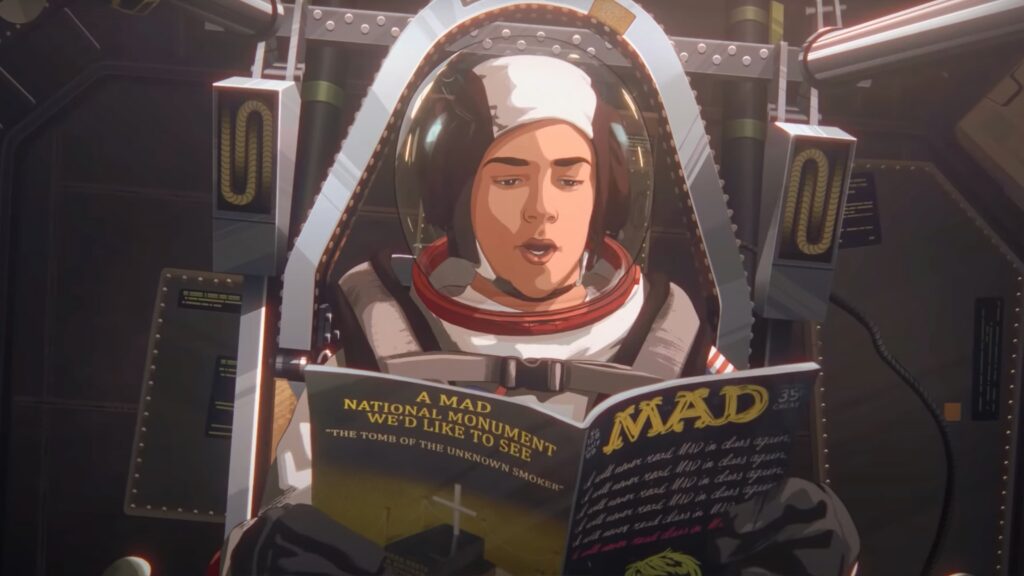 Apollo 10½: A Space Age Childhood – Richard Linklater has this superpower of being able to evoke nostalgia for a time when you were not alive. In this case, we get a look at 1969 Houston through the eyes of a 10 year old. Simple family interactions and nostalgia mixed with a more fantastical take on a secret NASA trip to the moon, all done through Linklater's preferred (and rather handsome) rotoscoped animation style.
Nope – It's messier than Jordan Peele's previous efforts, but I can't help but admire the ambition and weirdness on display here. There's a lot to chew on with regards to narratives, spectacle, and what it takes to create something for audiences and how audiences are in thrall to that spectacle. But Peele doesn't forget to make it entertaining either, which is a neat trick if you can pull it off. It won't work for everyone, but it did for me…
More Info: [IMDB] [Amazon] [Kaedrin Movie Award Winner]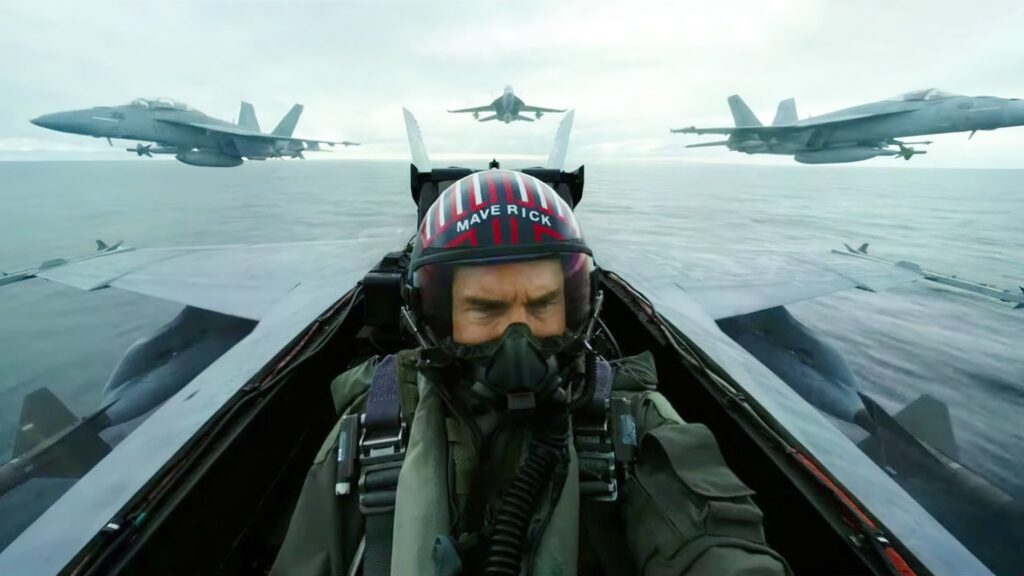 Top Gun: Maverick – Pure action spectacle and the best big screen experience of the year, bar none. There are so many things about this movie that shouldn't work, that I normally hate in a movie, but perhaps through Tom Cruise's pure force of will, somehow become endearing and breathlessly entertaining. Just pure entertainment, an adrenaline shot to the theatrical experience. I don't understand how any of this is possible, but I'm glad it is.
More Info: [IMDB] [Amazon] [Kaedrin Movie Award Winner]
Honorable Mention
* In an order I dare you to discern
Ambulance – Michael Bay's latest didn't do very well at the box office and it is perhaps a tad overlong, but it's still quite the action picture. Bay makes great use of drones and location shooting (which is a breath of fresh air in these days of bland green screen actioners) and while it does feature some of his trademark juvenile schtick, it's a schtick that works well here. Very nearly made the top 10…
More Info: [IMDB] [Amazon Prime]
Babylon – Damien Chazelle's ode to the decadence and depravity of early Hollywood has some crackerjack sequences and some wonderful performances, but is far too long and indulgent. Still, despite all its excesses and coke-fueled hijinks, there's some depth and thematic heft about art and movies and those that make them that rings true.
Barbarian – Writer/director Zach Cregger's debut is a fun ride with an unconventional structure and some well balanced tonal shifts between humor and horror that are pulled off with flare and style. It's one of those movies that's perhaps best seen when you know as little as possible going in, so that you'll be suitably surprised when the narrative shifts one way or the other. Another one I genuinely considered for the top 10 but just fell a tad short…
More Info: [IMDB] [Amazon] [Kaedrin Review]
Crimes of the Future – David Cronenberg returns to the pulsating, fleshy world of body horror and while it doesn't quite connect the way his earlier work does, it does feel like a more mature effort (as befits his stature). Featuring some deeply weird performances, especially from Kristen Stewart, and yet another story about art, this time a rather unconventional, fleshy sort of art, but art nonetheless. If this winds up being Cronenberg's last film, it would make for an interesting capper (though I suspect we'll be seeing more from him soon enough).
Decision to Leave – Park Chan Wook takes bits and pieces from Basic Instinct and Vertigo, tosses them in a blender with Korean culture, and you wind up with this pulpy detective story featuring some bittersweet romance and a confounding ending that will leave you reeling. A bit too long with a flashback structure that doesn't always work (though it's in line with his previous work), this nonetheless manages to keep things intriguing enough throughout the runtime and it's visually impressive as well. Certainly worth a look…
More Info: [IMDB] [Amazon] [Kaedrin Arbitrary Award Winner]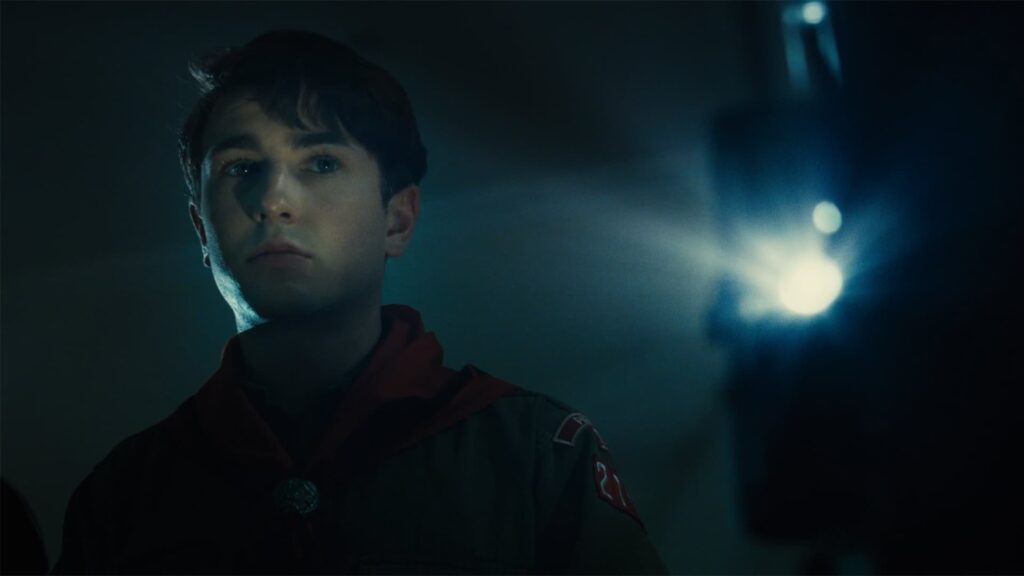 The Fabelmans – Steven Spielberg's semi-autobiographical coming of age drama is at its best when it focuses on the filmmaking aspects of the story. The messy family drama is perhaps less cohesive, though it still rings true, and when it intersects with the filmmaking, as in the sequence where Sammy Fabelman edits home movies from the family's recent vacation and makes a shocking discovery (a sequence that recalls Blow Up and Blow Out without feeling derivative at all), it becomes gold. We take late-stage Spielberg for granted, I think, but I'll always be in line to see what he has cooking…
Glass Onion: A Knives Out Mystery – Rian Johnson's much anticipated follow-up to Knives Out (a movie I love) manages to recapture a certain element of humor and pure entertainment, but can't quite reach the heights of the first film. I think the key reason can by summed up by paraphrasing some dialog from the movie: the mystery's solution is dumb. So dumb it's brilliant? No! It's just dumb. Which is kinda the point, so it's hard to harp too much on it, but it just doesn't hang together as well as the first film. It's still quite well done though and there's lots to like about it.
Guillermo del Toro's Pinocchio – Gorgeously appointed stop motion version of the classic story, with some of Guillermo del Toro's distinct interests thrown into the mix. A bit darker than your usually take on Pinocchio, with some heavier themes in terms of fascism and obedience, which make the movie a tad too long and messy, but it tugs at the right heartstrings and deserves a bigger audience.
Kimi – Steven Soderbergh has made a habit of delivering zippy, taut little thrillers of late, and this most recent example is one of the few to directly acknowledge the pandemic, amongst other relevant topics, in a tense, entertaining way. This is the sort of mid-budget flick that so many of us crave, and yet I suspect it was underseen (in part due to its direct-to-streaming release). Almost made the top 10, and well worth seeking out.
The Menu – What seemed like it would be a rote, quasi-high concept thriller turned out to have a little more on its mind than I thought. Interesting commentary on art, consumers, the service industry, and so on, with a few great performances and some clever conceits that I was simply not expecting. Much better than the trailers/previews would have you believe.
More Info: [IMDB] [Amazon] [Kaedrin Movie Award Winner]
The Northman – Robert Eggers continues his interesting arthouse takes on pulpy material, but despite some pacing issues in the middle, this is probably his most accessible film to date. Plenty of gory violence and action, but gorgeous and filled with Eggers' trademark verisimilitude (though it's obviously more stylized here).
RRR – High octane Indian action bromance flick that is the rare 3 hour movie that earns its runtime (though it flags a bit after intermission, but that's kinda the point of an intermission). Excellent dance battle, with several notable action set pieces that are completely absurd but joyously entertaining. It's got some martial arts panache mixed with big budget (but still obvious) CG action that somehow feels fresh. There's a lot of hyperbole out there about this, and some mixed political reads, but hey, there's a scene where one guy fights another guy by throwing a tiger at him.
Tár – The critical consensus pick of the year and for good reason. A rise and (mostly) fall drama touching on #MeToo and cancel culture and a bunch of other modern obsessions, with a towering performance from Cate Blanchett at it's core. Well observed, supple filmmaking at its best.
Weird: The Al Yankovic Story – This pitch perfect parody of music biopics perhaps treads similar ground as Walk Hard: The Dewey Cox Story, but given the subject, it's a fitting approach. Certainly one of the funniest movies of the year and criminally underseen due to, once again, a bizarre direct-to-streaming release strategy (it's free, but you need to sign up for Roku.) Indeed, this was another one that was on the bubble for inclusion in the top 10.
X – Ti West brings visual flare and thematic heft to a trashy quasi-slasher story. The mix of sex and violence and taboo on display here represents a particular strain of horror film that just feels dirty and transgressive and uncomfortable. Good performances, well executed slasher violence, but also some simple, disquieting sequences that are subtle but very effective. I liked this a bit better than the surprise prequel Pearl that came out a few months after, but I'm obviously excited to see the forthcoming sequel, MaXXine.
Just Missed the Cut
But still worthwhile, in their own way. Presented without comment and in no particular order:
Should Have Seen
Despite having watched over a hundred movies made in 2022, there are plenty that I probably should have caught up with. Sometimes they weren't readily available, sometimes I couldn't muster up the will to get to the theater, sometimes I just didn't wanna watch (because reasons, that's why). I will almost certainly end up seeing some of these and loving them, which is why the Kaedrin Movie Awards always has a category about the previous year's movie…