The Results of the 2022 Hugo Awards were announced last night, so it's time for the requisite joyful celebrations and/or bitter recriminations. I jumped back on the participation bandwagon this year, though I didn't really end up reading much beyond the novels (which, in my mind, were something of a mixed bag). In any case, congratulations are due to all the winners! For those who want to really nerd out and see instant-runoff voting in action, the detailed voting stats for the 2022 Hugo Awards are also available (.pdf).
Best Novel
A Desolation Called Peace, by Arkady Martine takes home the rocket, the second book in the series and the second Hugo win. Good for Arkady Martine, and I enjoyed this novel just fine (it was third in my ranking), but book series are difficult when it comes to awards. All things being equal, I tend to prefer standalone works (or maybe works that are starting a series, though I guess some series are comprised of basically standalone entries that are only loosely affiliated, like Becky Chambers Wayfarer's books).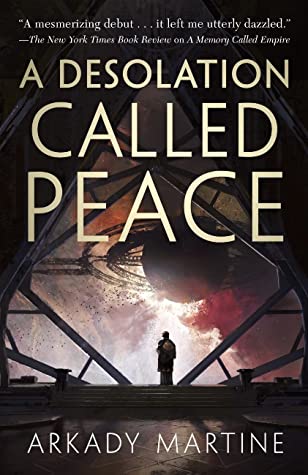 Light from Uncommon Stars, by Ryka Aoki is the runner up, which actually fits my ranking, but Project Hail Mary, by Andy Weir, came in dead last (it was my #1). More indication that I'm not exactly in lockstep with the rest of the Hugo voter community… Then again, it did reasonably well in the first pass of voting (#3), so there is that.
Short Fiction
As mentioned above, I didn't read much of this year's short fiction (certainly not enough to vote), so I don't have much to say here, other than that we do see a lot of familiar names. Typical for a populist award like the Hugo, but given that my tastes don't run particularly close to other Hugo voters', I think I'm entering a bit of a fallow period when it comes to participation.
Best Series
Wayward Children, by Seanan McGuire wins best series, which is interesting because I feel like Seanan McGuire is the most nominated author over the last 15 years or so, but this is only her second fiction win. Congratulations! I have not read anything from this series, but I've always enjoyed McGuire's work. Still, the thought of being able to read enough of each series nominated in order to make an informed vote is daunting, which has always been my biggest complaint about this category…
Best Dramatic Presentation
Often a strange category, but this year the answer was pretty obvious and the voting went pretty much as expected: Dune takes home the rocket, as it should. Naturally, the two finalists that are the most off the beaten path, The Green Knight and Space Sweepers, come in at the bottom of the voting. I suppose it's reward enough that they got nominated at all. Anywho, pour one out for Werewolves Within, I'm Your Man, Finch, and Malignant, amongst others not nominated (even in the longlist of nominees, only I'm Your Man had any traction, and it was pretty low on that list).
Other Thoughts on the 2022 Hugo Awards
Cora Buhlert takes home the award for Best Fan Writer, which was nice (she was #1 on my ballot), and there's a few other winners that I was pleased to see (Naomi Novik won the Lodestar YA award, and I've enjoyed several of her novels, so it's nice to see some recognition for her). Congrats again to all the winners. Given the nature of the awards, I have access to nominate next year, but I have a sneaking suspicion that I will not want to participate much next year. As usual, I'll probably keep an eye on things, but as mentioned above, I feel like my preferred style is not in fashion much these days, but I guess we'll see what the future brings.