Just a series of quick hits on my media diet (and sometimes, uh, regular diet) of late:
Television
Obi-Wan Kenobi – Perfectly cromulent but completely unnecessary. It feels like a two hour movie drawn out to five hours, but I've always liked Ewan McGregor's take on Kenobi and it's fun enough hanging out with him. It's a little weird that people being offed with light sabers seem to keep surviving and one of the things I've always been disappointed by was that all the Jedi were hunted down and killed by people other than Darth Vader. We do get some Vader though, and it's all reasonably well done. Not disappointed that I watched, but again, it's unnecessary.
For All Mankind – What if the Soviets landed on the moon first? This alternate history NASA chronicle is a little overheated and sweaty, a space program soap opera, but it's quite entertaining. Now in its third season, having jumped through the space program from the late 60s through the 80s and now the 90s and with the race for Mars in place, it's holding up reasonably well… except for an ill-advised subplot from the second season that they inexplicably doubled-down on in the third season (the weird Karen/Danny relationship is just cringe in the extreme, I can't believe they are still trying to draw it out like this.) Recommended!
Only Murders in the Building – I initially resisted this, then when my Amazon firestick kept crashing during one of the first episodes (which I looked up and was apparently a known issue for several months at least) I kinda fell off the train. Once the second season rolled around I picked it up again and immediately binged the entire first season (I guess they fixed the bug). It's quite fun, Steve Martin is great, Selena Gomez is fantastic, and they have a solid restraining effect on Martin Short's excesses. The chemistry between them is unconventional but well done, and the story offers enough twists and turns and stylistic gambles that it all comes together in a balanced way. The second season is starting off alright, though I think Amy Shumer is a distinct downgrade from guest stars from the first season…
Stranger Things – Season 4 comports itself as well as ever, though the strain of characters and geography are starting to show. Too many characters being spread too far apart geographically is not helping, though they do manage to pull it off reasonably well. As usual, the Steve/Robin/Dustin thread is the best (perhaps because they quickly link up with Max/Lucas/Nancy), while the Mike/Will/Jonathan/Argyle crew is clearly the worst. Eleven is separated from most for the bulk of the season (leading to amusing "we usually rely on this psychic girl we know to fight these things" moments), but her story is illuminating and you can see the overall arc of the series taking better shape (maybe a little retconny, but still). The initial 7 episodes play pretty great and lead to a solid finale, but the next two feature-length episodes are perhaps less successful, in part because there's so much maneuvering to get people back together for next season, but then, I'm looking forward to the next season, in part, because a lot of the characters are back together, in one place.
Movies
Hustle (2022) – Solid Adam Sandler Basketball movie (not a recipe guaranteed for success at Kaedrin HQ, to be sure, but they pulled it off). It's got some fun little procedural elements of a basketball scout, and it's largely set in Philly, which is always a plus. Not perfect, by any means, but a solid underdog sports flick that's worth a watch. **1/2
The Princess (2022) – An inverted medieval take on The Raid's episodic, video-game-esque battle through a tower. There's a bit of a fairy tale component to it and the whole story is cheesy, but the action sequences and choreography are great and quite entertaining. **1/2
Stone Cold (1991) – A last gasp of 80s action tropes that I'd definitely seen bits and pieces of back in the day, but had never sat down and watched from start to finish before. Totally ludicrous cops and criminals action genre comfort food. Brian Bosworth felt a bit hokey at the time, but looking back at his absurd excesses is fun enough these days, and boy, they don't do car crashes and explosions like they used to anymore… ***
Electra Glide in Blue (1973) – A quintessential 70s movie, riffing on an inverse Easy Rider premise about a highway patrol motorcycle cop in Arizona angling to become a detective. Apparently derided in its time, it seems like it's due for a revival. Really great filmmaking and visual style throughout, with set pieces ranging from an action car chase, to tense cops vs hippies confrontations, to a woman emasculating a corrupt cop at a biker bar.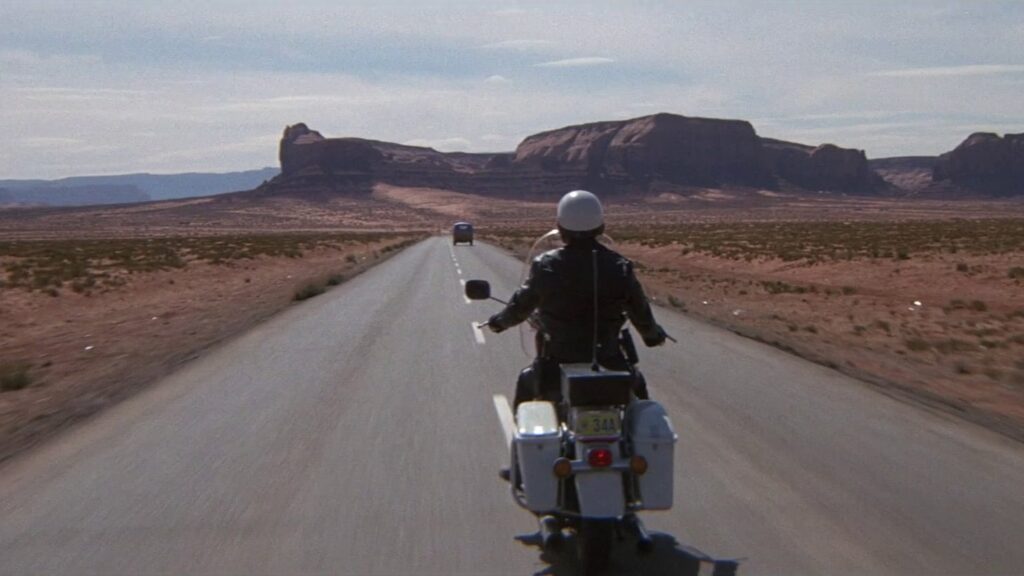 It's deeply cynical stuff, which usually isn't my bag, but it's well made and interesting in a lot of ways. Recommended for fans of that sort of 70s dusty crime road movie sub-genre. ***
What's Up, Doc? (1972) – Pretty much the complete opposite in tone to Electra Glide in Blue, this is something of a screwball comedy starring a young Barbra Streisand and Ryan O'Neal, with supporting turns from lots of folks you might recognize, like Madeline Kahn and Austin Pendleton. The whole thing revolves around four identical suitcases and the various wacky schemes people are going through to get their hands on one or the other of these bags, only to find it's been inadvertently switched with another. It's really fun! ***
Mad God (2021) – Famous effects guy Phil Tippit spent decades hand crafting the stop motion animation for this sprawling passion project filled with visually spectacular imagery…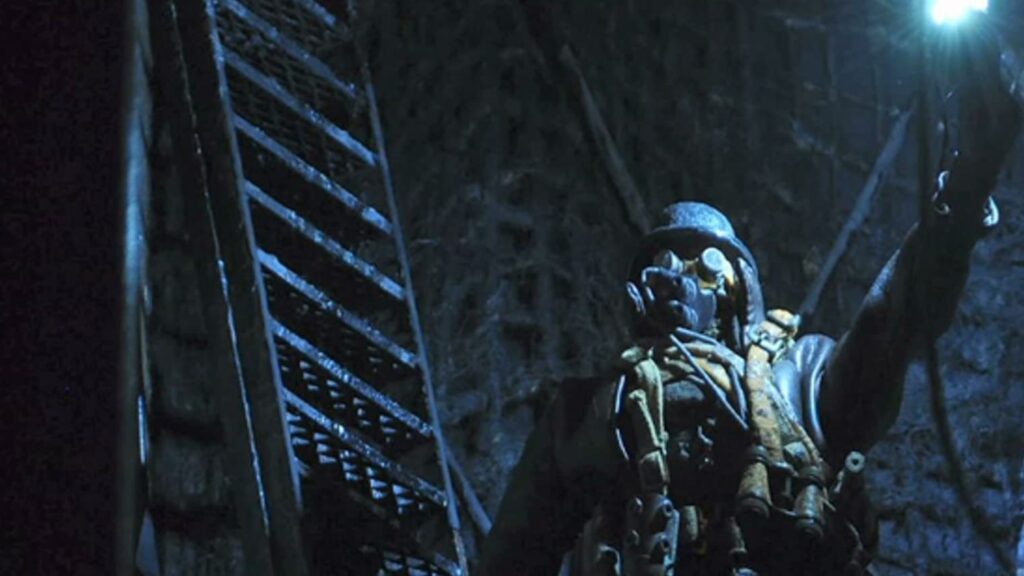 Almost no plot or dialogue, but lots of squishy sound design and creative creatures and monsters and gross out body-horror-esque sequences. I generally prefer more plot or story meat on the bone, but it's hard to deny the visually spectacular imagination at work here (definitely a shoe-in for the Most Visually Stunning Kaedrin Movie Award). **
Ambulance (2022) – Alright, who let Michael Bay get his hands on a drone? Pretty great action flick about a heist gone wrong with a few robbers hijacking an Ambulance and driving it all around LA to avoid the cops and so on. There's some typical Bay style macho dudebro posturing, but Jake Gyllenhaal, Yahya Abdul-Mateen II, and Eiza González are a compelling trio, and the action is the real standout here. Clocking in at 136 minutes, it maybe overstays its welcome a bit, but this sort of non-green-screen action is worth celebrating these days (and this was definitely underseen in theaters). Worth a look for action fans.
Books
The Kaiju Preservation Society, by John Scalzi – The usual enjoyable Scalzi experience, snappy and fun, but clearly middle tier at best, perhaps in line with his Lock In or Head On offerings. Actually, that comparison is quite apt, as that series also had clumsy worldbuilding and a protagonist whose gender is unclear. The plot of Kaiju takes a while to formulate itself and relies on a cliched, shortsighted corporate CEO villain, but even when the story is bogged down in establishing various Kaiju protection schemes (ranging from mildly clever to outright silly), Scalzi's page-turning ability, likeable, competent characters, and zippy dialogue keeps everything afloat. I still generally look forward to all of Scalzi's releases and while this is hardly his best, it's entertaining and fun.
The Broken Room, by Peter Clines – A young girl escapes from a government science project and enlists the help of a former CIA operative. Decent little thriller with some nice procedural spy business and a supernatural body-horror element that gets more pronounced as it goes. Nothing particularly new here, but it's brisk and nimble with a few twists and turns and solid action.
Into the Black Nowhere, by Meg Gardiner – A minor improvement over Gardiner's first Unsub novel, this is another serial killer thriller that strikes that page turning airport novel balance, but isn't especially doing anything special. Still, it's entertaining enough and I'm looking forward to Gardiner's co-written sequel to Heat coming soon.
The Finer Things
I've recently been covering my annual hiatus from beer, including some thoughts on Pétillant Naturel wine, Mead, a local Southeastern PA wine, Bourbon, and just to show that it's not all alcohol, all the time, I also reviewed a whole slew of August Uncommon Tea offerings.
Naturally, Beer is still on the menu, and most recent reviews include: Westbound & Down Bourbon Barrel Aged Stout (and thoughts on packaging size, sip tests, and New Coke) and East End Gratitude Barleywine (we put birds on things).