Filling in some of the holes in my movie viewing history, I recently watched Alfred Hitchcock's classic, Notorious. As Roger Ebert notes, it "contains some of the most effective camera shots in his–or anyone's–work" and so I figured let's take a closer look at some of those great shots. Some are more famous than others, and I'm certainly going to leave off a few, but this should be interesting.
Major spoilers ahead, mostly below the fold.
First up is a minor shot, not really significant among the Notorious scenes, but more significant of Hitchcock's work as a whole. Many of Hitchcock's films indirectly employed the use of voyeuristic framing to make the viewer feel like they are witnessing the events portrayed on screen. The shot below is literally framed in a doorway, and the distance from the actors implies that we're not supposed to be there. It's an unsettling technique, one which Hitchcock would reprise effectively in his later classics Psycho and Rear Window. This dynamic is reversed in Notorious during the final shot of the film in which our villain is called back to his house to meet a fate we are only left to imagine, as Hitchock closes the door. Interestingly, both approaches can be upsetting: one because we see something we think we shouldn't, another because we fill in the blanks with our imagination.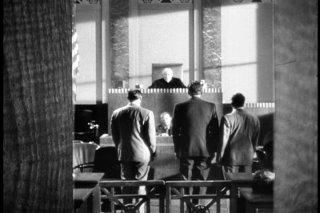 More screens, commentary, and spoilers below the fold…
…