In the English royal household, the Master of the Revels was responsible for overseeing royal festivities (aka revels) and stage censorship. An important role in the time of William Shakespeare, which turns out to be a key DTAP (Destination Time And Place) in Nicole Galland's follow-up to The Rise and Fall of D.O.D.O., aptly titled Master of the Revels. Galland had collaborated with Neal Stephenson on the first book, but took this sequel on by herself. I'm always curious about how authors collaborate on books with shared authorship, but it seems like in the case of D.O.D.O., Galland had done the bulk of the writing, with Stephenson adding some technical flavor and overarching story bits. As such, this sequel retains the feel of the first book, while progressing the story forward.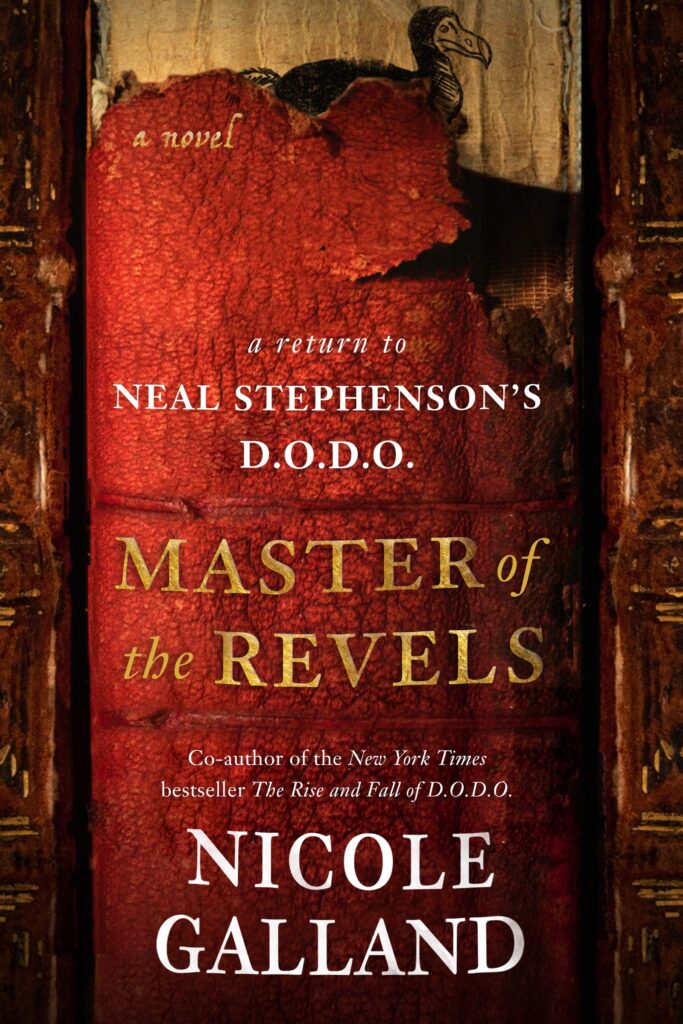 The story picks up right where D.O.D.O. left off. Our small group of intrepid heros have set up a small operation to counter the nefarious Irish witch Gráinne, who intends to utilize D.O.D.O. time-travel resources to reverse the evolution of all modern technology (and thus allow magic to be more freely practiced in modern times). Her travels take us to Renaissance Italy, feudal Japan, and of course, Jacobean England. It's kinda hard to talk about the plot here without giving some stuff away or explaining what was covered in the previous book, so I'll just leave it at that.
The story is told in an epistolary format, with everything being after-action reports, chat transcripts, bureaucratic documentation with acronyms galore, and so on. Much of the sense of administrative humor is retained, and it's basically just a lot of fun to be hanging out with these characters again. We also get a few new characters, including Robin Lyons, Tristan's sister and noted Shakespeare nerd, who is naturally recruited to infiltrate the office of the Master of Revels. She fits right in, and makes good friends with the Shakespeare brothers (in particular Bill's younger and less famous brother Ned, who is another great addition to the cast). Alas, some of the original characters, notably Tristan himself, are sidelined for the majority of the book, but it all works well enough.
As the title of the book indicates, this English bits comprises the bulk of the story, so any Shakespeare nerds would really enjoy this. Actually, history nerds in general will get a kick out of this series. Lots of historical figures are mentioned, including the actual Master of the Revels during Shakespeare's time, Edmund Tilney, amongst other actors in the troupe. The other DTAPs are a little less detailed, though Leonardo Da Vinci is a key to one of them…
Gráinne makes for a fun villain, though I must admit that I don't really get how her plan will work. The limitations of magic that have been set in the D.O.D.O. universe are such that her task seems impossible or at least, inadvisable. To be sure, the stakes are clear and our heroes' actions to counter Gráinne make sense, it's just the overarching strategy here that I'm not following. Such is the way with a lot of time-travel stories though, and this has the added complexity of quantum physics and multiverses too, which help make the hand-waving plot machinations successful (and which I maintain is a clever sort of explanation for the way magic works in this universe). To be sure, I'm still having a lot of fun with these books, even if they are a little too focused on more narrow episodes rather than any sorta grand plan.
As such, this story is resolved satisfactorily, but I don't know that the series has progressed very much… and yet, I'm pretty excited to see where we go next, which is a good sign. As yet, I'm not sure if there actually will be a third book, but it seems likely and from interviews, the notion of a trilogy has been thrown out there, so I'm hoping we'll get a third book at some point. In the meantime, if you enjoyed D.O.D.O., this will scratch that itch (and even though Stephenson's involvement is minimal, it might tide you over until Termination Shock comes out).