The nomination period for the 2022 Hugo Awards ends in a few weeks, so it's worth thinking about the year in SF. After taking a year off from the awards, I decided to jump back into the fray this year due to a couple of really strong nominees (that will, hopefully, become finalists) that I wanted to support. As per usual, I didn't actually read that much eligible stuff, so I'm scrambling a bit at this point to catch up with some things. Assorted thoughts below.
Best Novel
I've read 6 books that would be eligible for the best novel award, and these two are the best SF I've read in a while:
Both books are exceptional and highly recommended. My experience nominating novels is somewhat mixed, but I estimate that both of these have a good chance of garnering a finalist spot on the Hugo ballot, and they're probably my favorite I've gotten to nominate in the approximately one decade in which I've been playing along.
I quite enjoyed Artifact Space by Miles Cameron, a fun little space opera that I'd probably nominate in a normal year, but pales in comparison to the above two. Similarly, I had a lot of fun with Master of the Revels by Nicole Galland, but I don't think it necessarily stacks up. I might just plop these two on my nominating ballot if I have space, but I doubt either will garner a finalist slot. I want to catch up with Machinehood by S.B. Divya and Shards of Earth by Adrian Tchaikovsky before the nomination period ends, but time is tight, so who knows if I'll get to both?
Short Fiction
I'm not particularly great at keeping up with short fiction, but I did read two of the best and yet most boring choices for nominees released last year: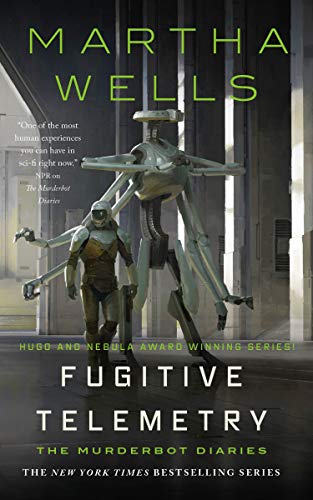 I say these are boring choices because, well, the Murderbot stories that Wells writes have already won several Hugos, including Best Novel and Best Series just last year. Bujold might be the most awarded author in the history of the Hugos, and the above work is the tenth novella in a series that has been nominated before (and part of another Best Series). That being said? They're both fantastic. What can I say, I'll try to mix things up next year. I'll try to catch up with some short stories before the nomination period ends, but I don't really have much on my radar at the moment.
Best Series
I still have reservations about this award from both a logistical (who can read all these series in time to vote?) and purpose (winners tend to have already won Hugos for the novels in the same series, sometimes in the same year) perspective. That being said, it is an award, and I think the spirit of the award is meant for something like this:
One good thing about this award is that a lot of the obvious choices are now ineligible this year (because they've already won or been nominated too much), but there's still quite a large number of possibilities. I like the Bobiverse books a lot, even if an individual entry doesn't quite rise to the level of a Hugo Best Novel. This is kinda what the award is all about though, so I'll throw this a nom.
Best Dramatic Presentation, Long Form
The Hugo Voters tend to have strangely generic taste in movies, often nominating high budget superhero fare over smaller, more thoughtful independent stuff. I always try to nominate stuff that's off the beaten path (with a nod towards some of the mainstream stuff, if it's great), but they rarely make the cut with Hugo voters. A decent crop this year though:
I really wanted to throw some love to Malignant, but there's an approximately 0% chance of it getting other votes. Horror tends to do poorly when it comes to the Hugos, and I'm already pushing it with Werewolves Within. Anyway, I fully expect the finalists to consist of things like Spider-Man and The Matrix, but I hold out hope that something like I'm Your Man could sneak onto the list.
Other Categories
Some assorted nominations in more obscure categories:
That about covers it for what I'm nominating for the 2022 Hugo Awards (for now). I have a busy few weeks coming up, so I don't know how much I'll be able to get to ahead of the nominations deadline, but this is a good start, I think.