I've dabbled with reading comic books here and there, but my experience is mostly with trades and features massive gaps in knowledge. That being said, comic books have a certain reputation… a reputation that features both good and bad characteristics. The Marvel Cinematic Universe (MCU), being a large scale adaptation of their comics, inherits that reputation, for better or for worse. Many of the MCU movies manage to skirt the cheesier, gimmicky aspects of comic books, others are less successful.
There's something to be said for comic book movies that defy such cheesy expectations or feel less comic-booky. The Dark Knight feels less like a superhero movie than a crime flick that just happens to feature a dude dressed like a bat (and it might be my favorite comic book movie of all time). But there's also something a little sad when these movies deny their origins and pretend they're something they're not. The MCU movies manage a sort of balance around that line that works very well. Sometimes, though, they really lean into their comic book nature, and the "team-up" films are the biggest example of this. Avengers: Age of Ultron, in particular, really felt like it leaned into the comic bookiness of it all. The never-ending serialized nature of comic books had arrived on the screen, fraught with all the attendant baggage that entails.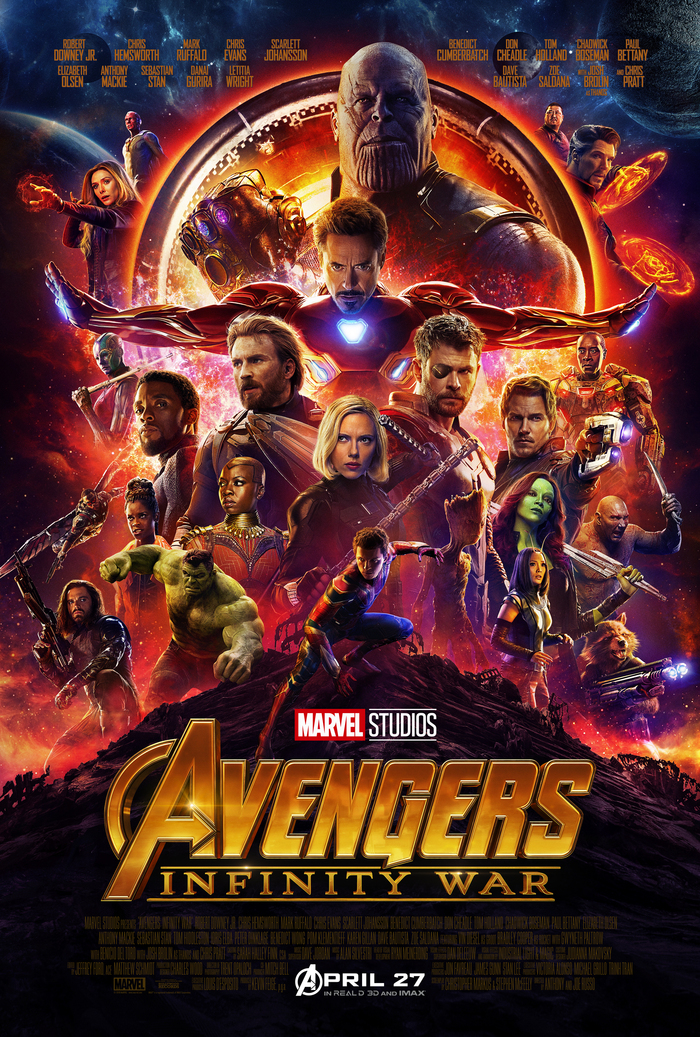 Avengers: Infinity War is the nineteenth film in the MCU, and it is one of the more ambitious efforts to date. Nearly all of the characters introduced in the past decade show up on screen to battle a villain that has been hinted at for at least eight years. Loosely based on the early 1990s crossover event The Infinity Gauntlet and its sequels, Infinity War and Infinity Crusade, this film attempts to tie together the last ten years of MCU films into one climactic story. Thanos is the big villain, hinted at in previous films, who wants to collect powerful macguffins known as Infinity Stones so that he can obliterate half of all life in the universe in order to stave off the threat of overpopulation. The various MCU heroes, who've been encountering the Infinity Stones all along (i.e. the Tesseract, Loki's staff, etc…), attempt to block Thanos. Some major spoilers posted below, so read on at your peril. Basically, I liked it just fine.
As a coherent narrative, it fits, I guess, but is quite disjointed (and incomplete). This is a long movie, but even then, it's not long enough to give satisfying character arcs to all of its participants. This is the supreme challenge of the team-up movies, and this one has so many characters that it can't help but feel a little jumbled and rambling. I wouldn't go as far as some critics, who think of this as barely a movie for that reason (which I find amusing given those same critics' praise for artsy films where nothing happens, but I digress), but the general criticism that it lacks depth is valid.
On the other hand, who cares? We spend a lot of time with characters we like! We get fun interactions as characters meet for the first time. Thor meets the Guardians and enlists Rocket and Groot to help him build a new weapon. Iron Man, Spiderman, and Dr. Strange deal with some of Thanos' henchmen in New York and later space. At one point Captain America meets Groot and the dialog is priceless ("I am Steve Rogers," brilliant). It's these little moments, disconnected as they are from any larger context, that make the MCU work as well as it does. Some of this is less successful. Vision and Wanda's romance was something hinted at in Civil War, but they aren't developed enough to care that much about (also, wasn't Vision way, way more powerful in previous films? He's stumbling around like a weakling in this film the entire time.) Gamora and Peter have similarly been circling each other for a couple of movies and fare a bit better, but something seemed to have progressed between GotG2 and Infinity War.
Which brings us to Thanos. He was kind of a nothingburger in previous films. Comic Book fans knew who he was, but he just kinda sat around and orchestrated things in the background instead of being an active participant (I mean, after ten years of trying to collect Infinity Stones via proxies, once he gets up to do it himself, it takes a couple of days). In this movie, he finally becomes an actual character. As mentioned above, he's got this Malthusian mission to reduce the population of the universe in half, which is kinda dumb, but also understandable enough.
I suspect there's a better movie lurking beneath the surface of this one that is far more focused on Thanos and Gamorra. Their dysfunctional relationship has been established since the first Guardians of the Galaxy, but it's lopsided and lacks depth. There's some flashbacks here that attempt to improve on that, but not nearly enough to justify the whole Soul Stone sacrifice bit. Instead, we spend fifteen minutes watching Thor go forge a weapon at some random neutron star facility. Don't get me wrong, Thor interacting with Rocket and Groot was a ton of fun and worked well, but it does sorta distract from the overall narrative of the film. In fact, a lot of these little side stories, while containing the character beats that I appreciate so much, ultimately make the film feel sorta disjointed. This is the challenge of these films though. You have to devote some time to all the characters, which means that the narrative fractures a bit. But the fact that we like most of these characters so much keeps the fractured elements in orbit around one another, which is probably the most you can really hope for…
As I understand it, one of the things done in big comic book crossover events is that you have tie-in issues of individual heroes' comics where you can delve deeper into one character's perspective on the larger events. Alas, that's not something that quite works in blockbuster film territory (though, for all I know, there are actual comic books that are providing this background for the films…) Alright, time to get to the real spoilers. This is your second warning, read on at your own peril.
So the ending is simultaneously shocking and boring. Shocking because Thanos basically wins, half the universe disappears with the snap of his finger (i.e. The Snapture), including a lot of our heroes. Boring because far too many of our heroes die for it to actually mean something. There's no way this can stand in the next installment, which makes the stakes here a bit suspect. Again, in the moment, these characters dying is affecting, but with even a second's introspection, you realize that it can't actually be a lasting situation. This isn't exactly a unique take on the ending. Most point to the fact that many of the dead characters have upcoming movies and the characters who lived are actually the ones you'd expect to be killed off (i.e. Chris Evans contract is nearly finished and has made it clear he won't be coming back, and so on). My point is that even without knowing that, the ending doesn't have quite the impact it should because we still wouldn't believe this situation is permanent. This goes back to the whole comic-bookiness of it all, and I'm not entirely sure what to think of that. On the one hand, it feels kinda cheep and gimmicky, a way to sell more tickets to the next movie. On the other hand, no one has even done this sort of thing on this scale before. 19 movies leading up to this? It's an interesting translation of comic book storytelling to the screen. I don't know that it works any better for it, but I have to admire the attempt.
It feels like a bit of a cheat too, since the marketing for this has sorta promised that this would be its own movie, when it's clearly part one of a bigger story that will be resolved next year. This, again, gets back to the comic-bookiness of it all. It's not that serialized storytelling hasn't been done on film before, but the scale of this is impressive, and I suspect that some of the complaints about this film would fade away or at least morph into something different once the next film comes out. This is the thing with the MCU. I think all of the films are enjoyable (mostly) and competent on their own. I don't think any one film achieves true greatness, but many of them are able to underline each other with connective tissue that helps reinforce the overall narrative. That's what makes the MCU special, and it's hard to fault it for attempting to do something on this sort of scale. It's hard to judge this movie on its own because there's so much that leads up to it, and so much still to come. You can level a lot of harsh criticism at it for precisely that reason though, and there are a ton of fully justifiable complaints about this movie.
It's ultimately the sum of its parts, nothing more, nothing less. It has a lot of great moments and interactions and is worth watching for that alone, but the overarching narrative is lacking focus. But it's like a comic book. Nothing ever ends. No one really stays dead. You just have to wait for the next issue.