The Results of the 2021 Hugo Awards were announced last night, so it's time for the requisite joyful celebrations and/or bitter recriminations. At this point, I've fallen off of the Hugo bandwagon from a formal participation standpoint, but still like to keep an eye on things. Populist awards like this go in waves, so they tend to get repetitive, as we'll see. In any case, congratulations are due to all the winners! For those who want to geek out and see instant-runoff voting in action, the detailed voting stats for the 2021 Hugo Awards are also available (.pdf).
Best Novel
Network Effect, by Martha Wells wins! It's the one novel of the nominees that I actually read last year and I've very much enjoyed the whole Murderbot series to date. For the uninitiated, you'll want to start with the original novellas (beginning with All Systems Red) before getting to this novel, but it's a fun, action packed series with a compelling protagonist, some interesting ideas, and a nice cast of regular side characters.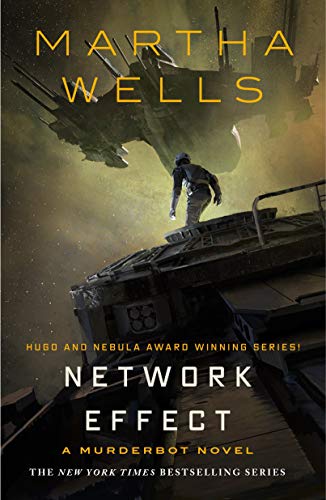 Of course, this is part of a long running series that has won before (although this is the first novel), which speaks to the repetition I was speaking of above. The other nominees didn't hold much interest for me, seeing as though I'd either read previous novels in the series or enough work from the author that I wasn't especially excited to read more of. The one exception might be Piranesi, by Susanna Clarke, but I'm not in a rush there either.
Short Fiction
I didn't even dip my toes into the shorter fiction categories this year, but I do see a lot of familiar names here, even among the winners. However, The Empress of Salt and Fortune, by Nghi Vo did win the novella category and that's a new name, so there is that. Sarah Pinsker and Ursula Vernon took home the other two fiction awards, and they've been mainstays of the past few years. Despite (or because of?) the controversy around Isabella Fall's Helicopter Story, it did not do so well in the voting.
Best Series
The Murderbot Diaries, by Martha Wells wins here as well, proving once again that the original intentions of the series award aren't really being served here. Don't get me wrong, as previously mentioned, I love the Murderbot series and it's eminently deserving of praise… but it's already won multiple Hugo awards. This is just an also-ran for that series, while other series languish in obscurity (or, er, lack of recognition? They all seem pretty popular.)
I always thought the point was to recognize series that didn't already get recognition in the other awards. The idea being that hey, maybe we can include more one-offs in the best novel ballot because entries in a series can be recognized here. Or series that people love that nonetheless don't have standout individual entries can still be recognized. But in general, the award has gone to hugely popular series that had already been recognized, sometimes in the same ballot (like this year, with the novel and its series winning).
As I understand it, this award narrowly passed a vote considering its future, so it will continue to show up in future years. I remain a little skeptical of this one, not least of which because I don't think it's likely that most voters have read all the series nominated (not to mention the logistics of reading that many stories in the time allotted).
Best Dramatic Presentation
Always a weird award, and this year is no different. The long form award goes to… The Old Guard? A little surprising, as I didn't realize that movie was particularly loved. I mean, I enjoyed it plenty and it was great pandemic watching, but it doesn't strike me as particularly original or great SF. Of course, the other nominees aren't especially accomplished either. I'm still quite baffled that Eurovision Song Contest: The Story of Fire Saga even made the ballot in the first place. It's not especially surprising that Tenet didn't do very well, though it would probably be my favorite of the nominees (at least, as SF it would – I think Tenet does have its flaws). For whatever reason, Hugo voters tend to go lower-brow when it comes to movies. Anyway, pour one out for The Invisible Man, Possessor, The Vast of Night, Color Out of Space, Archive, and The Wolf of Snow Hollow. There are always great works left off of a given awards ballot, but this year seems particularly egregious (I mean, come on, Eurovision?).
Short form goes to The Good Place. Again. I really enjoyed The Good Place, but it has won the award four times in a row, which seems silly. I would have probably gone more Mandalorian on this ballot, though perhaps the vote got split because there were two different episodes nominated (but then, the whole instant-runoff thing kinda mitigates some of that and looking at the actual numbers, The Good Place had a really strong win here – it wasn't even close.) The Expanse ended up taking a distant second place. Now that The Good Place is over, it'll be interesting to see where things fall next year. I suspect we'll see a strong showing for Marvel TV shows…
Other Thoughts on the 2021 Hugo Awards
It wouldn't be Hugos without some sort of controversy, and this year had no shortage of questionable events. Personally, this stuff gives me the hives, but near as I can tell much of the controversy surrounded China's bid to host Worldcon in 2023. Naturally, there were some concerns there because of, you know, the genocide, censorship, and high profile disappearings. But then a competing bid from Winnipeg pulled out a big ol bag of dirty tricks to try and win, which wasn't great either. I mean, not genocide-level bad, but not great. Then of course you get the whataboutisms and how the US sucks (and I guess so does Canada?) and Raytheon sponsored a part of this year's Hugos (which I can kinda see why someone would want to sideye and all, but still) and the whole thing is just a garbage fire at this point. I don't really want to delve more into it.
Next year's awards could be interesting though. I'm already curious to see if my two favorite novels from this year make next year's ballot, and I actually think there's a fair chance that both will. It might be enough to get me to dive in again. (Of course, one of these books comes from a popular author that's been nominated several times and even won before, so there is that, but still.) I suppose time will tell. Anywho, congrats again to all the winners of the 2021 Hugo Awards!