Vintage Science Fiction Month is the brainchild of the Little Red Reviewer. The objective: Read and discuss "older than I am" Science Fiction in the month of January.
When you think of Christmas stories, the first genre that comes to mind is probably not Science Fiction. But decades of initially flippant but increasingly earnest proclamations that "Die Hard is a Christmas movie!" indicate that perhaps the notion of what constitutes a "Christmas Story" is somewhat malleable. Naturally, none of this is new. Witness To Follow a Star, a collection of nine science fiction Christmas stories published in 1977, featuring stories from Golden Age stars dating back to the 1940s and 1950s. One of the great things about reading vintage SF is the continual discovery that everything old becomes new again at some point (in this case, debates about what makes something a "Christmas Story").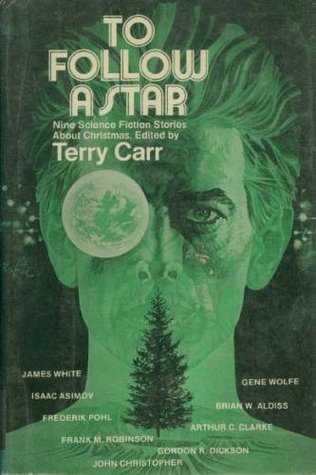 On its surface, the notions of Science Fiction and Christmas represent something of a contrast, but such conflicts can be useful in storytelling. As is typical of collections like these, the stories are a bit uneven, but it's always nice to read something along these lines during the holiday season. Quick thoughts on each story:
Christmas on Ganymede by Isaac Asimov – Cute little short story written in Asimov's traditional non-style, with a button of an ending that you might see coming, but which brought a smile to my face.
Happy Birthday, Dear Jesus by Frederik Pohl – Naturally Pohl takes on the commercialization of Christmas and imagines a far flung satirical future in which "department stores begin celebrating the Christmas sales rush in September", imagine that absurdity! (I don't talk much about my day job here, but I work for a digital retailer that starts their Christmas sales rush in July, so I had a nice chuckle at this part of the story.) Amusing predictions aside, this is perhaps not your typical romantic Christmas story, but that's ultimately where its heart lies.
Santa Claus Planet by Frank M. Robinson – A man crash lands on an alien planet, and finds that the natives have rather odd and perhaps gift-giving traditions. An interesting, if exaggerated and fatalistic, exploration of the power dynamics inherent in gift giving. Not terribly Christmassy, to be sure, but interesting.
Christmas Tree by John Christopher – Short tale of a space traveler who plays with fire and ends up getting grounded (i.e. stranded) on the moon because his body can no longer the trip back to earth. Spoilers, I guess, but while the character will miss Christmases back home, this is not especially Christmassy either.
The Star by Arthur C. Clarke – One of Clarke's most famous short stories, this won't exactly put you in the Christmas mood, but pitting the cold hard science against the faith of believers (in this case Christians) will certainly make you think. This is not the first time I've read this story, and even knowing where it's going – an excellent rug-pull at the end of the story where everything clicks in a devastating way – does not diminish its power.
The Christmas Present by Gordon R. Dickson – I guess they wanted to put all the bummer stories in the middle of the collection, which makes sense. This is another story about how aliens learn about Christmas, this time with tragic results. It stands in stark contrast to Asimov's earlier story in this collection (which also deals with aliens trying to figure out Christmas), which is a nice touch.
Christmas Treason by James White – Much is made of the "lies" we tell kids about Santa and Christmas, and as you might expect, science fiction authors (and fans, for that matter) are the type who will not accept traditional explanations of the logistics of Santa's delivery service. In the case of this story, kids with teleportation and psychokinesis powers assume that Santa must have a series of underground bunkers secreted throughout the world to support his Christmas Eve shenanigans. The only thing is: these bunkers are actually nuclear missile silos. While certainly a recipe for disaster, James White takes a decidedly more fun view of the situation and does a reasonable job balancing the tone of the story (which does need to walk a rather tight line).
The New Father Christmas by Brian W. Aldiss – In an increasingly automated world, will the machines and AIs adopt Christmas traditions in strange ways with unforeseen consequences? I suspect the writers of Futurama might have been inspired by this story in their conception of Robot Santa…
La Befana by Gene Wolfe – Christmas is about the birth of Earth's savior, but what about other planets? Neat idea, and Wolfe uses one of my favorite Santa precursor legends in this short story.
As already mentioned, it might seem odd to see mixtures of Science Fiction and Christmas, but as it turns out, I've read several collections of Christmas Science Fiction stories, and there are probably a bunch of others. There are other collections from various authors, like Isaac Asimov's Christmas (which is a collection of stories from Asimov's magazine, rather than the author himself), but also some specific authors who seemingly specialize in the holiday, like Connie Willis' A Lot Like Christmas and John Scalzi's A Very Scalzi Christmas. All of these collections have their charms, in part because I like the contrast inherent in this micro-genre, and To Follow a Star is no exception (though I think I would probably recommend Willis and Scalzi books ahead of this one, for whatever that's worth).
Next up for Vintage Science Fiction Month: Space Beagles!