Andy Weir first rose to prominence with his self-published novel of an astronaut stranded on Mars, The Martian. It caught on with readers, eventually got picked up by a big publisher and even adapted into a pretty great Ridley Scott movie. He followed that book up with the moon-based Artemis, a novel that clearly didn't hang together as well as The Martian, but had its moments I guess. Still, the Sophomore Slump felt real. Now we come to Project Hail Mary, Weir's third book and I'm happy to report that it represents something of a return to form.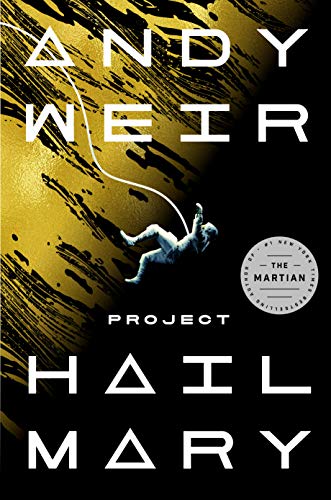 Earth's sun is dimming and the cause is traced back to a microscopic life form (dubbed the Astrophage) that lives on the sun and uses its energy to migrate to Venus. The dimming effect is accelerating and will eventually cause catastrophic changes on earth and potentially wipe out humanity. What's more, most of our neighboring stars are also dimming… except for Tau Ceti, a star that's twelve light-years from earth. Project Hail Mary is quickly assembled to visit Tau Ceti, devise a solution to the Astrophage, and save all humankind. We learn all of this in flashback, as Ryland Grace, a middle-school science teacher wakes up with a nasty case of amnesia. He quickly deduces that he's on a spaceship and his memories start to come back. Will Grace be able to find a solution in time to save Earth?
Some minor spoilers up there, I guess, but there's lots more to this story that I will try not to spoil too much. As with The Martian this is a novel about a lone astronaut sciencing the shit out of things to save himself and in this case, humanity. The science is handled well and in detail. It's not diamond hard science fiction that's difficult to understand, it's actually quite accessible and while sometimes tedious for the characters, mostly not for us readers. I suppose it could wear you down though, especially when you get towards the end of the story and you know where it's going, but Weir puts Grace through the paces as he attempts to find a needle in a haystack. Still, it's well drawn and clearly explained. All of which serves to keep the story grounded, even when Grace does some crazy stuff to, for example, snag a sample of a potential Astrophage solution.
The technology is mostly present-day stuff. Since Project Hail Mary is humanity's last hope, the plan relies on old, well-established technology that's pretty much guaranteed not to fail. Except, of course, for the new spin drive propulsion system that can help the ship traverse interstellar distances. But here Weir finds a clever solution.
Indeed, one of the impressive things about the book is that Weir takes one counterfactual, the Astrophage, and once established, he puts it through a whole battery of extrapolations that have far and wide implications. There's lots of things in this book that are surprising, but at their core, they are explained by a relatively simple microorganism. It speaks to one of Science Fiction's broad strengths. Establish something simple and relatively innocuous, then tease out the implications until things start to get weird. Weir also manages to weave this sort of thing into the plot too, which shows some storytelling chops.
It's hard to get into the rest of the story without getting into spoiler territory, so I'll leave it at that. Fans of The Martian will certainly enjoy this, though it may come off a bit samey. Weir is great at presenting complicated science in an accessible manner, but he's not exactly a prose stylist. Characterization isn't a strong suit either. Ryland Grace is your typical competent man SF hero (much like Mark Watney from The Martian). Weir does attempt to flesh him out a bit, especially with a late revelation that didn't quite sit right with me, but he's still a pretty familiar SF archetype. As with a lot of older SF, the ideas at the core of the story are the real hero. It does a great job evoking that vaunted sense of wonder that's at the core of SF. That's what makes a book like this work, and it's the sort of thing that's missing from a lot of modern SF.
Modern SF has a tendency towards extreme cynicism, dysfunction, angst, and oppression, and fans of that will likely see this book, with its optimism in the face of disaster, competence, and happy ending, as jejune and unsophisticated. I found it to be a breath of fresh air and ultimately loved the book, flaws and all. It's a throwback SF vision that we could probably use more of these days.