Continuing my way through a resolution to watch 50 movies from 50 different countries this year (lots of caveats and rules for what qualifies, as enumerated in that introductory post.) I'm currently at 37 movies, which exactly on track, but I've only covered 28 on the blog. The gap will continue to narrow with this post and one of the remainder will be covered during the 6 Weeks of Halloween (which will, naturally, have at least 6 of its own entries). Alrighty, let's get to it! More 50 From 50: [Intro | Part I | Part II | Part III | Part IV | Part V | Part VI]
---
Iceland – Arctic – Mads Mikkelsen plays a man stranded in the arctic wilderness. Resourceful and clever, he has settled into a routine of survival. Things change when a potential rescue is spoiled and time becomes a factor. This nearly dialogue-free film is basically an acting showcase for Mikkelsen and fortunately, he's up to the challenge. He carries this movie on his back, and most of what's communicated to the audience happens wordlessly. Just a few flickers of emotion in Mikkelsen's face are enough to sell whatever's happening.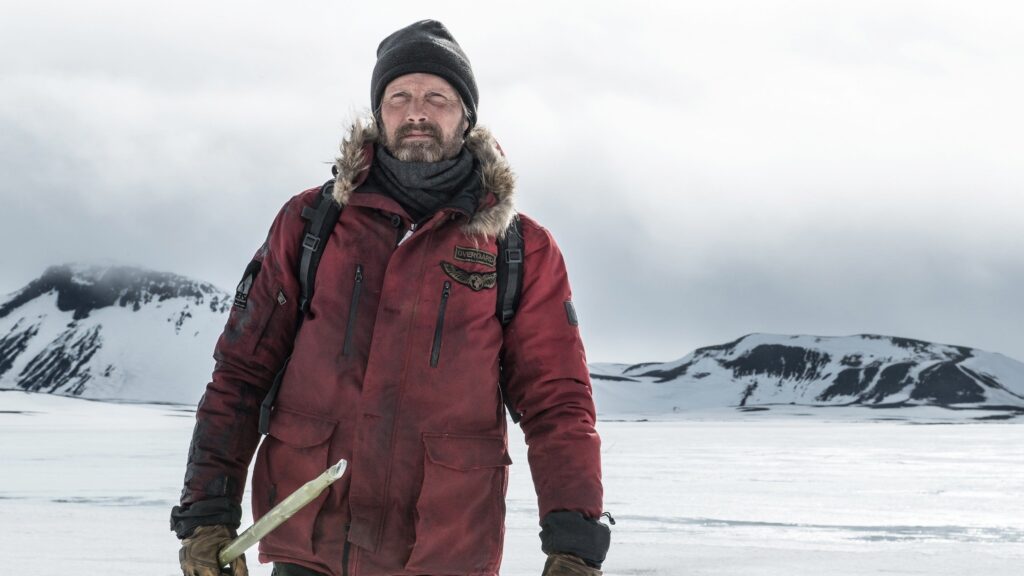 Early on, inured by his routine, there's not much to see but a calm demeanor and competent actions. But there's a moment when it looks like he might be rescued by a helicopter… which then succumbs to the windy arctic weather and crashes. The sequence of emotions rolling across Mikkelsen's face are a sight to behold. Shock, surprise, dashed hopes, and something that could be indecision but could just as easily be a calm, level-headed recognition of what he'll need to do next.
This is writer/director Joe Penna's debut film, and he shows a steady hand. It's clear he knows how to use Mikkelsen, and he does an excellent job depicting the desolation of the arctic landscape. It's a gorgeous film with well composed images and movements. Of course, the strengths of the film also point to the one potential weakness: we don't really know anything about the characters. Penna relies on the universally relatable premise of being stranded in the wilderness, amongst other dangers, to make you care for the characters. This was certainly enough for me, and Mikkelsen's performance adds enough heft, but your mileage may vary. (Note: I swear when I looked at this initially, the country was listed solely as Iceland – but now it also shows USA. I guess this is a bit of a cheat, but it was clearly made in Iceland, so I'm going to keep it on the list. Who knows, I might hit 51 films to make up for this, but I figured it was an interesting enough movie to recap.) Available on Netflix. ***
---
Malaysia – Wira – After a stint in the Army, a man returns to his hometown and vows to take on the local gangster in order to protect his family. Naturally, the gangster runs an underground MMA tournament, and our hero is uniquely suited to compete. Basically a bog standard plot that's a thinly veiled excuse to cram a bunch of action sequences into the runtime.
As these things go, this is rock solid stuff. The fight choreography recalls films like The Raid or The Night Comes for Us, but without the blood, guts, and gore. Depending on what you're looking for, this could be a good thing, but I'd also say those two films are better than Wira. Still, the action is perfectly cromulent, the pacing is solid, and the villain works well enough. Hairul Azreen plays the lead and has the martial arts chops to sell it, and Yayan Ruhian (best known as Mad Dog from The Raid movies, but also has a prominent role in John Wick 3) is a great villainous henchman.
It's not breaking new ground and there are better examples of this sort of thing, but it's a reasonably well executed version of the story that's well worth watching if this is your type of thing. **1/2
---
Turkey – Lionman (aka The Sword and the Claw) – When a king is betrayed and murdered, his infant son is hidden in a forest whereupon he is discovered and raised by a pride of lions, thus imbuing him with beastly lion-based powers. As an adult, he learns of his heritage and vows to take on the new king. A potent blend of exploitation tropes ranging from baffling music cues to chaotic, trampoline-based action to the requisite awful dubbing.
The action choreography doesn't exactly compare with traditional martial arts stuff, and it does have a truly off-kilter feel to it, but it also doesn't exactly make any sense. The plot has a flavor of old folklore that I'm not familiar with at all (so who knows), but which seems to provide enough of a backbone to story and keep the pace moving quickly and efficiently through several familiar tropes. There are obvious creative and budgetary limitations on display here, but that just makes it more endearing. The homemade low-fi aesthetic is perfectly matched to the silly story played completely straight.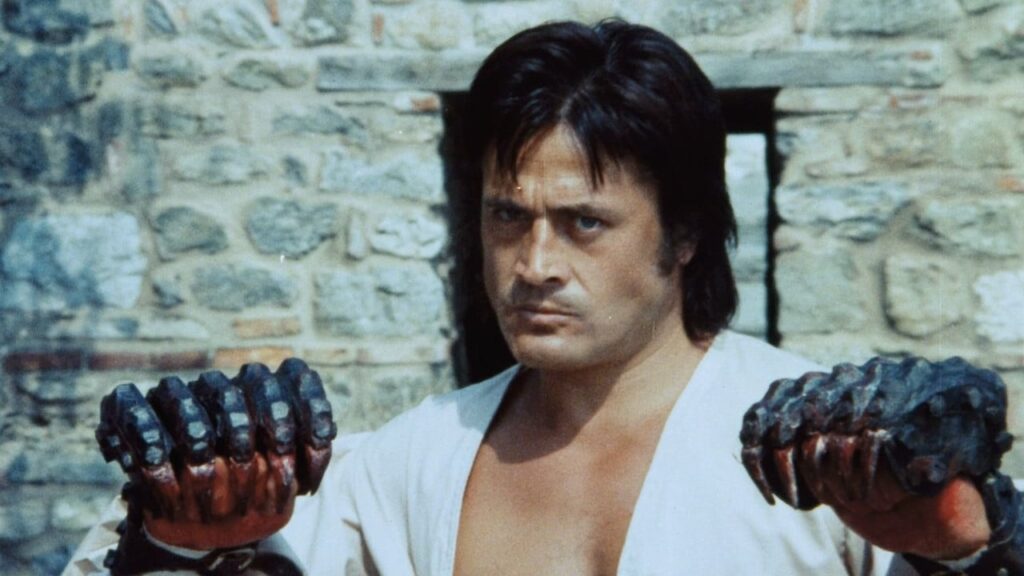 It's certainly an odd movie from the start, but it doesn't really get bonkers until the finale, when our hero gets his trademark metal lion claw glove thingies and takes on an army. Pure schlock, almost accidentally charming; certainly not for everyone, but I found it quite entertaining. Available on Tubi. **1/2
---
Ukraine – Once Upon a Time in Ukraine – A chaotic imitation of Tarantino imitating a Samurai/Western mashup. The plot is kinda beside the point, but it involves a plot to sell Ukrainian slaves to the Japanese. A Ukranian/Japanese samurai seeks revenge, and runs across a Ukrainian peasant whose wife was enslaved. Along the way, we've got samurai swordfights, six-shooters, and some light anti-semitism.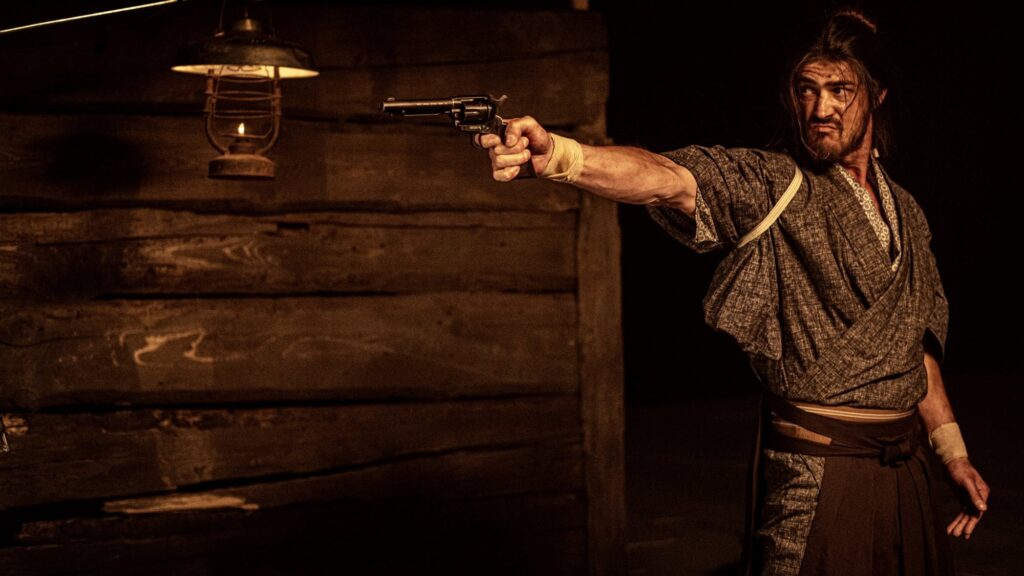 Again there's some cultural references that are probably lost on me. For instance, the Ukrainian peasant is named Taras Shevchenko, a reference to a famous poet, writer, artist, and political figure of the same name. Pretty sure the historical figure didn't fight with samurai swords though. Treating the serious topics as a popcorn flick is a bit of a stretch, and there's some questionable stuff thrown out there, but it's a tight 90 minutes and pretty well paced.
Despite budgetary constraints, it's visually energetic and the effects actually look pretty good. As a surface-level imitation of Tarantino, it's not bad visually. But the writing certainly falls far short of Tarantino. Plus, I feel like Tarantino has always been more patient than this is. That being said, it's an interesting, entertaining little film that I'm glad I watched. Available on Amazon Prime. **1/2
---
Chile – Mandrill – A drug lord murders a child's parents, but the child escapes. He grows up to become an assassin hellbent on revenge. But when he finally finds the killer, he falls in love with the killer's daughter and starts to have conflicting emotions. Or something. It's a silly, melodramatic plot that isn't anywhere near as cool as it wants to be. Some of the "witty" dialogue comes off as laughable at best, and the hammy references to a Bond like action hero (named here "John Colt") are almost embarrassingly bad.
That being said, the protagonist is played by Marko Zaror, a Chilean martial artist who seemingly specializes in aerial spin kicks of some sort that are actually quite impressive. The action choreography is quick and fluid and I appreciate the clarity, though it does come off as perhaps a bit rehearsed (or contrived to allow for Zaror's acrobatics). Zaror has actually shown up in John Wick: Chapter 4; it's like the Wick folks are just scouring the glob for martial artists to pit against Wick. Anyway, this isn't a particularly good film because of the plot and dialogue (and there's far, far too much of that stuff), but the action redeems it a bit and makes it watchable (and you get some unintentional comedy with the plot, for what that's worth).
Director Ernesto Díaz Espinoza has had several collaborations with Zaror that seem to have better reputations than this one and I probably should have sought them out rather than jumping on the first one I found. This would only be worth it for obsessives or completists, but I don't hate that I watched it. The Amazon Prime version is badly distorted (something wrong with the aspect ratio), but it's also available on Tubi, Pluto TV, and Plex. **
---
So I've now covered 33 films. A few of the remaining will have to wait until after the 6 Weeks of Halloween (which starts next week!) and I'm probably on track to finish off the 50 films in early December…