In Robert Aickman's short story "Ringing the Changes," a surreal crowd of townfolk parade through the streets chanting:
The living and the dead dance together.
Now's the time. Now's the place. Now's the weather.

Page 76, Dark Entries by Robert Aikman
When I read that during last year's Six Weeks of Halloween, something about it just struck me as wonderfully macabre, and a fitting slogan for the Six Weeks of Halloween as a concept. The seasons are changing, a chill is in the air, trees are shedding their leaves to crunch underfoot; soon folks will start breaking out the afghans and sweaters and adorning their household with all manner of mutilated gourds, decorative corpses, plastic spiders, styrofoam gravestones with cute, ironic captions, and of course, the (pumpkin) spice must flow. These and other nominally ghastly traditions can mean only one thing: It's Halloween Season!
Around these parts, we celebrate that Hallowed E'en by watching a veritable plethora of horror movies (and we read some spooky books while we're at it) for the six weeks leading up to the big day. Why six weeks? Well, it used to be two weeks better than the standard October marathons that a lot of folks do, but these days, it seems there's been a bit of seasonal creep (literally!), so we're just sorta conventional now.
It's traditional to start the marathon off with something that's at least somewhat more respectable than usual. Which is not to say that it won't be schlocky fun, just that there will be some element to the theme that might hint towards something a little more classy than expected. Things like silent movies, foreign films, arthouse flicks, classic anthologies, celebrated studios (and other celebrated studios), and the like. This year, with the help of the physical media peddlers at Vinegar Syndrome, we've lined up a trio of Mexican Gothic films from the Duke of Mexican Horror Cinema, Carlos Enrique Taboada.
In the English-speaking world, Taboada does not have much recognition, but he's apparently quite popular in Mexico, and since the advent of DVD, some of his movies began garnering a following up here in the U.S. Part of his reputation stems from the fact that he didn't focus on the absurdity of the horror stories that were popular at the time. There are no luchadores or monsters here, just the grand tradition of gothic horror. Here we have three of his better known efforts, and of course Vinegar Syndrome did an excellent job restoring them.
Week 1: Mexican Gothic – The Films of Carlos Enrique Taboada
Poison for the Fairies – Young Veronica is an orphan with a penchant for all things witchcraft. She befriends Flavia, a new student at school who is wealthy but lonely. Veronica manages to convince Flavia that she's a real witch and begins to manipulate her new friend for her own ends. Hijinks ensue!
A cult favorite and probably Taboada's best known film, it's easy to see why as the film unfolds. It's a bit of a slow burn, as Taboada takes his time establishing the two girls and how their doomed relationship slowly develops and becomes more and more coercive. A story that requires heavy use of child actors can sometimes be a bit of a double edged blade, and if the young actresses aren't up to the challenge, the result can be excruciating, but that's not the case here. The two young girls give a naturalistic and convincing performance, even as events start to escalate towards the end of the film. Stylistically, Taboada frames nearly every shot in a way that obscures the faces of adults. It's not quite Peanuts' style (you can hear them speak clearly), but the effect is the same: you're thrust entirely into the young girls' perspective and isolated from any potential steadying influence that adults might provide.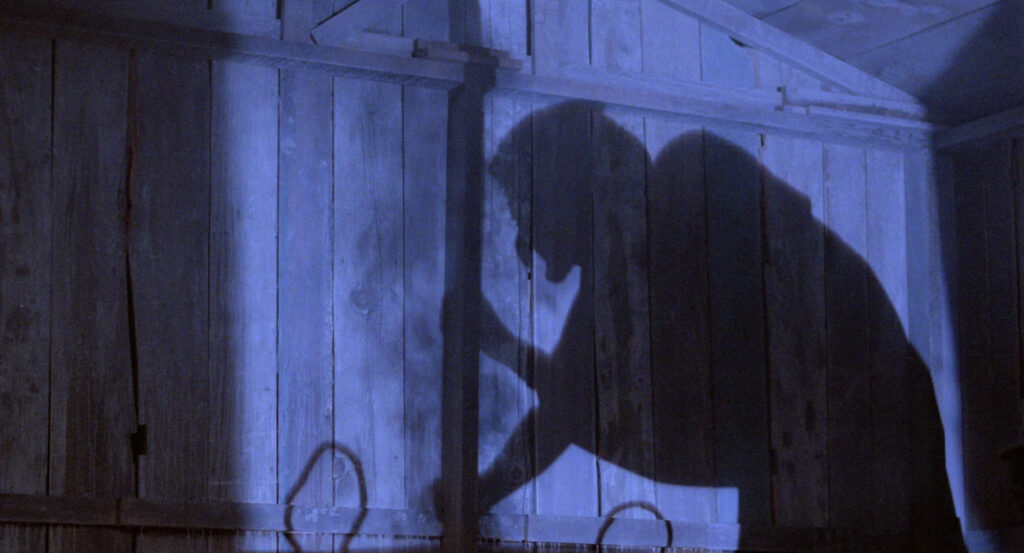 There's some basic witchcraft window dressing on display, but it's clear that Veronica is conning Flavia for the entire runtime. While there might not be anything supernatural going on, young Flavia believes there is, and Taboada treats us to some visual representations of such that are quite effective. Indeed, it's probably the best looking film of the three I watched this weekend, with lots of great compositions and some stylistically adventurous shots.
I don't want to spoil or oversell the ending, but what felt like a slow, grounded character piece takes some rather serious turns by the end, with tragic consequences. It really sold me on the film in a way that Taboada couldn't quite replicate with the other two films I watched this weekend. ***
Blacker Than the Night – A woman inherits her aunt's spooky house and moves in with her friends. The only condition of the inheritance: they must take care of the dead aunt's beloved black cat, Bequer. Spoiler alert: they don't care for Bequer very well and yes, hijinks ensue.
Another slow burn, this one really takes its time to get its engine revving, and that's a flaw that might be hard to overcome. There's some goofy stuff in the first hour that are almost laughable too. For instance, when we learn that they will only inherit the house on condition that they care for the black cat, and the women are packing and one of them has a pet canary, I literally laughed out loud. Obviously Bequer does what cats do to birdies like that, and three of the women take a bit of revenge on him, after which the spooky bumps in the night start to become more substantial, and (eventually) people start dying.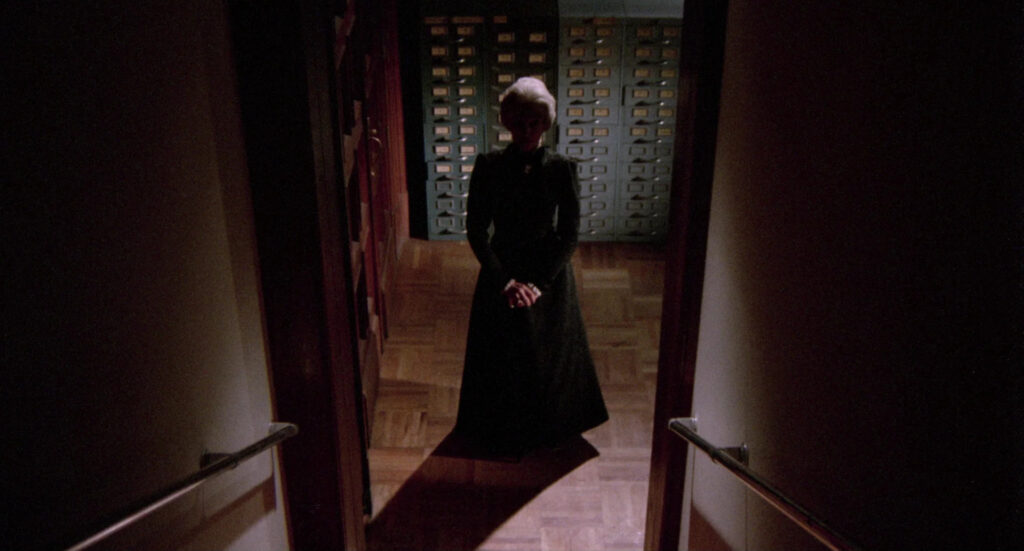 To its credit, this is a film that eschews shock tactics, gore, or stingers, instead relying on atmosphere and "what you don't see" for its thrills, and Taboata employs some visually effective shots to bring it home. There's a flashback sequence that's shown in a vivid, exaggerated red color scheme that's quite evocative. Unfortunately, it takes far, far too long for all this stuff to develop into something meaningful, and even then, I didn't really care enough about the characters to be impacted as much as I should. I suppose there is something here about generational conflict between the two sets of women here. Made in 1975, the younger women were demonstrating a certain independence (ranging from fashions to careers to divorce, all featured prominently amongst the younger women) that the ghostly aunt (not to mention the creepy old housekeeper) never managed. In any case, the first death (not counting Bequer or the canary) happens more than an hour into the movie, and the ghostly revenge progresses rather conventionally from that point. I kept expecting some sort of twist or surprise, but the only real twist here was that Bequer's death wasn't the accident it was initially portrayed as (which, like, we already knew and could see coming from the opening minutes of the film).
Your mileage may vary. It's tempting to fault movies for what you want them to be, rather than what they actually are, and I may be engaging in a bit of that here. There is a lot to like about this film, but I just fell off the bandwagon early on and when things heat up in the last 25 minutes, I never really got fully back on board. Great final shots though. **
Rapiña – Two impoverished lumberjacks discover the wreckage of a plane that has crashed at the top of the mountains and decide to steal the belongings for themselves, with predictable hijinks ensuing. Not exactly a "horror" movie, but an excellent take on the Gold Fever trope; a story as old as time. Or, at least, dating back to Greek myth and present through every period of human storytelling. Cinematically, this reminded me of movies like The Treasure of the Sierra Madre, Shallow Grave, and especially A Simple Plan.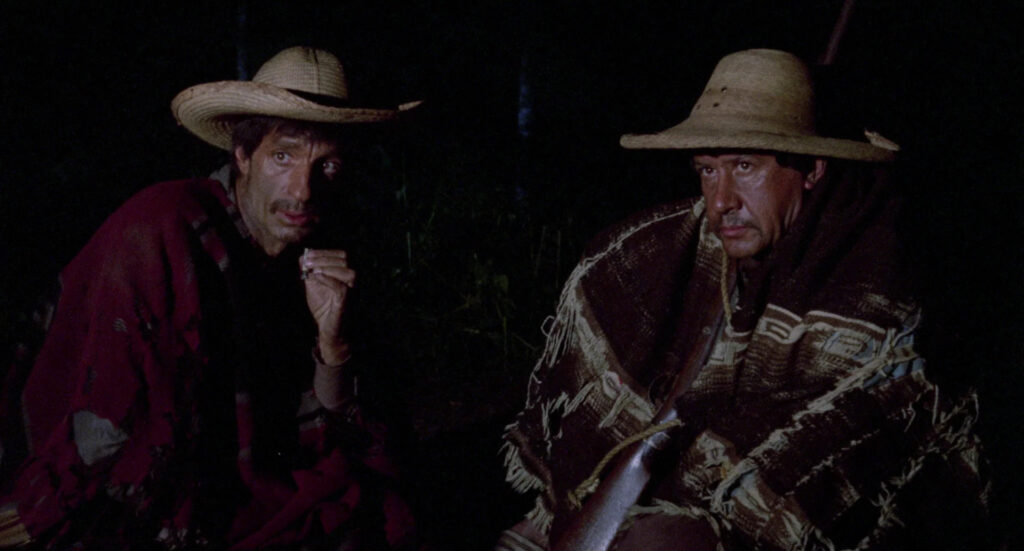 Despite the common tropes and other prominent examples, this manages to carve out an identity of its own. It's partly just the rural setting in Mexico, which provides ample desire for escape for our Gold-fever infected protagonist, who just wants to provide a better childhood for his expectant child. As with the previous two films in this post, this is also a slow burn, but it's very well calibrated and there are natural stairsteps as our protagonist's attempts to retain the treasure corrupt his soul and grow increasingly desperate and frenzied.
So it's a common story and it progresses like you'd expect, but something about this just works much better than, say, the conventional parts of Blacker Than the Night. The ending isn't exactly uplifting, but man, Taboada really knows how to end his films with great shots. ***
A great way to kick off the Six Weeks of Halloween for 2023, stay tuned for more: we've got some Dark Castle movies, a few werewolf pictures, the Insidious sequels, and a 6WH themed recap of 50 from 50 movies… Also, just a note when it comes to the physical media release here. Two of the above films are currently streaming on Shudder, but not really anywhere else, and the smaller physical media boutiques like Vinegar Syndrome tend to do limited runs. This is something that will come up again during this year's marathon, but it bears repeating: if you see something from one of these places that interests you, you should buy it then. This goes double for special editions with fancy packaging like the VS set I'm referencing here has – they often show up on ebay at double the price, if not more.