Continuing my way through a resolution to watch 50 movies from 50 different countries this year (lots of caveats and rules for what qualifies, as enumerated in that introductory post.) I'm currently at 30 movies, which is a little ahead of the game, but I've only covered 18 on the blog, so I am still behind on the reviews, which is why we're all here now. More 50 From 50: [Intro | Part I | Part II | Part III | Part IV]
---
India – Lagaan: Once Upon a Time in India – You wouldn't think that a nearly four hour long Bollywood musical about cricket and the agricultural taxes imposed by colonialism could be this riveting, but this movie would prove you wrong. Sure, it is somewhat leisurely at times, but it's never boring and it gets stronger as it builds towards a rousing climax.
I saw someone on Letterboxd describe it as Seven Samurai meets The Bad News Bears, which is surprisingly apt, though obviously a bit reductive. That said, the underdog sports tropes are all present and accounted for, even if I still don't really know much of how Cricket functions. Recruiting the team, learning the sport, training montages, discovering talents, finding unexpected allies, experiencing cruel betrayals, and underhanded villains, it's all there. And because it's Bollywood, there are musical numbers sprinkled throughout. I'm not a huge musical fan, but something about this worked a lot better than usual.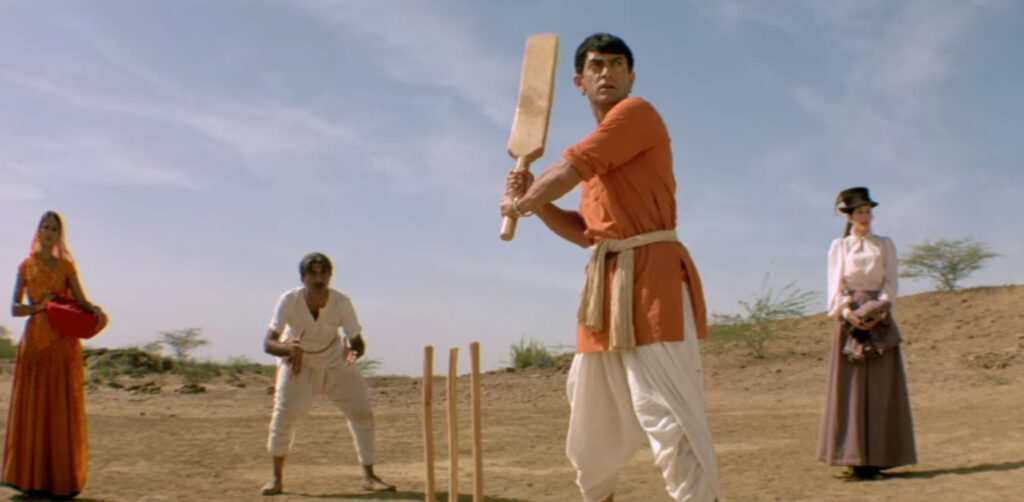 I'm sure the Indian cast is full of stars, but my relative lack of exposure to Indian cinema prevents any detailed rundown. That said, Aamir Khan plays the lead well, both as the defiant kid challenging British colonials and as the clueless love interest for a rather odd love triangle (er, quadrangle?) Westerners like myself will no doubt recognize Paul Blackthorne, a consummate "that guy" you've probably seen in a dozen tv shows and movies. Here he plays the smarmy British captain who challenges the poor Indian farmers to a game of Cricket – if they win, no taxes for two years; if they lose, triple taxes (the title of the movie, Lagaan, essentially translates to "agricultural tax"). A suitable sports movie villain for sure. The movie looks great too, fantastic cinematography and landscapes, plus it captures the action of Cricket pretty well (even if you don't know the sport, you can follow along pretty well).
It still a very long movie, but it genuinely doesn't feel as long as it is (though I did end up having to watch in two sessions, as I didn't realize it was going to be quite so long) and it's a very well told story. Available on Netflix. ***1/2
---
Poland – Ashes and Diamonds – On the eve of victory in World War II, various factions struggle to secure their vision for the future of Poland. We mostly follow a couple of rebels set to assassinate a local Communist leader. When their initial attempt fails, the leader becomes suspicious while our rebels try to figure out a backup plan. Along the way, they find themselves wrestling with their actions and potential futures.
An arthouse flick that certainly leans into that wrestling with morality and purpose more than the action or violence at the heart of the story. On the other hand, the aesthetics almost resemble film noir. Stark black and white photography, meticulous compositions, and crisp camera movements all contribute to that noir-esque feel. Of course, the subject matter and Polish origins are atypical for this sort of thing, and this film leans much more heavily into the crises-of-conscience and self-reflection of our heroes than the violence they inflict or the inevitable tragedy they endure.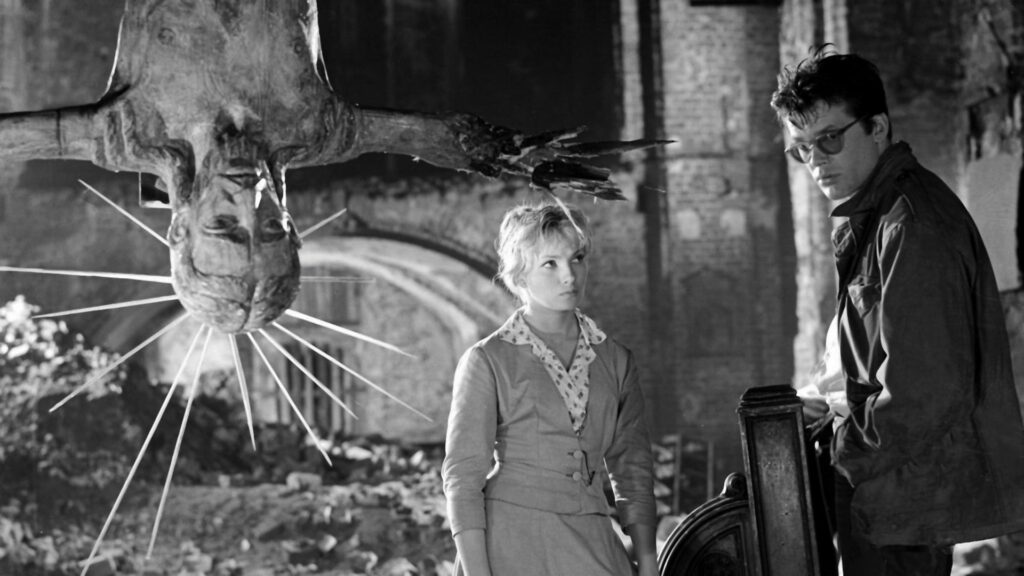 The symbolism is perhaps a little heavy handed (there's a famous shot in an old bombed-out church involving an inverted crucifix) and the romance that prompts soul searching is perhaps a bit rushed and cliched, but it all comports itself well enough as these sorts of things go. Your mileage may vary, and it requires some context, but it's quite well done for what it is. Available on Max and Criterion. **1/2
---
Belgium – Man Bites Dog – I distinctly remember visiting my brother's dorm room in college once and seeing the poster for this movie. No idea if they still do this sort of thing now, but there was always a sorta decoration sale the first week of school where you could buy stuff to hang up in your dorm room, and a popular choice was movie posters or, in this case, post-card sized movie posters. No one had actually seen this movie, but it's a striking and memorable poster for sure: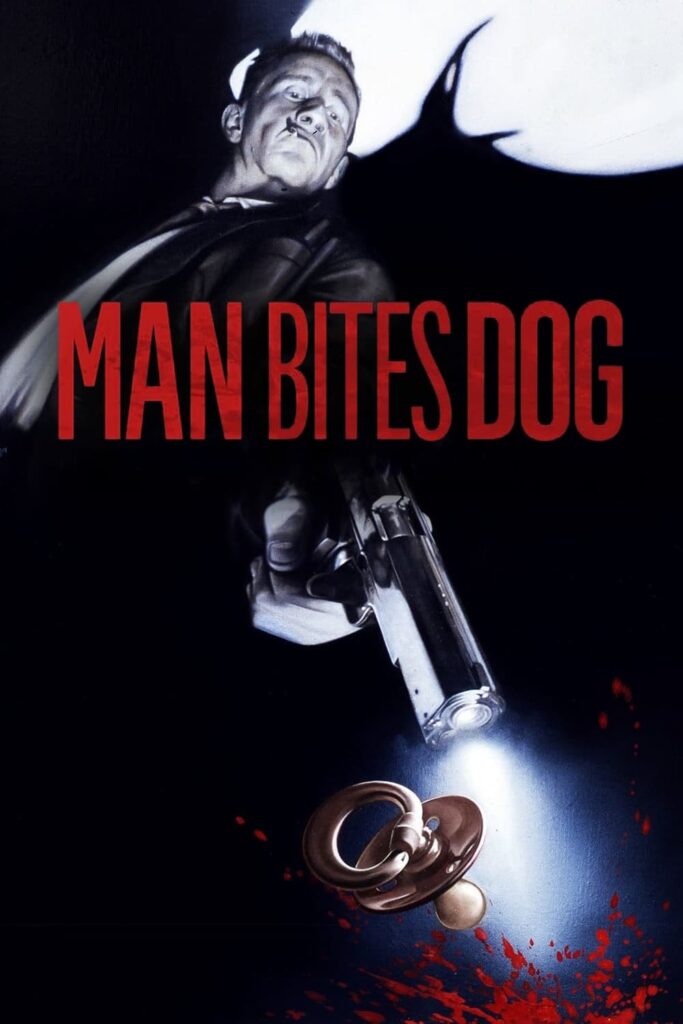 Now, decades later, I'm finally watching it… This movie takes the form of a mockumentary, with a film crew following around a professional serial killer named Ben. As things escalate, the film crew start to participate in the antics themselves. Made in 1992, it's an early example of the form, and it's going for an arthouse vibe with shock value thrown in for good measure.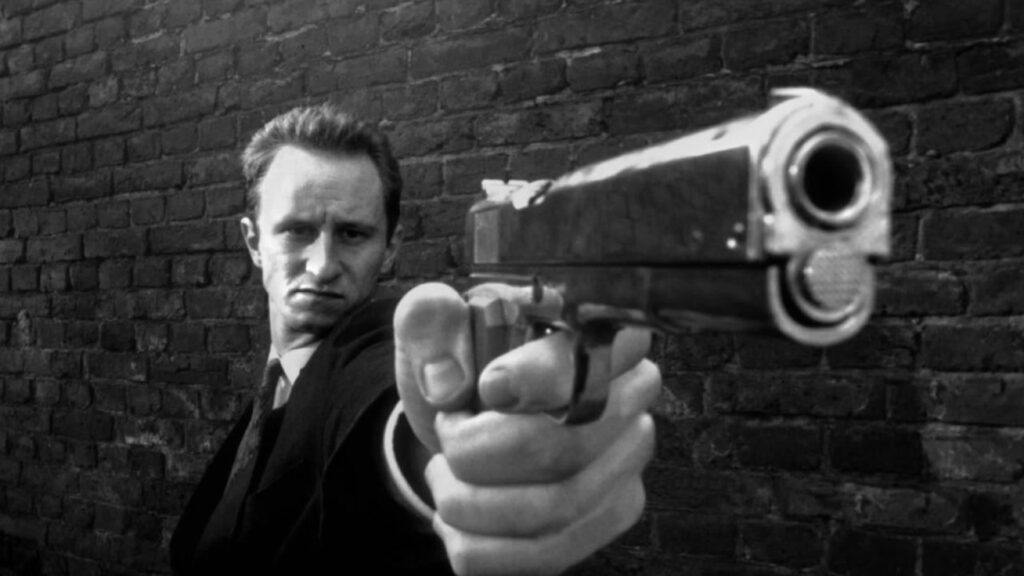 Alas, it comes off as insufferably smug, or, at least, the main subject of the film does. He's almost immediately unlikeable, and not just because he's murdering people left and right. Even when he's eating dinner and quoting poetry, he's just miserable to be around. This is the point, of course, and watching him drone on and on about banal subjects, you can't help but wonder why he (or the film crew) thinks this is worthy of documenting. Indeed, you get the feeling that he thinks his inane musings are more important than the murder shenanigans. This sort of thing takes on added meaning in the age of social media, with everyone putting their narcissisms on full display all the time, so perhaps there is something a little prescient about this movie. (Naturally, there is some irony in the fact that I'm writing this here, and indeed, this blog is a testament to my banality, but I'm not a murderer and hopefully not that much of a bore either.)
The film crew's complicity and participation in the mayhem also remains quite relevant, if not even moreso. Their actions start small, but gradually become more and more flagrant. So there's plenty to sink your teeth into here and lots to talk about, but the actual process of watching it is a bit dull. There's a few genuine surprises and shocks, but despite the short 96 minute runtime, it feels a lot longer. I don't love this and find it hard to recommend, but it's got interesting subtext and could be of interest to people with the right mindset. Available on Max and Criterion. **1/2
---
Brazil – Elite Squad – When I went to Fantastic Fest (sheesh, well over a decade ago), I actually caught the sequel to this film, but never went back to watch the original. Like the sequel, this film is about police corruption in Brazil as told through the eyes of a burned out captain in BOPE (Special Police Operations Battalion – basically the eponymous Elite Squad). He's on the verge of starting a family and seeking a replacement that he can promote into the role, but the pickins are slim, and the intractable corruption of the various police and political institutions aren't helping. Add in a visit by the Pope that will necessitate increased police presence in cartel-controlled slums, and a new recruit who gets mixed up in a charitable organization with ties to the cartel, and you've got a interesting soup of elements to sip from.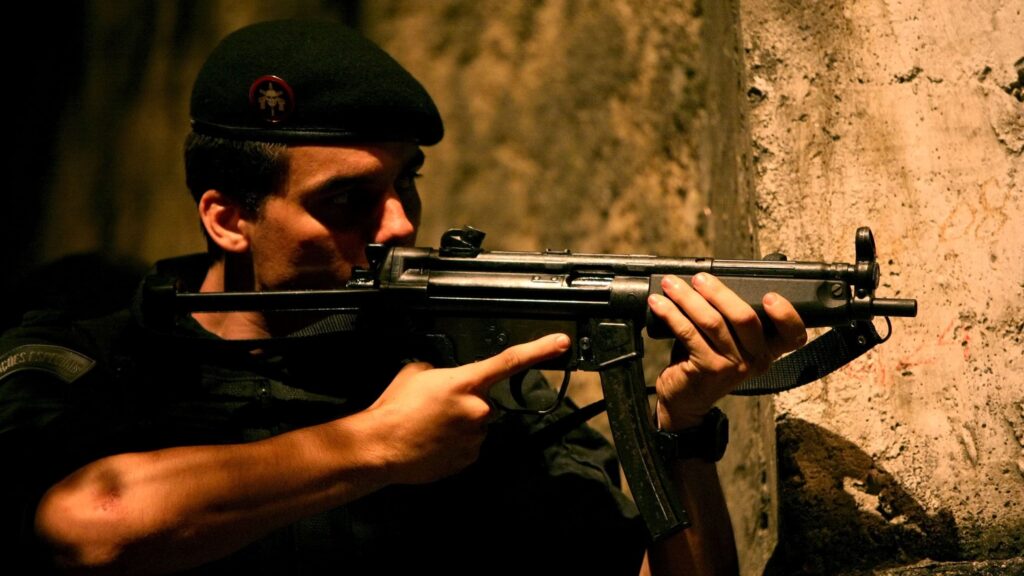 Like the sequel, this film might raise your political hackles at times. The film doesn't leave anyone out of its crosshairs though. The liberal-coded students and charity workers are portrayed as hopelessly naive and ill-informed, while the police themselves are portrayed in the grip of a deeply corrosive corruption emerging from police leadership, government, and cartel influence. This is all a simplification and it does raise some suspicions (the film doesn't truly present any solutions, though you could argue one way or the other), but it's clear that this film is fed up with the status quo.
The film features stylistically effective use of handheld cameras during the action sequences, and well established geography of the various slums contributes to the effectiveness. The use of voiceover and intercut narratives is perhaps a bit less successful, and there are times when the tone feels a bit inconsistent, it ultimately manages to harness it all into an effective package.
Director José Padilha would go on to make his Hollywood debut with an ill-advised remake of RoboCop. After revisiting this Elite Squad series, I do find that Padilha is a rather interesting choice for the task, even if it was doomed to failure before it even started. This is certainly not a perfect film, but it's thought provoking and well made nonetheless. Watched on Amazon Prime. ***
---
Finland – Nokia Mobile: We Were Connecting People – This is a documentary about the rise and fall of Finish cell-phone maker Nokia. It's mostly just a talking heads documentary with some archival footage mixed in, but the story is an interesting one that remains relevant to this day. A small technology company experiences sudden, massive success and struggles to maintain its success-creating culture in the shadow of growing pains and calcified leadership. As one of the commentators puts it, "no conspiracy, just business."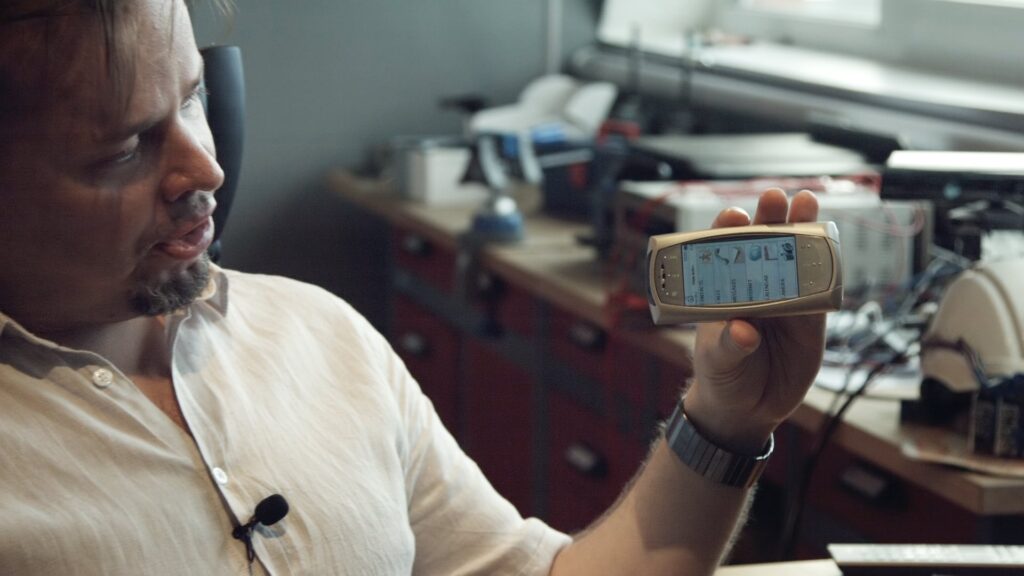 The most eye-opening bit came when a Finnish inventor shows his touchscreen phone, made several years before the iPhone. The elements of the iPhone were all there years earlier, but never really caught on, perhaps due to Nokia being addicted to maintaining their success, or some such. Perfectly cromulent documentary that doesn't exactly break new ground, but covers an interesting subject. There's apparently a 60 minute cut that aired on the BBC, but the one on Tubi is the fill 91 minute cut. **1/2
---
So there you have it, I'm now only 7 movies behind in terms of reviews, and we should be able to close that gap soon enough…