Catching up on quick reviews of movies watched for my resolution to watch 50 movies from 50 different countries (lots of caveats and rules for what qualifies, as enumerated in that introductory post.) I'm currently at 21 movies watched, which is basically on track, but I've only reviewed the first 9 of those. More 50 From 50: [Intro | Part I | Part II]
---
Sweden – Thriller: A Cruel Picture – Early art-house rape revenge flick that earns its subtitle. A young mute girl named Frigga (played by Christina Lindberg) endures abuse at a young age, gets tricked, kidnapped, and hooked on heroin by a suave business pimp who uses her addiction to force her into prostitution. She resists at first, so he pokes out one of her eyes. Weirdly, he's a sorta hands-off pimp, relying on the heroin addiction to keep his girls in line, but mostly leaving them alone (I guess he thinks he's clever, but while his approach is obviously cheap, it's not exactly secure, as the rest of the film demonstrates). Once Frigga saves up enough tips, she goes out and takes classes in martial arts, shooting, and… rally driving!? Once she's ready, she goes on a glorious revenge spree.
The film has a complicated history with multiple cuts available at this point. The original cut of 107 minutes was banned by the Swedish film censorship board, and several unapproved cuts later, it was finally released in an 82 minute cut. This cut came to be known as the "They Call Her One Eye" cut and is probably the source of the film's reputation as an almost fun exploitation romp (and I'm assuming there's a 20 minute Tarantino rant out there extolling the virtues of the film that also helps – he clearly references this in his work, particularly in Kill Bill). The original cut was released on 4K in 2022 by Vinegar Syndrome and the added footage ranges from interesting (lingering shots, arty slow motion violence) to the completely unnecessary (multiple hardcore sex inserts during the early part of the film – I get what they're going for, but you don't need to see that level of explicit violation to get the point, which the rest of the film amply establishes).
Look, this sort of movie isn't really supposed to be fun, but there's a visceral yet conflicted feel you get from the vengeance that works well. It's rare that a revenge film can capture the catharsis of revenge but also the emptiness inherent in the act. I haven't explored the other cuts on the Vinegar Syndrome release, but I suspect the shorter cuts are significantly more successful than the original Thriller: A Cruel Picture cut. Still, it's a worthwhile early example of the genre. Watched on Vinegar Syndrome 4K ***
---
Uganda – Bad Black – When I started this resolution, I knew I had to pick a film from Wakaliwood (a portmanteau of Hollywood and the town of Wakaliga, Uganda). Produced, written, and directed by Nabwana Isaac Godfrey Geoffrey (aka Nabwana IGG), this is another in a long string of no-budget DIY action flicks that nonetheless manage to capture film dork hearts. And when I say "no-budget", I mean it. We're talking cheap nerf-knockoff guns (or guns made of sticks) and cardboard sets (or just shooting on location).
It's all undeniably crude, but the sense of joy on screen is infectious, and Nabwana IGG has a good sense of action. Frenetic editing that remains clear, some actual martial arts, and of course, the greatest invention of Wakaliwood – the VJ track. When Uganda first began getting movies from the West, they didn't come with subtitles… so they improvised. A local storyteller would narrate the film and explain what was going on for audiences. This eventually evolved from a "Video Jockey" type of experience into a "Video Joker", who would inject a little of their own personality into things, resulting in a blend of straight narration, MST3K style jokes, and hype man bravado. So when Nabwana IGG started making his own action epics, he kept the tradition alive, and it's glorious. Bad Black is narrated by VJ Emmie, who describes himself as a master of "tongue fu", and he has several memorable one liners (most notably "This doctor needs borders!") 
Look, this isn't exactly high art and it's impossible to rate this sort of thing, but it's hard not to appreciate the sheer enthusiasm and glee on display here. Where else will you see a little kid wearing pink crocks named Wesley Snipes train a doctor from Doctors Without Borders in the arts of ass-kicking commando vengeance? Nowhere. Watched on Amazon Prime.
---
Senegal – Saloum – Tense genre-mashup incorporating action, adventure, crime, revenge, neo-Western, political drama, and horror rooted in African mythology. A group of mercenaries rescue a drug lord, but need to hide out in a small region of Senegal. While they make preparations to fix their airplane, local mystical forces gather.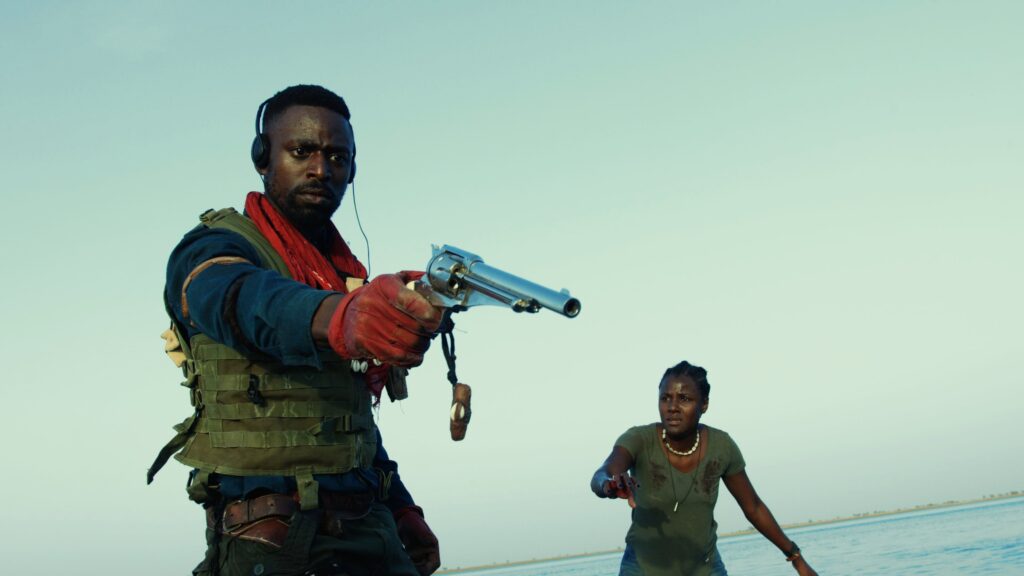 This is another low-budget African production, but this is much slicker and utterly gorgeous to look at. The acting is top notch and the genre mashup plot contains many unexpected twists and turns. It's not perfect and the ending is a bit abrupt, but getting a bunch of disparate characters together and dropping them into a desperate situation that forces them to work together is an effective approach. Despite it's many influences, it feels cohesive and whole, and well worth checking out if you're looking for something new and interesting. Watched on Shudder. ***
---
France – Beau travail – A guy in the French Foreign Legion gets jealous of one of the new recruits. Or something like that, as this is one of those plotless French arthouse flicks that is gorgeously photographed, but has almost no dialogue and is very slowly paced. Lots of angst, ennui, repression and while this was made in 1999, it touches on a bunch of topics that are quite in vogue right now (i.e. colonialism, toxic masculinity, repressed homosexuality, etc…) It's hypnotically naturalistic and feels like visual poetry, with an enigmatic ending that is beautiful and sad. It's also emphatically not my thing, and I was bored out of my mind for a good portion of the (blessedly short) runtime. It's one of several movies I've seen in the past few years that feel like parodies of themselves. Like, if you ask someone to come up with a parody of French Arthouse movies, you would get something resembling this movie. Watched on HBO Max. **
---
And we'll leave it there for now. I'm still quite a few movies behind, but we'll catch up soon enough…