Twas the night before my Christmas vacation, when what to my wondering eyes did appear, but a tweet from Victory and the promise of oak aged beer. I sprang from the cubicle, visions of caged and corked bottles dancing in my head, and dashed to the brewery in my horseless sled.
Uh, yeah, so a poet, I am not. And this isn't even technically a Christmas beer! For shame. I beg the forgiveness of Clement Clarke Moore. But Victory's Old Horizontal is a winter seasonal, a big, strong barleywine that's perfect for the season. Due to capacity issues, Victory actually hasn't brewed any of that base beer for the past couple years, much to my chagrin. This year, Victory "bribed" their brewers to put in extra hours and make up a batch, but instead of simply releasing it, they chucked it in Bourbon barrels for three months. This barrel aged version was dubbed Oak Horizontal, and it was released just two days ago.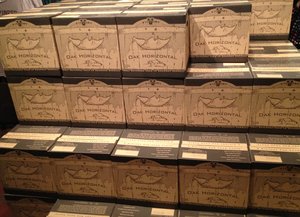 Of Victory's planned barrel aged brews, this seemed to be the most exciting, perhaps just because I tend to love me some Bourbon barrel aged barleywines. This was a quasi-stealth release, so like Red Thunder, there was no Sturm und Drang normally associated with bottle releases. Pretty much everyone I saw walking out of the brewery had at least a bottle or two, if not a whole case, so I'm guessing it's all gone by now, though the clerks said it would be getting limited distribution in PA and NJ as well. They also said less of this was made than Red Thunder (presumably due to those capacity issues), so make of that what you will. Whatever the case, I've got my allocation, so let's see how Victory did: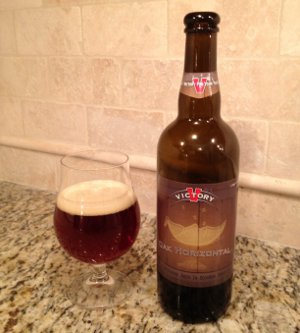 Victory Oak Horizontal – Pour a very pretty, dark, clear amber color (ruby tones, so much clarity) with a finger of light tan head. Smells of caramel, oak, and vanilla, with just a bit of bourbon and maybe some fruitiness too. Taste is filled with rich caramel and that vanilla oak character, with a well matched bourbon flavor and just a bit of fruitiness. No booze apparent at all. Server at the brewery sez it's 14% ABV, but I cannot believe it's that strong. The base beer is 11%, so this is certainly no slouch, probably at least 12%, but who knows? Mouthfeel is full bodied, but not overly chewy or heavy. Well matched carbonation, certainly not a gulping beer, but it doesn't feel like a monster even if it is. Overall, this is a great beer. A-
Beer Nerd Details: ? ABV (probably somewhere in the 12-13% range) bottled (750 ml caged and corked). Drank out of a tulip glass on 12/21/12. Bottled on 12/20/12. Bottle also sez: B15 1552 (batch and bottle number?)
I would put this beer on par with Weyerbacher's most excellent Insanity, another barrel aged barleywine that's got quite a following. Will be curious to see how the beer nerd community responds to this one. In other news, my cellar is growing unwieldy again, so I may need to chill out for a bit and drink some of that down. Lots of exciting stuff down there, though, so you'll have some interesting reading/jealousy issues coming. But ohh, the BA Eclipse beers were just released. Dammit. And soon enough, Victory will be releasing White Monkey. Golden Monkey was one of those formative craft beers for me… it's a beer I'm almost scared to revisit at this point… but I am curious to see what the white wine barrel aging will do to it. Perhaps a double feature is in order. But I'm getting ahead of myself.