Picture, if you will, a beer. Four simple ingredients, added to which a fifth: the barrel. In this case, a blend of barleywine aged in bourbon and brandy barrels. An enticing elixir To Serve Man. You're traveling through another dimension, a dimension not only of sight and sound but of mind. A journey into a wondrous land of bwizzle. Next stop, Bottle Logic.
Rod Serling, I am not, but this beer, clearly inspired by The Twilight Zone, is truly One for the Angels. Let's crack the sweet malt cipher: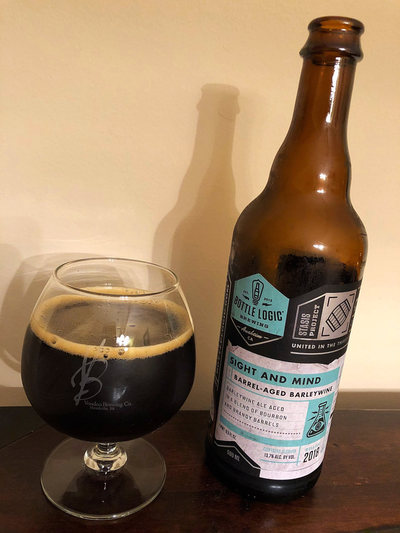 Bottle Logic Sight and Mind – Pours a cloudy, dark brown color with half a finger of tightly bubbled head that doesn't stick around long. Smells great, brown sugar, caramel, toffee, molasses, fruity malt, and the requisite bourbon, oak, and vanilla. Taste is amazing, tons of rich caramel and toffee, brown sugar and molasses, dark candied fruits, bourbon, oak, and vanilla. Mouthfeel is rich, full bodied, and chewy, finely carbed, with a pleasant boozy heat. Intense, but complex and very well balanced. Overall, a spectacular, dimension spanning beer. A
Beer Nerd Details: 13.7% ABV bottled (500 ml). Drank out of a snifter on 11/2/18.
Yes, I drank this over two months ago and am only getting to it now that I have Time Enough at Last. Alright, enough with the Twilight Zone puns. This is a great beer and fully deserving of the hype around Bottle Logic, which is all in the Eye of the Beholder. Sorry, couldn't resist. Incidentally, I just realized that Serling never said "Picture, if you will" in the Twilight Zone, but rather, his other show, Night Gallery. Drats. Truly, we have entered a land of both shadow and substance.