Object Permanence is the idea that objects continue to exist even when you are no longer observing them. Unfortunately, beer does cease to exists if you insist on drinking it. Doubly unfortunate when the beer is as good as this one.
Kane was one of the brewers that made this Pennsylvanian take notice of New Jersey, which sez a lot, and I've been particularly impressed with their barrel program. A Night to End All Dawns and its associated variants are spectacular, but alas, I keep losing the lottery and have to make due with the generosity of friends at shares to get a taste of the stuff. I've had a few tastes of other Barrel Aged goodies from them, which have been uniformly great. Fortunately, I did manage to procure this bit of life, an English Barleywine with a complicated malt bill aged in bourbon barrels for over a year. The beer is gone, but the idea continues to exist even though I can no longer drink it. Or something like that. What is this, a psychology blog? No, it's a beer blog, so read my dumb tasting notes: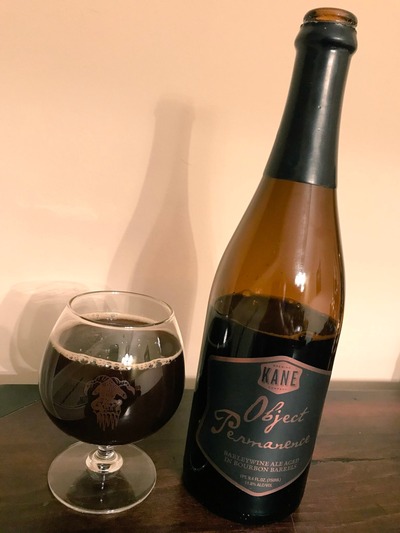 Kane Object Permanence – Pours a murky brown color with a cap of off-white head. Smells fantastic, rich toffee, caramel, a hint of dark fruit, and a great bourbon, oak, and vanilla character. Taste follows the nose, rich toffee, caramel, dark fruit, and a boozy bourbon, oak, and vanilla character. Mouthfeel is full bodied, rich, and chewy, almost creamy, moderate carbonation provides just enough levity, some boozy heat but nothing unwieldy. Overall, this is fantastic, one of the better examples of life that I've had. A
Beer Nerd Details: 11.8% ABV bottled (750 ml waxed). Drank out of a snifter on 4/20/18. Vintage: 2016 (batch 1?)
I've recently come into a couple of more Kane bottles. One is last year's vintage of Object Permanence (huzzah), and the other is a BBA anniversary beer from them. Stay tuned. I may not wait two months to write that one up (assuming I drink it soon). Fingers crossed for this year's ANTEAD lottery too.