The annual beer hibernation offers an opportunity for me to put on my ruminating wig and think long and hard about things other than beer. Like hot sauce. Or an obsidian goblet filled with an aqueous form of eldritch horror. Or, um, port wine. Alright, I shouldn't have mentioned that Lovecraftian liquor, but I assure you that it is literally unspeakable and indescribable, which obviates the need for a post. I mean, the very geometry was so corrupt that… you know what, I should stop writing about that. For reasons. You'll have to settle for port.
I've only reviewed four different port wines here, but they've all been Ruby Ports. In general, most of the port I've had has also been a Ruby Port. So many robey tones. But in many ways, Tawny Ports seem like they'd be more up my alley. Like a true dork, I've covered the general differences and definitions before, so I won't belabor the point, but Tawny Port is typically aged in oak a lot longer, resulting in a gradual oxidation leading to a change in flavor and color (instead of those robey tones, it's got a more earthy, orange-brown hue – i.e. tawny). The Indication of Age for port tends to follow specific designations of 10, 20, 30, or 40 years. Unlike some spirits, this indicates an average age of a blend (not, for example, the youngest age of the components) and the goal is to approximate the "house style" consistently from release to release (rather than a unique vintage feel). Up until now, I've only ever really had a 10 year old, which is certainly distinct from the various ruby expressions, but now that I've had a 20 year old, the difference is much more apparent. Let's take a closer look: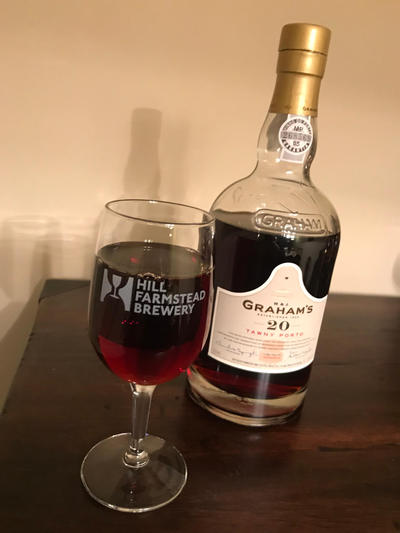 Graham's 20 Year Tawny Porto – Pours a clear, pale orange brown color, kinda like a dirty copper penny color. Smells sweet, syrupy, fruity, but with a nutty character in the background. Taste is very sweet, concentrated, rich, fruity, syrupy, a little nutty, almonds, some oak present, and some oxidation providing complexity. Mouthfeel is rich, full bodied, and sticky, just a faded hint of bright acidity in the background. Overall, unlike any port I've ever had, quite sweet but with a very nice complexity. A-
Port Nerd Details: 20% ABV bottled (750 ml). Drank out of a taster glass on 3/3/18. 20 Years Old.
Beer Nerd Musings: Lots of beers are aged in port barrels, but I don't think I've ever seen any sort of distinction made between Ruby and Tawny barrels (though, of course, they do exist… naturally, it doesn't specify how old the Tawny port was though…). I would certainly be curious about how much of an difference the older barrels make. I mean, a 20 year old barrel has to have a different character than a 2 year Vintage port barrel, right?
Certainly a bit pricey, but worth it at least once. I don't know that this is the sort of thing that would enter my regular repertoire, but it definitely works as a special occasion tipple.