Dock Street has been around for forever and has had its ups and downs, but this is a beer that I've had a few times in the past few years, and it's one of my favorite local beers to revisit. Dock Street is tiny, so naturally these bottles don't come around that often, but it flows on tap throughout the winter months and is possibly the best local imperial stout that is regularly available (notwithstanding various one offs from the likes of Tired Hands or Tröegs – though both of those beers did return, you never know if you'll see them again). Are those fighting words? Maybe a bunch of Shackamaximum fans will come out of the woodwork and drown me in hateful scorn, but I'm doubting it.
The Barrel Aged version of Prince Myshkin suffered from an intentional lack of carbonation (generally a deal breaker for me), but aside from that, it would have been truly great. As it is, I'll settle for this base beer, a hefty but not overpowering Russian imperial stout. This particular bottle is getting a bit old, but it's still doing quite well: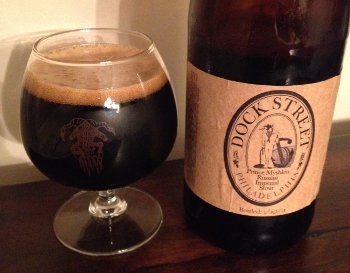 Dock Street Prince Myshkin Russian Imperial Stout – Pours a dark brown, almost black color with a finger of beautiful light brown head. Smells very sweet, with the roasted malts taking a back seat to the sweet, almost fruity aromas. Taste also goes the sweet route, though nothing cloying here, and there's ample bitterness on the back end to balance it out. Roasted malts come out to play a little more in the taste than the nose, and you get some of that almost fruity character too, along with hints of caramel and chocolate. Mouthfeel is full bodied, rich, and chewy, well carbonated, smooth and creamy, not a trace of booze. It's a beer that could serve as a sipper if you so desired, but it's easy going enough to be dangerous too. Overall, this may be my favorite thing I've had from Dock Street (I've had it a couple times before, and my opinion has not changed), a rock solid imperial stout. A-
Beer Nerd Details: 9.5% ABV bottled (750 ml). Drank out of a snifter on 7/25/14. Bottled 1/30/13.
If you're ever in the Philly area in the winter, it's worth stopping in at Dock Street for a glass of this and some solid pizza (sorry, I've never had anything else there, but the pizza is good). Here's to hoping they age this in barrels again sometime soon (and that they let it carbonate this time).