As I slowly explore the world of trading, I find myself in the need of interesting bottles of local beer from time to time. Dock Street doesn't have a trendy reputation, but they put out solid product, and their bottle releases are low stress affairs and their last release aligned perfectly with a trade I was setting up, so I took a trip to the brewpub and picked up a couple bottles of Prince Myshkin RIS (the regular version, not the near-flat Barrel Aged one). While there, the bartender upsold me on this newly released Double IPA (yes, I'm a weak man).
Now, I've got plenty of beer to drink over here, but I've also reached a point of my beer nerdery where IPAs have to be consumed fresh. For you hopheads out there, this one's made with Simcoe, Citra, and Sorachi Ace. So let's buckle up and hope we don't get so drunk the Devil asks us to double for him, like in that horrible movie.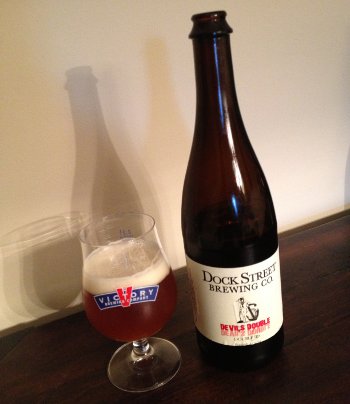 Dock Street Devil's Double IPA – Pours a cloudy dark orange color with a couple fingers of off white head, lots of lacing. Smells of big citrus and pine hops, a little resinous, and an additional hop aroma I'd call "green" (this is definitely the Sorachi Ace making itself known). Taste leans towards the east coast IPA, lots of robust crystal malt character providing a backdrop for those big hop flavors. More resinous pine than citrus, but the unique thing here is that "green" herbal character, like cilantro or dill or something (again, this is clearly the Sorachi Ace hops throwing their muscle around, holding their own with the more popular Simcoe and Citra). Mouthfeel is medium bodied, ample carbonation but very smooth. Goes down easy. Overall, a well done DIPA, reminiscent of DFH 90 Minute, though those Sorachi Ace hops differentiate it big time. An interesting change of pace from your typical DIPA. B+
Beer Nerd Details: 9% ABV bottled (750 ml capped). Drank out of a tulip glass on 4/26/13 and 4/27/13. Bottled 2/5/13 (may have been 3/5, label got cut off a bit).
So Dock Street continues a streak of solid brews that nevertheless feel a bit underachieving. That being said, I may have saved the best for last, their Flemish Red sounds pretty darn good. Will probably get to that in the coming months…