Back in November, I bought a whole boatload of Dock Street bottles. I really enjoyed the La Biere Des Amis Saison, but the Oak Aged Prince Myshkin's RIS, while featuring a wonderful barrel aged character, was showing its age a bit. It was also completely uncarbonated. I had chalked that up to age before, but now I learn that this may have been an intentional strategy on Dock Street's part. While looking into this Barrel Aged Barley Wine, I learned a little more about the process (emphasis mine):
This very special batch of our immense ale has been tempered by 10 months of quiet aging in oak barrels that had previously been the home of Chadds Ford Pinot Noir wine. The result is a sensual synthesis of the worlds of beer, oak, and wine. The aromatics leave the drinkers to believe that they may be about to taste a port wine or brandy. The malt is the true star here, with the bitterness of the hops dying away to reveal flavors of coconut, caramel, and rum. It all comes together with a slightly acidic and tannic woody finish. The initial hint of alcohol slowly fades into a warming burn.

This Dock Street Barley Wine has been lovingly hand bottled strait from the barrels, and bottle-conditioned by our brewers. The carbonation was left intentionally low so you can taste how it did pulled right from the cask.
Well, I guess that explains it. Oddly, I felt that this Barley Wine was better carbonated than the RIS I had, though it's still damn near still. So like with the stout, I really enjoyed this, but that low carbonation level really held it back from true greatness for me (whether intentional or not, I'm just finding that I appreciate carbonation in beer).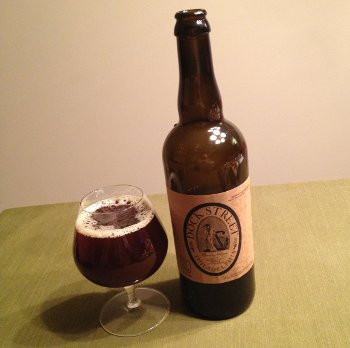 Dock Street Barrel Aged Barley Wine (2009 Vintage) – Pours a deep, dark brown color with about half a finger of slowly forming head. Really weird. Poured it with some authority, and it basically took about 20 seconds for the head to actually form up. Never seen anything like it. Actually, now that I think about it, it's kinda reminiscent of how Guinness does its thing when you first pour it. Anyways, it smells amazingly good. Rich caramel, vanilla, and oak, some fruitiness and hops too. Taste features a lot more of that fruity malt character, raisins and figs, some oxidation here – definitely showing its age, but not in a bad way. Again, we've got rich caramel, brown sugar/molasses, and that great vanilla and oak barrel aged character. Maybe a little red wine. Really fantastic depth of flavor here. Unfortunately, it's all betrayed by the carbonation. Mouthfeel is extremely low on the carbonation front (which is bad), but it is very rich and full bodied (which is good). Once again, I find myself wishing for a little more carbonation, which would have made this perfect. As it is, I'm left with just a really good barley wine that has a great barrel aged quality, but not enough carbonation. I'll leave it at a B+ and hope they do something like this again, but decide to liven up the carbonation a bit.
Beer Nerd Details: 10.5% ABV bottled (750 ml capped). Drank out of a snifter on 4/5/13. 2009 Vintage.
I do have to wonder if four years in the bottle didn't impact that carbonation a little, so I do so wish I got a fresh bottle of this stuff. Anyways, I still have a couple of Dock Street beers in the cellar, both funky sours, so look for those soon. And apparently they're doing another bottle release soon – I may need to pick up a few bottles of the "regular" Prince Myshkin's RIS, which was excellent when I tried it fresh at the brewery last year.