Wednesday, May 15, 2013
Weird Book of the Week
At this rate, the
Weird Movie of the Week
category of this blog will soon contain more non-movies than actual movies. Nevertheless, this one was too good to pass up, and it's brilliance only really requires a picture of the cover of the book: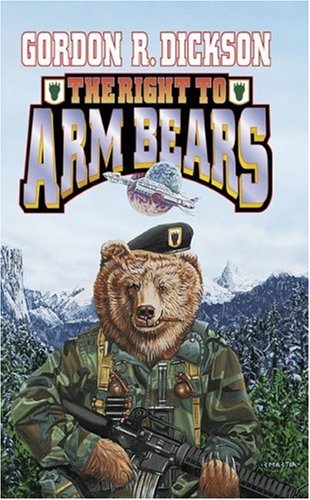 The Right to Arm Bears
. That's just glorious, is it not? It turns out that it's really just another in a long line of mildly misleading covers and ridiculous artwork from Baen Books (a publisher I actually really like, but damn their covers are just awful). The book is actually an omnibus of three older, out of print books ( "Spacial Delivery", "Spacepaw", and "The Law-Twister Shorty"), none of which approaches the titular splendor of "The Right to Arm Bears" (though "Spacepaw" ain't half bad). It's true, these books are about humans interacting with an alien species of giant, intelligent bears, but I'm guessing they don't dress up in special forces gear, chew a cigar, wear berets, or tote human weaponry around. The synopsis isn't quite as bonkers as the cover:
Planet Dilbia is in a crucial location for both humans and their adversaries, the Hemnoids. Therefore making friends with the Dilbians and establishing a human presence there is of the utmost importance, which may be a problem, since the bearlike Dilbians stand some nine feet tall, and have a high regard for physical prowess. They're not impressed by human technology, either. A real man, er, bear doesn't need machines to do his work for him.

But Dilbians are impressed by sharp thinking, and some have expressed a grudging admiration for the logical (and usually sneaky) mental maneuvers that the human "shorties" have used to get themselves out of desperate jams. Just maybe that old human craftiness will win over the Dilbians to the human side. If not, we lose a nexus, and the Dilbians will learn just how unbearable Hemnoids can be....
Reviews seem middling to poor, actually, though I have to give credit to the guy who titled his review "A bearable read". Well played, sir. (Hat tip to
Justin
, who has some
more great/horrible covers
.)

Sunday, May 12, 2013
Star Trek: TNG Tidbits
The Star Trek: The Next Generation Third Season BD came out recently, replete with bonus materials. Of course, it's obscenely expensive (Star Trek releases have always been so) and probably only purchased by obsessives. Us normal fans just fire up episodes on Netflix pretty easily, but then we miss out on remastered HD visuals and bonus features. Fortunately for us,
Hercules from AICN has done a seemingly comprehensive recap
of all those special features, and there's lots of behind the scenes gems to be had. The general consensus is that season 3 is where TNG turned the corner from a decent show into a great show, and a lot of these features apparently focus on that. Some interesting tidbits:
* A "technobabble generator" created as a joke by a friend of Shankar became a frequently utilized not-joke writers' room tool.
Always funny to hear about the
teching the tech
tendencies of the writers...
* Moore and Braga lament that "Star Trek: Generations," which they labored on for a year, didn't turn out as well as "All Good Things," which took two weeks to write.

* Piller argued against the other writers who wanted Wesley to stay true to his fellow cadets in the season-five episode "The First Duty." Piller prevailed and Wesley did end up throwing his friends under the bus to put Starfleet Academy honor first. The episode, relates Shankar, is now used at the U.S. Air Force Academy to teach cadets about the honor code.

* The writers reveal Brent Spiner grew weary of stories involving Data's cat Spot. As a practical joke, they inserted into one script a scene in which Data invents a collar that translates Spot's meows into English.

* One storyline that was much fought for before Piller shot it down was to kill Will Riker and replace him permanently with his transporter-mishap doppleganger Tom Riker. "It was a chance to reinvent the character," explains Moore.

* Patrick Stewart, perhaps envious of William Shatner, apparently told every TNG writer he met that Picard wasn't "shooting and screwing" enough.

* Behr had a great episode idea about Picard getting promoted to admiral and Riker given the captaincy of the Enterprise -- and how Picard dealt with the promotions. But Roddenberry insisted Picard's insecurities regarding his new life were out of character, and the script was scrapped. That concept evolved into the episode in which Picard gets boned on the pleasure planet.

* Frakes was always annoyed when the writers made Riker turn down offers of commanding his own ship. He (and many fans) felt his willingness to decline a captaincy was out of character.
Frakes hits the nail on the head with that last one. I mean, I get why it was done (the show must go on, and having Riker off on some other ship would be either contrived or lame), and it made for some good episodes (The Best of Both worlds 2 parter with the Borg being the most obvious), but the character of Riker was such an experience hound, always game for just about anything, that it's hard to believe he would turn down a captaincy.
* Ironically given the subject matter of his first script, Moore was not a fan of children living aboard the Enterprise. He also never understood why a psychotherapist was always sitting on the bridge next to the captain. Moore was also no fan of the replicator, which he believed an enemy of drama.

* Rick Berman, Brannon Braga and Moore all once lamented that they should have saved "Yesterday's Enterprise" for the plot of the "Generations" movie, with the Kirk-Spock Enterprise swapped for the Garrett-Castillo one.

* The staff, which at the time included future "Battlestar Galactica" mastermind Ronald D. Moore, would often refer to Data as "a toaster."
Lots of other interesting stuff in Herc's post...

Wednesday, May 08, 2013
Kindle Updates
I have, for the most part, been
very pleased with using my Kindle Touch
to read over the past couple years. However, while it got the job done, I felt like there were
a lot of missed opportunities
, especially when it came to metadata and personal metrics. Well, Amazon just released a new update to their Kindle software, and mixed in with the usual (i.e. boring) updates to features I don't use (like "Whispersinc" or Parental Controls), there was
this little gem
:
The Time To Read feature uses your reading speed to let you know how much time is left before you finish your chapter or before you finish your book. Your specific reading speed is stored only on your Kindle Touch; it is not stored on Amazon servers.
Hot damn, that's exactly what I was asking for! Of course, it's all locked down and you can't really see what your reading speed is (or plot it over time, or by book, etc...), but this is the single most useful update to a device like this that I think I've ever encountered. Indeed, the fact that it tells you how much time until you finish both your chapter and the entire book is extremely useful, and it addresses my initial curmudgeonly complaints about the Kindle's hatred of page numbers and love of percentage.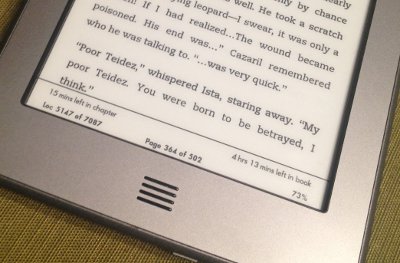 Will finish this book in about 4 hours!
The notion of measuring book length by time mitigates the issues surrounding
book length
by giving you a personalized measurement that is relevant and intuitive. No more futzing with the wild variability in page numbers or Amazon's bizarre location system, you can just peek at the remaining time, and it's all good.
And I love that they give a time to read for both the current chapter and the entire book. One of the frustrating things about reading an ebook is that you never really knew how long it will take to read a chapter. With a physical book, you can easily flip ahead and see where the chapter ends. Now, ebooks have that personalized time, which is perfect.
I haven't spent a lot of time with this new feature, but so far, I love it. I haven't done any formal tracking, but it seems accurate, too (it seems like I'm reading faster than it says, but it's close). It even seems to recognize when you've taken a break (though I'm not exactly sure of that). Of course, I would love it if Amazon would allow us access to the actual reading speed data in some way. I mean, I can appreciate their commitment to privacy, and I don't think that needs to change either; I'd just like to be able to see some reports on my actual reading speed. Plot it over time, see how different books impact speed, and so on. Maybe I'm just a data visualization nerd, but think of the graphs! I love this update, but they're still only scratching the surface here. There's
a lot more there for the taking
. Let's hope we're on our way...

Sunday, May 05, 2013
Jack Glass
Adam Roberts' novel
Jack Glass
presents us with a delicious mashup of pulpy SF and golden-age mystery. I am much more familiar with the former than the latter, but that simple description alone was enough to garner interest, and when this won the
British Science Fiction Award for best novel
, that just made the choice easier. Having read it, I find it mildy disappointing that this didn't make the
Hugo shortlist
, which is amusing to me, since my first exposure to Adam Roberts was his
takedown of the 2009 Hugos
... But I digress, back to the novel.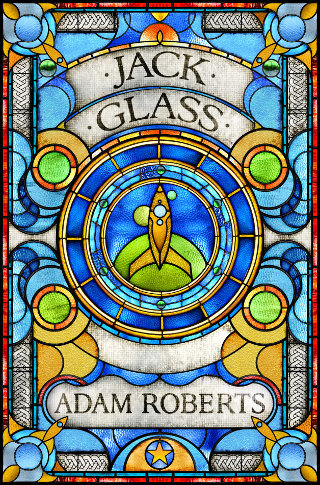 The story is broken up into three chunks, each a mystery that draws upon classic tropes like the locked-room mystery or country house murder. We're informed early on that the titular Jack Glass is the murderer in all instances, so these mysteries don't really take on the typical whodunit form... it's perhaps more accurate to see them as a
how
dunit. Each story contains elements of the other - all have some element of a locked-room mystery, for instance - and each story leads into the next smoothly enough. Again, I'm not particularly familiar with golden-age mystery stories, but these are archetypes we've seen many times before. Many have claimed it's also a pastiche of golden-age SF, and that's true to a point, though I find it to be towards the end of that hallowed era. I found it reminiscent of stories like
The Space Merchants
or
The Stars My Destination
, more like the output of the
Futurians
than, say,
Campbell's
stable.
The first section is a prison story, and a rather grim one at that. Roberts does an exceptional job establishing the characters and the setting, an impressive feat considering that there are 7 main characters in this story. The science fictional twist on your average prison story is that this prison is an asteroid. 7 prisoners are dropped off on the asteroid and given minimal supplies and a tiny habitable bubble. If they can survive for 11 years under those conditions, they can go free. Of course, in order to survive, they have to excavate the rock, find water, build out a whole tunnel system, etc... Theoretically, whether the prisoners survive the ordeal or not, the company that imprisoned them is left with an asteroid that can be sold as a dwelling to someone. Escape is impossible, as they're surrounded on all sides by millions of miles of the nothingness of space - like an Alcatraz in space. It's a clever spin on an old story, and Roberts does a great job setting the stakes. Roberts makes deft work of establishing the 7 main characters - 3 typical alpha males, 2 quasi-alphas, 1 doomed and whiny fat dude, and a cripple (which, actually, isn't as big a deal in zero-gravity). This isn't a pleasant story, and the ending is rather far-fetched, but it's a good way of establishing the world this book is set in...
The second section is the country house murder mystery, and this one is told mostly from the perspective of Diana and her sister Eva. They are the daughters of a clan of information gatherers, rather highly placed in the hierarchy of the solar system. One of their servants winds up dead, and Diana, who is a big mystery buff, seeks to find out who did it. When she is informed that it was, in fact, the notorious murderer Jack Glass, she is mightily confused about how he could possibly have achieved that. When rumors that someone has discovered Faster Than Light (FTL) travel appear, things start to get even more hairy for our protagonists.
I was not quite sure what to make of this section for a while. Diana and Eva aren't immediately the most likable characters, though they eventually grow on you. They're both genetically optimized to solve problems. Eva is more into hard sciences and physics, while Diana is more personable. They both seem to have been bred to leverage sleep and dreams to solve their problems, which makes perfect sense, but which I always find a bit annoying because I don't like the untethered nature of prose that describes dreams. This is more my failing than Roberts, though, so take that with a grain of salt.
The third story is a straight up whodunit murder, except that we know that Jack Glass did it. That being said, we have no idea how he did it, and despite there being multiple witnesses and a confined space (another locked room, it seems), no one saw him do it. Confused? Good!
Along the way we've got some interesting speculations on FTL, a clever (if distressing) explanation of the Fermi Paradox, and even some speculation on "Champagne Supernovae" (as Roberts notes in his acknowledgements "'Champagne Supernovae' are a real phenomenon, one that puzzles real astrophysicists, and which are, I'm sorry to say, really named after the Oasis song.") All of this science is covered in plain language and is easily understood while still being clever and intriguing. Roberts clearly gleans the notion that science fiction is a literature of "ideas" and manages to infuse a few surprises into those old hoary tropes like FTL.
All in all, it's a very enjoyable book. A little grim at times, it's nonetheless very well constructed, well written, and clever. And if you're the type to judge a book by its cover, you'll still be in for a treat, as the cover art is fantastic. If any of this sounds interesting, this is most certainly a worthwhile read...

Wednesday, May 01, 2013
Game Dev Irony
One of my favorite iPhone games is called
Game Dev Story
. It's basically a simulation game where you build a game studio from the ground up. You hire staff, pick which games your company creates, market them, etc... Once you build your company up and start putting out great games, you get high ratings, win awards, and most importantly, you sell a lot of games (which allows you to hire more staff, etc... and thus put out even better games!). It's an addictively fun game, but it's also not particularly deep.
That's not the worst thing in the world, of course, and when it comes to iPhone games, that sort of simplicity is actually a plus. Enter a new game called
Game Dev Tycoon
. It seems to be the same basic concept, but it looks to have more depth to it, so I'm halfway there in terms of wanting to purchase it. It was made by Greenheart Games, an indie developer consisting of two brothers.
And get this: Knowing it would be pirated anyway, they went ahead and released a cracked version of their game on torrent sites. They even helped seed it. However, they added a twist to
the version they released
:
The cracked version is nearly identical to the real thing except for one detail… Initially we thought about telling them their copy is an illegal copy, but instead we didn't want to pass up the unique opportunity of holding a mirror in front of them and showing them what piracy can do to game developers. So, as players spend a few hours playing and growing their own game dev company, they will start to see the following message, styled like any other in-game message:

Boss, it seems that while many players play our new game, they steal it by downloading a cracked version rather than buying it legally. If players don't buy the games they like, we will sooner or later go bankrupt.

Slowly their in-game funds dwindle, and new games they create have a high chance to be pirated until their virtual game development company goes bankrupt.
It's a brilliant and ironic move, but the irony doesn't end there. It turns out the players of the pirated version are a little dense. They started going out on the internet and posting absurdly unaware comments in forums, wondering (for example) if there's an in-game way to research DRM to protect their (fictional) games (!?):
"I can't progress furher... HELP!" one user wrote. "Guys I reached some point where if I make a decent game with score 9-10 it gets pirated and I can't make any profit.

"It says blah blah our game got pirated stuff like that. Is there some way to avoid that? I mean can I research a DRM or something?"

Said another user: "Why are there so many people that pirate? It ruins me! Not fair."
Oh the irony. It hurts! But I'm guessing it hurts the developers even more, so I just went out and bought the game. If you like sim games and this sounds interesting,
why not give it a shot
. This sort of genius should be rewarded (and so far, 93% of their users are pirates!). (Thanks to
Steven
for finding this story)

Sunday, April 28, 2013
Trance
Danny Boyle's new movie
Trance
is one of those reality-bending films that constantly has you wondering if what you're seeing is real. It takes some deserved flak for being more concerned with plot machinations than characters, and boy does that plot go in some ludicrous directions, but if you're the type of person who likes the tick-tock puzzles of movies like
Inception
or
Timecrimes
, I think you'll enjoy it. And if you don't, it would still probably fall under the not wholly depressing category of "Interesting Failure." Personally, I've been in a bit of a lull when it comes to keeping up with new releases, so I found this one to be engaging and energizing in a way that most 2013 releases have failed to achieve (though, true, I have been woefully neglectful of a lot of movies I probably should have seen).
The movie opens with a bang, an art heist, complete with an "inside man" (Simon, played by James McAvoy) who manages to stash the stolen painting away from both the authorities and the criminals. Alas, it appears that during the heist, Simon gets a rather nasty bump on his head and claims amnesia. The criminals, lead by Franck (Vincent Cassel), attempt to extract the location of the stolen painting via some rather intense torture, but eventually decide that Simon's amnesia is real. This leads them to consult a hypnotist, Elizabeth (Rosario Dawson, who they think might be able to extract the location of the painting. But Elizabeth has ideas of her own, and you begin to wonder if she's really uncovering lost information... or is she implanting information for her own purposes?
That's a pretty raucous mashup of cliches going on right there. You've got the heist (of notoriously impossible to fence artwork no less), you've got amnesia, and you've got hypnotism, the latter of which drives you to constantly question what you're seeing on screen (there's more tropes to be had here, especially as the story starts to really twist and turn). It starts off plausible enough, saunters into ludicrous territory, which would be bad if it didn't rocket past that phase and into some next-level bonkers stuff towards the end. As previously mentioned, the characters are rather thin here, and there's not really enough there to provide the required weight to the plot, particularly when you reach the very end (there's a relationship there that I think it's hard to buy).
That being said, Danny Boyle's propulsive, visually striking style certain keeps things moving at a fast, entertaining pace. So while the characters may not have been fleshed out as well as I'd like, I did find myself fully engaged at all times. While Boyle's style doesn't completely make up for ridiculous plot points or thin characters, it does elevate the film beyond simple schlock. The pounding soundtrack also works really well here. The performances are solid all around, but extra credit goes to Rosario Dawson's fearless performance here. She's channeling that sultry femme fatale archetype, but as it turns out, she might be the actual heroine of the story too, and she plays it well. Dawson has some nude scenes too, and not mere glimpses either. I suppose you could say that the nudity is integral to the plot, though it's a pretty big leap. Not that I'm complaining.
Ultimately, I enjoyed it for what it was: an outlandish thriller with preposterous twists and turns that were nonetheless completely engaging and entertaining. I had a lot of fun with this, but then, I tend to enjoy these sorts of reality-bending puzzle movies. Fans of more character-based drama may come away unfulfilled, but I had a good time and it's a film that's stuck with me for a couple weeks now. ***

Wednesday, April 24, 2013
The State of Streaming
So
Netflix has had a good first quarter
, exceeding expectations and crossing the $1 Billion revenue threshold. Stock prices have been skyrocketing, going from sub 100 to over 200 in just the past 4-5 months. Their subscriber base continues to grow, and fears that people would use the free trial to stream exclusive content like
House of Cards
, then bolt from the service seem unfounded. However, we're starting to see a fundamental shift in the way Netflix is doing business here. For the first time ever, I'm seeing
statements like this
:
As we continue to focus on exclusive and curated content, our willingness to pay for non-exclusive, bulk content deals declines.
I don't like the sound of that, but then, the cost of non-exclusive content seems to keep rising at an absurd level, and well, you know, it's
not exclusive
. The costs have risen to somewhere on the order of
$2 billion per year on content licensing and original shows
. So statements like this seem like a natural outgrowth of that cost:
As we've gained experience, we've realized that the 20th documentary about the financial crisis will mostly just take away viewing from the other 19 such docs, and instead of trying to have everything, we should strive to have the best in each category. As such, we are actively curating our service rather than carrying as many titles as we can.
And:
We don't and can't compete on breadth with Comcast, Sky, Amazon, Apple, Microsoft, Sony, or Google. For us to be hugely successful we have to be a focused passion brand. Starbucks, not 7-Eleven. Southwest, not United. HBO, not Dish.
This all makes perfect sense from a business perspective, but as a consumer, this sucks. I don't want to have to subscribe to 8 different services to watch 8 different shows that seem interesting to me. Netflix's statements and priorities seem to be moving, for the first time, away from a goal of providing a streaming service with a wide, almost comprehensive selection of movies and television. Instead, we're getting a more curated approach coupled with original content. That wouldn't be the worst thing ever, but Netflix isn't the only one playing this game.
Amazon just released 14 pilot episodes
for their own exclusive content. I'm guessing it's only a matter of time before Hulu joins this roundalay (and for all I know, they're already there - I've just hated every experience I've had with Hulu so much that I don't really care to look into it). HBO is already doing its thing with
HBO Go
, which exlcusively streams their shows. How many other streaming services will I have to subscribe to if I want to watch TV (or movies) in the future? Like it or not, fragmentation is coming. And no one seems to be working on a comprehensive solution anymore (at least, not in a monthly subscription model - Amazon and iTunes have pretty good a la carte options). This is frustrating, and I feel like there's a big market for this thing, but at the same time, content owners seem to be overcharging for their content. If Netflix's crappy selection costs $2 billion a year, imagine what something even remotely comprehensive would cost (easily 5-10 times that amount, which is clearly not feasible).
Incidentally, Netflix's third exclusive series,
Hemlock Grove
, premiered this past weekend. I tried to watch the first episode, but I fell asleep. What I remember was pretty shlockey and not particularly inspiring... but I have a soft spot for cheesy stuff like this, so I'll give it another chance. Still, the response seems a bit mixed on this one. I did really end up enjoying
House of Cards
, but I'm not sure how much I'm going to stick with
Hemlock Grove
...

Sunday, April 21, 2013
Weird Movie of the Week: Gumiho
Last time on
Weird Movie of the Week
, we looked at a touching tale of trash men, accordions, and tiny third arms. This time, we've got tails. Lots of tails. It's called
My Girlfriend Is a Gumiho
:
After meeting a mysterious yet very beautiful girl, a wannabe action star discovers that she's, in fact, a gumiho -- a legendary fox with nine tails -- who longs to transform herself into a true human.
Alright, so technically it's a TV show, but I think it sounds weird enough to qualify. The whole thing is available on Netflix Instant, so I guess I can add another show to
my list
...
Update:
Kaedrin friend Dave points out that an even more amazing Korean series is available on Netflix Instant. It is called (I swear I'm not making this up),
Vampire Prosecutor
:
Prosecutor Min Tae Yeon transforms into a vampire, but he survives by drinking blood sold on the black market rather than by preying on the living. His special powers also give him an edge in solving murder cases.
So he's a veggie vampire that uses his powers... in the court of law! Awesome. Added to queue.