Sunday, March 09, 2014
More TV Shows I Should Probably Catch Up With
About a year ago, I posted a
list of television shows I wanted to catch up with
. I've actually made it most of the way through that list, with a few stragglers that will also appear below. People keep calling the turn of the century period when television got good the "Golden Age" of television, and while I've seen a bunch of that stuff (Sopranos, The Wire, etc...) some stuff I just haven't taken the time to watch. Catching up with TV shows like this is probably a big part of why I didn't watch as many movies last year, and I don't see that changing much. The quality of television has risen so dramatically, and technology for consumption has gotten so much better that watching TV is actually a fair amount of fun. This is, of course, not a revolutionary notion, but I'm catching up here, so cut me some slack.
I'm enjoying several series currently on TV (notably
True Detective
,
Archer
,
Game of Thrones
, and a few others), but there are still a lot of shows I could be catching up on, whether they be Golden Age staples or just obscure weird stuff, like my first pick:
Phew, looks like I have my work cut out for me. Someday, I'd like to read Alan Sepinwall's book The Revolution Was Televised, which covers 12 shows:
The Sopranos
,
Oz
,
The Wire
,
Deadwood
,
The Shield
,
Lost
,
Buffy the Vampire Slayer
,
24
,
Battlestar Galactica
,
Friday Night Lights
,
Mad Men
and
Breaking Bad
. Fortunately, I've got about 2/3 of them reasonably well covered (need to finish off a few seasons here or there) and several on the list above, so if I make good progress, I might be able to read the book this year without having to spoil the shows. Score. Or maybe not. That's a lot of television to be watching!

Wednesday, March 05, 2014
Link Dump
I feel like I've been doing these more often lately, but nevertheless, more links for your enjoyment, with some shot and chasers embedded in shot and chasers.
Shot: America's Angriest Store: How Whole Foods Attracts Complete Shitheads. - I'm sympathetic to this cause, but the funniest part of this article is the inherent irony. Embedded Shot:

I've shopped at Whole Foods in every time zone, in at least 10 different cities: LA, San Francisco, Seattle, Denver, Austin, Chicago, Milwaukee, New York, DC and Richmond, VA. I love Whole Foods.

Embedded Chaser (from the same article):

The problem with Whole Foods is their regular customers. They are, across the board, across the country, useless, ignorant, and miserable. They're worse than miserable, they're angry.

Heh. Still a fun article though
Chaser: Whole Foods: America's Temple of Pseudoscience - Who'd have thunk that Whole Foods was so divisive:

From the probiotics aisle to the vaguely ridiculous Organic Integrity outreach effort (more on that later), Whole Foods has all the ingredients necessary to give Richard Dawkins nightmares. And if you want a sense of how weird, and how fraught, the relationship between science, politics, and commerce is in our modern world, then there's really no better place to go. Because anti-science isn't just a religious, conservative phenomenon—and the way in which it crosses cultural lines can tell us a lot about why places like the Creation Museum inspire so much rage, while places like Whole Foods don't.

Heh.
Shot: Headshots - Photos by an awesome person.
Chaser: As a European this is how I imagine Americans have breakfast - Another photo by an awesome person. However, this is, of course, completely inaccurate. Normally there are two eggs, half of the bacon is substituted for sausages, and if you're in Philly, Scrapple is involved.
And that's all for now. See you soon
suckers
friends!

Sunday, March 02, 2014
The Oscars
At this point, every conceivable opinion you could have about the Oscars has become gauche. Whether you're genuinely enthusiastic, profoundly bored, or searingly cynical, you've got a pretty lame outlook on the event. It's not your fault, it's just the hand we're all dealt. I've found that two things help make the show palatable: beer and mockery. And predictions!
This marks the tenth year I've covered the Oscars. A whole damn decade. I wish I could say that I'm going to do something special for this anniversary, but who am I kidding? I don't really wish that at all, and in fact, I'm recycling some stuff from last year (like the first paragraph of this post, which is as relevant now as it was last year). I used to "liveblog" the Oscars and continually update a post like this as the night wore on, but last year I decided to get with the program and
took to twitter
(along with the rest of the movie nerds). I expect my personal commentary to be less frequent than even last year, though you can expect a lot of retweets, because other people are more witty than I am. If, for some reason, you want to check out previous years' predictions and commentary, they are here: [
2013
|
2012
|
2011
|
2010
|
2009
|
2008
|
2007
|
2006
|
2005
|
2004
]
As per usual, my predictions for the major awards (and, um, some not so major awards that I always pick for some unbeknownst reason):
So there you have it. Actually a lot of pretty tight races this year.
Gravity
will almost certainly pick up all the technical awards, but the real question is how well it'll do in the big awards. I wouldn't be surprised to see it do really well. It hits a lot of Academy sweet spots. I'm going to throw up my twitter feed here, though obviously it won't start updating much until we get towards the actual ceremony. Feel free to leave a comment here or
hit me up on Twitter
...

Wednesday, February 26, 2014
Link Dump
You know the drill, painstakingly curated links posted here for your enjoyment, so you better damn well enjoy. Or not. I'm not your mother. Where were we? Ah, yes, links:
There you have it. Stay tuned for some Oscar commentary on Sunday, and while I'm thinking that my twitter will consist more retweets than original tweets, I'll probably be online for the whole ceremony, so feel free to
follow me there
.

Sunday, February 23, 2014
Favorite Films of 2013
The notion of summarizing a year in movies as "good" or "bad" and trotting out a top 10 list is an arbitrary exercise, but it's one that I enjoy in partaking. Sure, it's an attempt to reduce the irreducible, but sometimes good comes of it, and sometimes I just like to share movies I love. I had a slow year in movies, and have not seen as many as I have in previous years, but the great
2013 movie catchup
was quite fruitful, and I was able to cobble together this list pretty easily. For reference, previous top 10s: [
2012
|
2011
|
2010
|
2009
|
2008
|
2007
|
2006
]
Of the past few years, I feel like this one resembles
2011
, a year in which I had no real clear favorite. Indeed, I could not even bring myself to "roughly" rank the films and used alphabetical ordering instead. Truly a copout, and I'll try to do an ordering this year, even if I don't have a really clear favorite. As for thematic consistency, I do see some things in 2013. Every one of my top 10 favorite movies this year surprised me with their subtlety, nuance, and complexity. Sometimes this was at least partially the result of poor marketing, but even in those cases, the story itself unfolded in unexpected ways. Another, more minor theme (at least, in terms of consistency), could be summarized as "lost people finding themselves" or perhaps "coming of age stories". A few of these made it to my top 10 (and some are in Honorable Mention), but many did not (and a few I didn't like at all).
As of this writing, I have seen 70 movies that would be considered a 2013 release. This is about on par with last year, but less than some previous years. It's certainly less than most critics (who easily see twice as many movies in a given year), but probably a lot more than your typical moviegoer. Speaking of critics, my list has slowly been morphing away from critical
consensus
, think "favorite" rather than "best". This is a disclaimer of sorts, but it's also what makes my list distinct, right? I certainly have a couple widely praised movies in my list (and many of the critics' favorites are in my honorable mention), but there are some movies here that rarely show up in anyones list. This is partly my love of genre film coming through, and also a belief that sometimes a movie doesn't have to be "important" in order to be considered "great". Alrighty then, enough introduction, let's get to it:
Top 10 Movies of 2013
* In roughly reverse order
Honorable Mention
* In alphabetical order
Just Missed the Cut:
But still worthwhile, in their own way. Presented without comment and in no particular order:
Should Have Seen:
Despite the fact that I've seen 72 of this year's movies (and that this post features 30+ of my favorites), there were a few that got away... mostly because I'm lazy! Or something wasn't available yet. Take your pick. I may or may not catch up with some of these...
And that just about wraps up my 2013 movie recap. Stay tuned next Sunday for the usual Oscar Liveblogging - previous installments here: [
2013
|
2012
|
2011
|
2010
|
2009
|
2008
|
2007
|
2006
|
2005
|
2004
]

Wednesday, February 19, 2014
Pop Culture Tasting Notes
Just some quick notes on recent pop culture happenings, in no particular order:
House of Cards, Season 2 - I was pleased with the first high-profile season Netflix series last year, but came away a bit disappointed that so many threads were left open. The first season did have its own arc, and there was a good stopping point, but there were just several subplots that were left way too vague in the end. Well, all that stuff is resolved within the first episode or two of the second season, and in spectacular fashion too. It's pretty rare that I'm so surprised at this sort of thing, but it was pretty well shocking and a whole boatload of fun. Sorta. I mean, this is kinda like the bizarro universe West Wing, but instead of Aaron Sorkin's idealized politicians, we get a more Machiavellian, evil twin, goateed take. To me, it's completely absurd, but a whole lot of fun. After the first couple episodes, it mellows out a bit, but I can sorta tell that it's gearing up for something even more crazy, which I'm totally on board for. In the end, while I wouldn't characterize this as a groundbreaking series, it is something worth subscribing to Netflix for...
The Lego Movie - After a three day incubation period, it feels like the "Everything is Awesome" song has completely and utterly taken over my brain. I cannot get that thing out of my head. But it is a fun song that's part of a really fantastic little movie. Writer/Directors Phil Lord and Christopher Miller have made a career out of making movies out of seemingly stupid premises. Cloudy with a Chance of Meatballs was based on a great book that didn't seem at all like it could be made into a feature length movie, but it worked. 21 Jump Street sounded like the worst idea ever, but it was one of the funniest movies of that year. And now we get to a movie based on a toy. Of course, the licensed Lego video games have long been a surprisingly solid series of entertaining experiences, but I still wasn't expecting this Lego movie to be quite as fun or poignant as it ended up being. Lego was in really bad shape not too long ago, but they ended up saving the company by licensing a bunch of pop culture artifacts, notably Star Wars, and started soaring as a result. But is that really what Legos are about? One of the points of the movie is that such conformity is a bad thing, and yet, it doesn't go to far along those lines. Indeed, one key turning point comes when our hero recognizes that being super creative and different may actually be antithetical to their purposes, and devises a plan that their opponents would never expect: they're going to play by the rules. Of course, there's still lots of room for creativity, but I was pleasantly surprised to see the movie take on a subtle balance of positions like that. Plus, just on an execution level, these guys just nailed it. The jokes come at a dense, steady pace, and I'm sure there a ton of stuff here that would reward multiple viewings. The voice performances are all pretty great, and the visuals are sometimes spectacular. In the end, this was about a thousand times better than I was expecting.
True Detective - A decidedly more dour experience than the previous two examples, this appears to be an excellent series in its own right. I'm only a few episodes in, but this represents an interesting take on the whole Police Procedural drama we're all so used to on TV (indeed, it's nothing like those series). Plus, with performances form Matthew McConaughey and Woody Harrelson, it's a hard series to beat, and they're given lots to chew on as well. I'll hold off on judging the series because it's still relatively early, but it does seem like a winner.
And that's all for now. Stay tuned for the top 10 of 2013 on Sunday!

Sunday, February 16, 2014
2013 Kaedrin Movie Awards: The Arbitrary Awards
Kaedrin Movie Awards season is in full swing. We've already handed out the
formal awards
, but sometimes there are movies that don't fit well into our format, but we still want to recognize them. Indeed, the whole point of these awards are to give exposure to odd little movies or movies that have flaws, but excellent bits nonetheless. A few of these have become an annual tradition, but most are just random and, well, arbitrary. Let's get this party started:
And that concludes the Arbitrary Awards. Stay tuned for the top 10 of 2013 and Oscar Live blogging/tweeting.

Wednesday, February 12, 2014
Adventures in Brewing - Beer #14: Fat Weekend IPA 2014
After ruining my last batch of beer with an overly ambitious yeast harvesting scheme, I've returned to a recipe that has worked in the past, and will no doubt work well again. Of course, I'm tweaking the recipe considerably, as I'm wont to do, but the basics are pretty well the same. As with
last year
, I'm brewing this batch of beer for a specific event in mid-March. It's called Fat Weekend, a annual gathering of portly friends from all over the northeast (and some points west). To be sure, we're not that fat, but as we like to say, fat is a frame of mind, and our caloric intake over the course of the weekend is easily 5-10 times our normal rate. Last year, we housed about half a case of my beer pretty quickly, so this year will be a full batch (as opposed to the 2.5 gallon batches I've been making). And again, there are some tweaks to the recipe and it is scaled up to a 5 gallon recipe, though I think it's pretty similar:
Beer #14: Fat Weekend IPA
Full-Batch (5 gallons)
February 8, 2014
1 lb. CaraPils (specialty grain)
0.5 lb. Crystal 20 (specialty grain)
6 lb. Muntons Light DME
12 oz. Turbinado Sugar
1.5 oz. Simcoe (bittering @12.7 AA)
0.5 oz. Simcoe (flavor)
1 oz. Amarillo (flavor)
2 oz. Amarillo (aroma)
1 oz. Amarillo (dry hop)
1 tsp. Irish Moss
Wyeast 1272 - American Ale II Yeast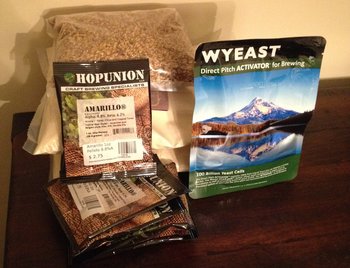 This was perhaps a bigger change than I let on. Gone is the Vienna malt, and I only really scaled up the CaraPils (for body). The Crystal 20 remains the same, and the Turbinado sugar was only partially scaled up. Hop wise, I went with a Simcoe/Amarillo blend, with Simcoe providing the bulk of bittering (and just a a bit of flavor) and Amarillo pulling duty on flavor, aroma, and dry hops. And just to switch things up a bit, I went with the American Ale II yeast, which seems to be a clean yeast that will still provide a little citrus boost to the hops (so I hope). Furthermore, I'm planning to keg this batch and transport the results in growlers.
So it might be a bit disingenuous to give this the same name as last year's Fat Weekend IPA, but hey, I'm working on it. From a recipe standpoint, I'm thinking this is just about where I want to be. Last year, I really wanted to use this Simcoe/Amarillo hop schedule, but was stymied by a lack of Amarillo and fell back on Falconer's Flight and Citra to make up for the difference. The only real change I could see myself making next year is if the Conan yeast becomes more widely available (whether that be ECY 29 (Northeast Ale) or something else), but I'm definitely curious about this American Ale II yeast (from the descriptions I've read, it seems to have similar properties, though it's clearly not the same yeast).
And this is a first, I forgot to take an OG reading. What can I say, I've been fighting a cold and hadn't quite gotten over it on Saturday. The recipe should have yielded something in the 1.067 range, and given my previous experience, I probably hit something around there. I'm pretty confident that after two weeks we'll be in good shape (somewhere around 7.1% ABV).
Next up on the schedule is some sort of barleywine, which I'd like to give a bourbon soaked oak treatment to (or perhaps I'll go with something more exotic, like Port wine soaked oak, we shall see), then do the whole straight, oaked, and blend of straight and oaked versions. From what I've had of Bomb & Grapnel, the blend seems to be doing the best, so maybe I'll lean more heavily on that... After the barleywine, something light and crushable for summertime consumption (either a 4% pale ale, or a light saison). Then I plan to do something similar to Red Heady again in the fall, hopefully not screwing it up that time. After that, who knows? Maybe a redux of my Christmas Ale (a spiced winter warmer) or another batch of Bomb & Grapnel (with some slight tweaks). But now I'm getting way ahead of myself.
(Cross posted on
Kaedrin Beer Blog
)