Is 2023 the year the Oscars turn things around? Whatever hot takes you have about The Slap*, I'm guessing at least some folks will tune in to see if something crazy happens again. Also of note: an actual host (rather than the non-host platoon they've been relying on) who seems like he might actually just make fun of the movies again (Kimmel's Oscars Trailer was fantastic and a solid lampoon of Top Gun: Maverick). Also: movies people actually watched are nominated (in addition to a bunch of stuff no one's heard of, but still). Finally, I'm pretty sure they reversed course from last year's weird "we're not actually going to present important awards" strategy that was clearly dumb.
So it's also time for the annual reminder that the Oscars broadcast is the biggest source of income for the Academy of Motion Picture Arts and Sciences, which is actually a very useful organization. As Steven Soderberg noted a few years ago, what the Academy does for film archiving and preservation alone should be praised, and it's all paid for by the broadcast. We all have our complaints about the Oscars, but actually putting on the show is difficult and it does have a lot of benefits for the industry and cinema as a whole. Anyway, let's look at the categories and make some predictions:
2023 Oscars Predictions
Best Picture: Everything Everywhere All at Once. This film has all the momentum and precursor awards, but there are two potential spoiling factors. One is that this is not a movie that does well with the olds, and older people are still a big proportion of the Academy (perhaps recent diversity pushes have younged things up a bit though). Second is that Best Picture is a ranked vote, meaning that divisive movies tend to not do as well, and there's a certain proportion of the Academy here that just doesn't get EEAAO. All that being said, I think it's still going to take home the Oscar. All Quiet on the Western Front has also been doing well and it does have some standard Oscar traits (i.e. epic war movie, etc…), but I don't think it will get Best Picture because it will win other awards and most voters will think that's enough (also: not sure how the Netflix association impacts things. Dark Horse chance for Top Gun: Maverick (the movie that saved Hollywood!) but I ultimately think that EEAAO will take it.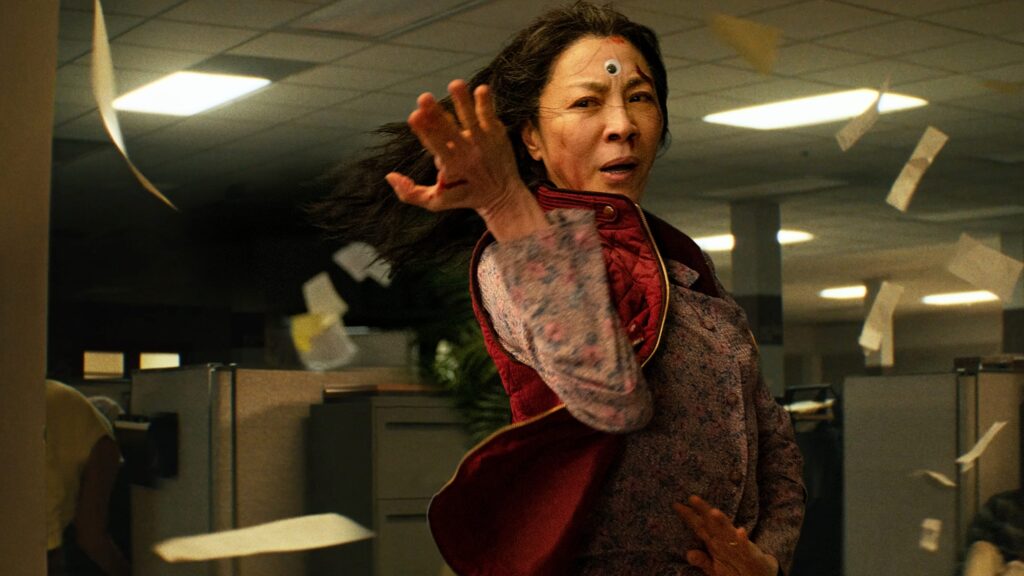 And those are the categories I pick every year. Why don't I pick the others? It's a mystery! Anywho, if you're a weirdo and want to plumb the depths of the Kaedrin archives for old Oscars commentary (if you go far back enough, you can even read what used to be called "liveblogging" of the event, which is what we did before Twitter), all my previous entries are here: [2022 | 2019] [2018] [2017] | 2016 | 2015 | 2014 | 2013 | 2012 | 2011 | 2010 | 2009 | 2008 | 2007 | 2006 | 2005 | 2004] (I took a couple of years off there for various reasons). If you are watching and on Twitter, I'm @mciocco (and when the musical performances start, I'll be posting alcohol @kaedrinbeer). I don't usually post much, but I'll be around and obsessively reading Film twitter's commentary/jokes. I may post a dumb "who should host the Oscars" poll, like I did last year…
* My Biggest hot take about "The Slap" is that it's a terrible shame this event has overshadowed the television series of the same name about the slap that rocked a community, but that's just me. Also because "The Pursuit of Slappyness" was right there.