Every year, on Thanksgiving, my family has an Egg Nog tasting. It's a tradition born by accident. One year, several of us mistakenly thought we were responsible for bringing egg nog, and thus we ended up with, like, 8 egg nogs and devised an impromptu tasting event. In subsequent years, the number of entries rose and our methodology grew stronger. Oh sure, it's still not perfect, but even the attempt at a double blind taste test seems pretty good for such an informal event.
In general, the egg nogs are judged for two awards: best and worst. Since the number of entries can get out of hand and you can only drink so much egg nog at once, we generally limit the competition to straight nogs, not those fancy flavored things (i.e. no pumpkin spice for us). This year, we added an additional restriction that last year's winner and loser should not be part of this competition. Since the same two brands seem to win every year, we thought this would yield some variety. So the field was a little smaller this year, but the tasting was as fun as ever: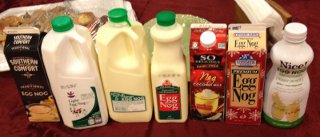 For posterity, these are the eggnogs pictured (from left to right):
Southern Comfort Traditional Egg Nog
Giant Light Egg Nog
Freddy Hill Farms Creamy Egg Nog
Shop Rite Egg Nog
So Delicious Coconut Milk Nog
Upstate Farms Premium Egg Nog
Nice! Egg Nog
It wound up being a small list, to be sure, but a lot of "missing" brands were things we've had several times before. With the exception of SoCo and I believe Upstate, the others are all new. Funnily enough, the race for best egg nog did come down to Upstate Farms, Southern Comfort, and Freddy Hill Farms, with Upstate Farms narrowly edging the competition in a blind taste test for its first win.
The race for worst egg nog was also interesting. I expected the "So Delicious Coconut Milk Nog" to wipe up the competition, and there were definitely a few people who thought it was the worst thing evar. However, the Giant Light Egg Nog (70% less fat, 1/3 less calories!) won decisively in the voting. The Coconut Nog wasn't excessively bad in my opinion, though it didn't really taste like egg nog. It was like coconut milk with nutmeg, maybe a bit thicker. But the Giant brand Light Egg Nog was absolutely disgusting. A word of advice: if you're trying to watch your fat intake or calories, just don't drink egg nog. You'll be much happier.
All in all, another successful tasting. We'll have to coordinate better next year and get some better, high quality, more obscure options.