A tradition born by accident, my family's Egg Nog tasting happens every Thanksgiving. One Thanksgiving many moons ago, thanks to poor coordination, everyone brought one or two Egg Nogs, and thus we ended up with, like, 14 different types. I'm not actually positive what year this really went into overdrive, but ever since that fateful year, we've actually planned to have that many Egg Nogs, and have even gone so far as to orchestrate a double blind tasting in order to determine the Best Egg Nog (the "worst" is usually a pretty easy and uncontroversial decision that does not require any real debate). I mean, we're not scientists here or anything, but this is pretty rigorous for a family gathering. I could have sworn I did a better job recapping each year's proceedings, but only a few previous tastings have been chronicled: [2012 | 2010 | 2008].
One thing we've noticed is that the same Egg Nogs tend to show up every year, and we've got a few that consistently win (notably local mainstays Wawa and Swiss Farms). Last year we made a rule that the previous year's winner (and "winner" of worst nog) could not return. This year we made a concerted effort to seek out completely new and obscure Egg Nogs. I was actually shocked at how well we did in this mission, though of course there were a couple repeats. So let's do this, the Egg Nogs of 2013: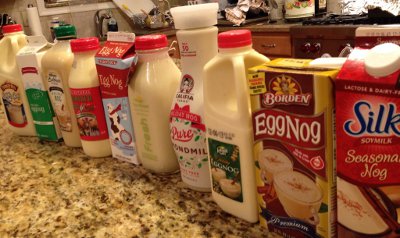 For posterity, the Egg Nogs pictured here are (from left to right):
Turkey Hill Egg Nog
America's Choice Holiday Favorite Egg Nog
Bolthouse Farms Limited Edition Holiday Nog (Low Fat)
Promised Land Old Fashioned Egg Nog
Trader Joes Egg Nog
Trickling Springs Creamery Farm Friend Fresh Egg Nog
Califa Farms Almondmilk Holiday Nog
Lehigh Valley Holiday Eggnog
Borden Eggnog
Silk Seasonal Nog
The only returning contenders were the Turkey Hill, which has pretty much always shown up (but always places somewhere in the middle of the pack), and the Silk Seasonal Nog (which has won "worst" in the past). The Borden was arguably a returning contender as well, though it's now packaged in a resealable container (Borden was always famous for being canned) and while they claim the recipe is the same, this stuff was nothing like the Borden of years past (which was also a middle of the pack performer). Indeed, the Borden was nearly toxic and came out a weirdly bright, almost glowing color. Gross.
But as bad as it was, Borden was still at least marginally identifiable as Egg Nog. One thing I've noticed about the competition for worst egg nog is that it is dominated by entries that aren't actually "egg" nog. They're always just "Holiday Nog" or "Seasonal Nog" or "Coconut Nog" or some such lie. These really aren't Egg Nogs, but they've got some nutmeg and they're trying to capitalize on the season. I guess that's fine for big Soymilk fans, but when you have these right next to real Egg Nog, that just makes them seem all the worse. This year's competition was between the Bolthouse Farms Low Fat Holiday Nog, which was packaged so deceptively that we didn't realize what it was until we nearly gagged on it. Silk was its normal self, but the real revolution in bad flavor belongs to Califa Farms Almondmilk Holiday Nog. It was so bad, I think it somehow hurt my eyeballs. The decision was unanimous.
The competition for best was a little better, though I do think the champions of years past (Wawa, Swiss Farms, Upstate Farms) would have trounced all of this year's competitors. Indeed, the normally middle of the pack Turkey Hill was a clear favorite heading into the blind tasting, which only featured three Egg Nogs this year: Turkey Hill, America's Choice (whose box sez "fa-la-la-la-yum", which became its unofficial name), and Promised Land (whose label proclaims "From the finest Jersey Cows"). It was close, but Promised Land came out the victor.
It was a fine year, but I think we need to have something like a Tournament of Champions next year, and bring back all the best Egg Nogs. I'm also toying with a rule that we should not accept "holiday nogs" that are not actually Egg Nog. Of course, that would limit options for the "worst" award, though I suppose "Light" egg nogs (or Borden!) could qualify. But maybe instead of worst, we bring back "flavored" egg nogs (which were banned several years ago). We'll have to wait until next year. But me, I'm going to hit up Wawa sometime this week and get some real Egg Nog…